One Super Simple Way to Make Your Hanging Planter Look High-End
We
independently
select these products—if you buy from one of our links, we may earn a commission. All prices were accurate at the time of publishing.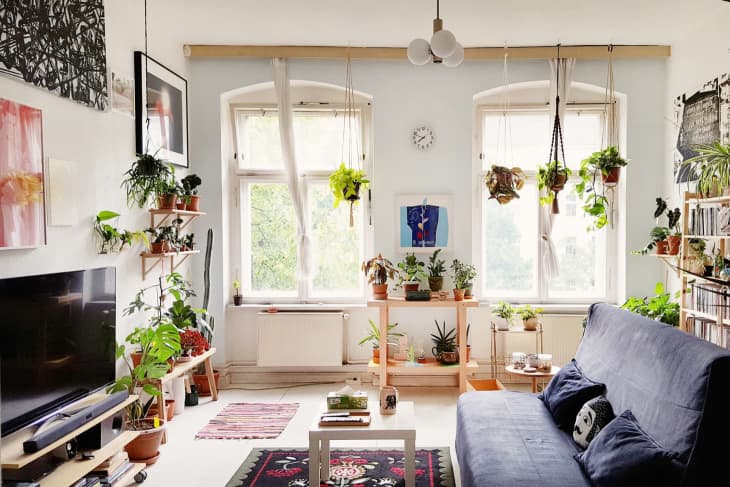 Hanging planters are everywhere right now: In coffee shops, yoga studios, restaurants… name a place, and there's probably a hanging planter in the window. The problem is, these planters look so adorable and perfect in the local plant shop, but when I take them home, sometimes they just don't look quite right—which is a real shame, because hanging planters are not cheap.
But there's an extremely simple (and totally affordable!) way to fix this "off" factor.
"When people buy hanging planters, if they come with their own chain or rope, they're usually really short," says Mandi Gubler, Vintage Revivals designer and Happy Happy Houseplant founder. Having a planter with a short chain not only looks strange, but it makes it more difficult to water and properly care for your plant.
While Gubler encourages her followers to make their own planters—and we have to say, she's got some incredibly creative DIY hanger solutions—she says that if you're going to buy one, you should at the very least change out the chain to make it the appropriate length for your space.
By spending a few dollars and taking a few minutes to customize your store-bought planter's chain length, you can really upgrade the overall aesthetic of your planter and improve your plant care routine.
So… what's the appropriate chain length for your hanging planter?
"You want the bottom of your planter to hang no higher than 7 feet off the ground and no lower than 6. That one-foot space is your sweet spot," writes Gubler in this tutorial for her DIY hanging hoop planter. The height makes it easy to reach the plant for watering, but keeps it out of the way so it's unlikely to get bumped or jostled.
For example, if you have 9 foot ceilings, you'll want your chain length to be somewhere between 2 and 3 feet. Gubler also recommends hanging the plant about 10 inches out from the wall so that your plant doesn't feel cramped.
For planters hanging from the wall instead of the ceiling, Gubler says there is more room for creativity for height. "I would keep it so that the bottom of the planter is in the 7- to 5-and-a-half-feet off the floor range," she writes. "Wall planters should push the hanging plant at least 6 inches off the wall and should be mounted on a stud or with drywall anchors."
Another way to really upgrade your hanging planter aesthetic is to hang several planters together at different chain lengths, within that one-foot sweet spot. "When you group them together, it's so visually impactful," says Gubler.  
So whether you just want to customize your store-bought planter to be the appropriate length for watering, or you just want group three planters together at different lengths to create a bit of plant art, a 53-cent-per-foot simple chain is your simple solution.