How to Wash a Backpack — by Hand and in the Washing Machine
We
independently
select these products—if you buy from one of our links, we may earn a commission. All prices were accurate at the time of publishing.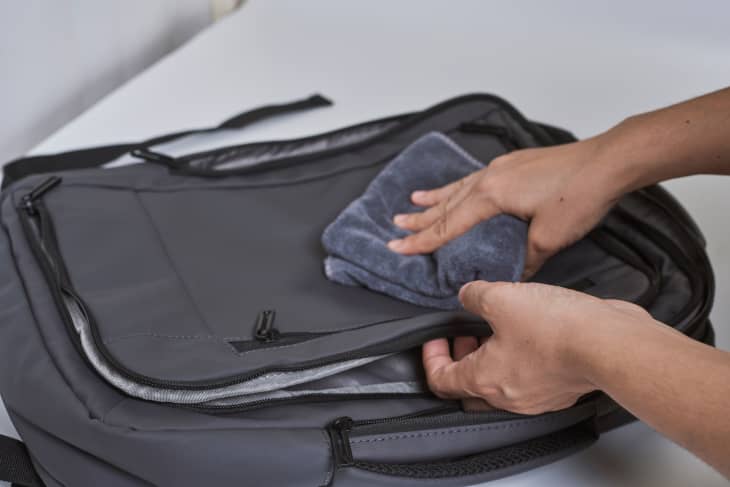 It's that time of year again: School supply displays are being set up, summer programs are winding down, and kids are starting to get excited about seeing their friends in class again. The new school year is right around the corner, so now's the time to dust off the backpack that was flung into storage and give it a nice refresh. There are plenty of ways to wash a backpack — both by hand and in the washing machine — but some methods are better than others.
"It's always safer to wash backpacks by hand," says Irene Stepaniuk, a professional housekeeper of 30 years. "Some backpacks have special coatings that can break down in the washing machine, others have rhinestones or sequins that can fall off, and some can lose their shape." But if you don't have the time — or inclination — to scrub a backpack in a sink, then the washing machine will work just fine for most knapsacks. "Just make sure to check the tag before you put it in," she recommends.
High-quality detergent
Vacuum 
A toothbrush or soft bristle brush
Bucket
Towel
Larger hand brush
Mesh bag or pillowcase 
How to wash a backpack by hand
If you have a leather backpack, a designer bag, a plastic pack, or one with lots of embellishments, washing it by hand is the safest route. Before ever touching any detergent, remove everything from the bag's pockets and compartments, and wipe off any loose dirt or dust on the exterior. "Take a hand vacuum or nozzle attachment and vacuum any crumbs or lint from the interior," says Stepaniuk. 
Next, look at the care label on the backpack to see the recommended cleaning method. But if there isn't one, a mild detergent should work just fine. "You want to use higher quality detergents, as the lower quality ones cause soap buildup that holds onto dirt and grime. I recommend Tide or Kirkland," she says.
Stepaniuk also suggests spot testing somewhere that's not too visible. "So rather than testing the detergent on the front pocket, you can test it on the bottom right-hand corner that isn't visible when you wear it."
Once you have confirmed the detergent won't harm the bag's fabric, you can move on to spot cleaning any obvious stains. "Add a drop of detergent to a cup of warm water — you don't need more than that. Detergent is very concentrated, and adding more will create that soap buildup that will act as a magnet for dirt," says Stepaniuk. Use a soft bristle brush (or a cheap toothbrush from the drugstore) to attack those stains.
Once that's done, fill a sink or bucket with lukewarm water and a teaspoon of detergent. Submerge the backpack, and use a sponge or larger brush to scrub both the inside and outside. Then, remove the soapy water, and rinse it in clean, cool water. Gently squeeze out the excess water, and then pat it dry with a large towel. "I like laying the towel flat, putting the backpack on it, folding the other half of the towel over it, and pressing down to squeeze out the extra water," says Stepaniuk. Then hang it up to air dry, and you're done.
How to wash a backpack in the washing machine
When it comes to washing a backpack in the washing machine, many of the same steps still apply. Most canvas bags can be washed in one, but check the care label to confirm. You want to empty all of the bag's pockets, vacuum the insides, and spot treat any obvious stains. Next, you want to remove any detachable pockets or straps and get a mesh bag or pillowcase. "It's safer to put it inside a protective bag, so none of the straps snag or rip," Stepaniuk says. If you don't have one handy, you can also turn the bag inside out. Put the washing machine on the gentle cycle with cold water, and add a small amount of quality detergent. 
"Since you're only washing one item, a squirt of detergent will do. Fill it up to just below the first line on the measuring cup, or even less," says Stepaniuk. Once the cycle is done, hang up the backpack to air dry.
Can you dry clean a backpack?
The short answer is no. "You never want to take a high-end bag, leather pack, or specialty hiking bag to a dry cleaner," says Stepaniuk. "They use aggressive cleaners that can damage the fabric or padding of the bag, so you should only hand wash those pieces." As for the other backpacks, those can easily be washed in a washing machine, so you can save yourself the hefty dry cleaning bill.