The Orbital Sander I Reluctantly Bought Actually Makes DIYs Infinitely Easier
We independently select these products—if you buy from one of our links, we may earn a commission. All prices were accurate at the time of publishing.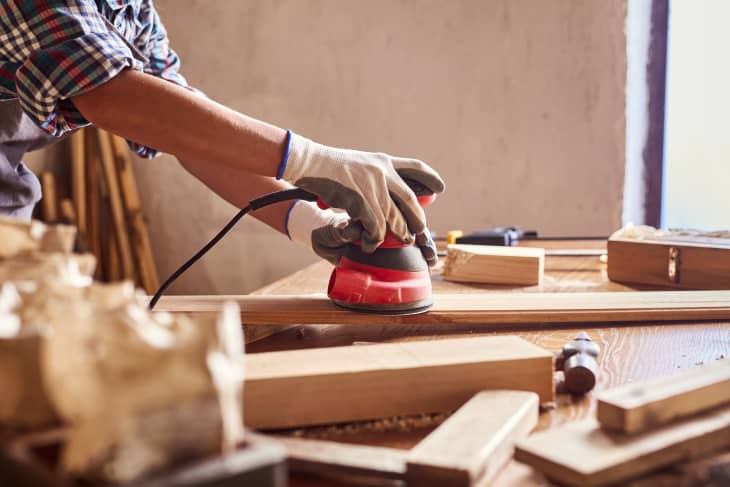 It was in a moment of abject frustration that I first became acquainted with my favorite tool.
I was in the midddle of an IKEA hack and trying to remove the black wood stain off a pine console table. After stripping as much of the original stain off as I could, I naively tried to remove the remaining finish with a sanding sponge. But my hand-sanding efforts were no match for the thick acrylic lacquer in which the entire table was coated, despite nearly two hours of grueling labor. 
Feeling all the feels that one tends to experience when a DIY project has gone awry, I threw the sanding sponge down and headed to the hardware store in search of plan B. I found the my one true sander in the aisle alongside a slew of other power-sanders — disc sanders, belt sanders, cat/mouse sanders, and sheet sanders. With so many options, trying to discern which was best for the job was a bit perplexing. 
Once I had browsed over a few different reviews, I reluctantly selected the HyperTough Random Orbital Sander because the price (under $30) was on the lower end of the spectrum and the four-out-of-five-star rating seemed promising. Plus, it seemed to have some of the right attributes — a five-inch pad size with hook-and-loop fasteners, a random orbit motion that doesn't leave a swirl pattern, a dust bag that collects sanding dust, and a 2.5 amp motor capable of stripping paint and stain, smoothing rough wood, and preparing surfaces.
It proved its worth upon first use, when I hastily unboxed it and started sanding the stubborn spots on my console table. To my astonishment, the industrial IKEA topcoat that wouldn't budge with a manual sanding sponge lifted right off. I chuckled with smug satisfaction as it continued removing every last trace of the original stain in mere minutes compared to the hours I had spent hand sanding. If only I had this tool sooner!
This sander and I became fast friends after that. It always came through for me when I needed it most, like the time I decided to make a brand-new wood table look like an antique. The brute force of its sanding pads easily softened the precise edges and corners to give the table a worn-and-weathered appearance. When I painted a checkerboard pattern on my screened-in patio's wood floor, it prepared the surface perfectly for a smooth application, and made what would have been an onerous task a doable one.
And this sander doesn't only work magic on wood surfaces. There was that time when I got the harebrained idea to make a faux limestone bench for my entryway. The hypertufa coating I had applied onto the bench's surface was too rough once it dried, but a couple of passes with coarse-grit pads made it smooth and suitable for sitting. Another time, when the plastic slide on my kids' outdoor play set got cracked, it smoothed the jagged edges to make it safe for them to continue using it.
In my work as a content creator, I work on a lot of DIY projects. My garage is fairly well-stocked with power tools, but this is the one that I rely on most consistently. It's saved me hours and hours of backbreaking labor and from many sore muscles. Not only does it make my DIYs infinitely easier, but it also makes it possible for me to refinish lots of pretty furniture pieces that I never would have attempted before. For that, the HyperTough Random Orbital Sander will always be my BFF and enjoy a place in my tool collection.