This Genius (and Cheap!) Laundry Trick Got Coffee Stains Out of My White T-Shirt
We
independently
select these products—if you buy from one of our links, we may earn a commission. All prices were accurate at the time of publishing.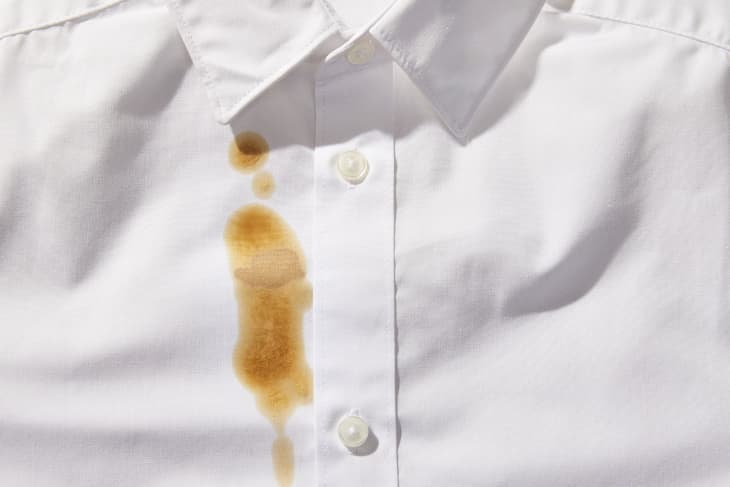 Over the years, I've tried every manner of stain treatment — from everyday grocery store finds to simple pantry hacks and TikTok-trending specialty products. I've had great luck with some of them, but I'm always looking for more simple, cost-effective ways to take care of my family's clothes. (Two kids, a dog, and a personal tendency to spill on your own clothes will inspire you to new heights in the laundry room.)
So when I stumbled across this Reddit thread, I was excited to test out the method it suggested for myself. According to one very savvy Redditor, the best way to stave off laundry stains is actually quite simple — and the best part is, you don't need to order any expensive cleaners that take forever to ship. 
Instead, just put some of your laundry detergent in a condiment squeeze bottle, then apply it to the affected area. The Reddit thread cites Persil as the best stain-fighting detergent, but I only had Tide on hand, so that's what I put to the test. 
All I did was fill a small squeeze bottle with detergent. Then, I squeezed a bit onto some stains I've been meaning to treat — a white t-shirt with a coffee spill on it and cotton placemats stained with dinner residue.
Now, you theoretically could just dump some detergent straight on your stuff, but I really appreciated the control and precision of the squeeze bottle. After applying the detergent, I used my normal scrub brush to work it into the fabric, then let both items sit for a few minutes just like I would with normal stain treatments.
I ran a normal load of laundry (with the same detergent) and waited to check the items before I threw them into the dryer — I never want to risk setting a stain. To my surprise, the stains were nowhere to be seen, and all with a little bit of extra TLC from my normal detergent!
Reading through the comments in the Reddit thread, I saw some people suggest Dawn dish soap in a squeeze bottle to stave off oil and grease stains before running a load, so that's next on my list to try. Either way, I don't plan on ditching any of my go-to stain pre-treatments — but it's good to know that if I'm ever running low when it's time to do laundry, I always have something reliable on hand.