I Framed a Nude Photo of Myself in My Apartment — And I Don't Regret It
We
independently
select these products—if you buy from one of our links, we may earn a commission. All prices were accurate at the time of publishing.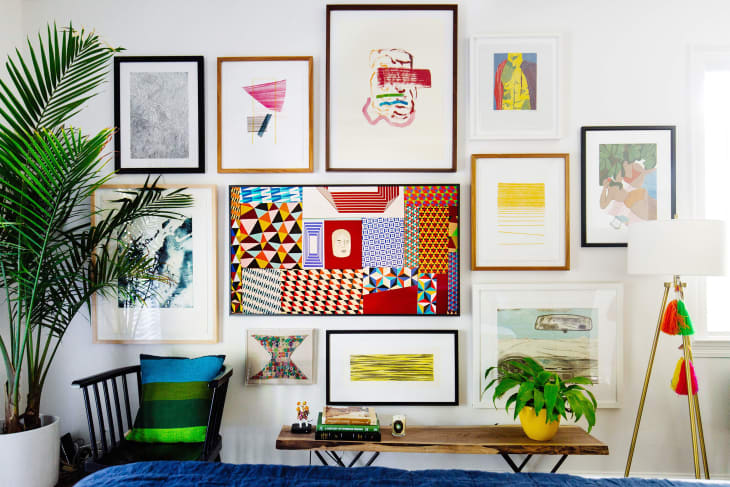 When it came time to style the gallery wall in my studio apartment, I had a vision. I wanted to hang up the painting I did of bluebonnets as a nod to my Texas roots; I wanted to display the wine and cheese print my friend got me as a tribute to our trip to Italy; and I wanted to proudly display my nude portrait. 
For my birthday two years ago, a friend booked me a boudoir-themed photoshoot after randomly meeting the photographer at her hair appointment (meant to be!). Boudoir shoots typically involve lingerie, silky robes, and pin-up style photography. But I promptly walked into my appointment and declared, "I'd like to go full nude."
I was at a turning point in my life. I had just left a nearly four-year relationship where I was made to feel like there was something wrong with and undesirable about my body. I was also going through a best friend breakup, moving to a new neighborhood, and gaining my footing in a new career in which I owned my own business. 

Being professionally photographed nude may have been my Samantha Jones New York City moment, but it was also my way of showing love to my body that had been put on the back burner for far too long. Because I was going through so much in my personal life, I didn't feel an ounce of nerves as I fully stripped in front of my photographer. There's something so freeing about losing everything — especially when you realize you can build it all back however you want to. Getting photographed nude was my way to honor that freedom. 

Today, my 8×11-inch nude photograph is displayed proudly on the gallery wall in my studio apartment. Keep in mind it's my only wall, as one side of the apartment is fully covered in windows. It's part of the framed photographs that surround the focal point of my Samsung Frame TV, which is my way of telling you, yes, it's fully on display — and noticeable. 
Call it cocky if you want. But in a world where every product, every ad, and every TikTok is telling you that you need to change yourself — buy something to make you prettier, inject this into your face, and eat that to change your body — I don't believe the word cocky should ever be used to describe a woman. 

Today, more than ever, loving yourself is an act of rebellion. Displaying my nude portrait for me in an apartment that I pay for by myself is an accomplishment. And you know what? Most people who come over don't even notice it unless I point it out. It blends in as an art piece, along with my other photography prints and paintings.

If you are very lucky, you have spotted it in real life. If not, I guess you'll just have to close this article and imagine it. Either way, I never once regretted it.