I Started Using This Simple Whiteboard System to Track Monthly Goals, and I've Never Felt Better
We independently select these products—if you buy from one of our links, we may earn a commission. All prices were accurate at the time of publishing.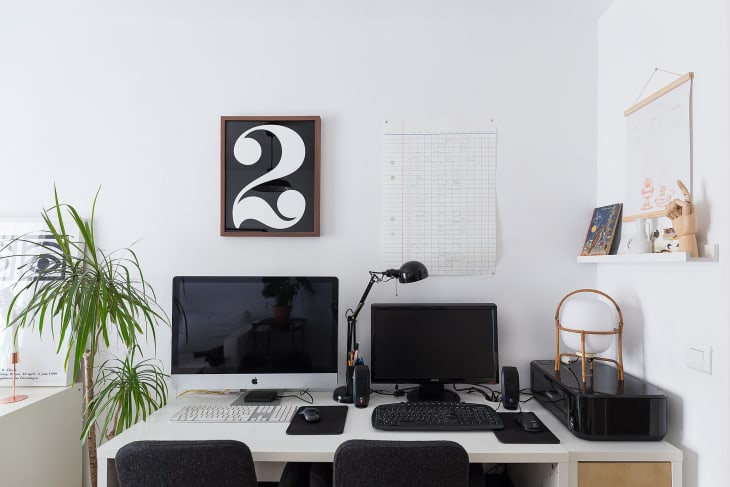 Over the course of my adult life, I've used every medium imaginable to try to track my goals. I've invested in what feels like hundreds of notebooks to monitor how much I've written for the book I'm working on, placed dozens of sticky notes on my desktop to track my marathon-training progress, and created calendars specifically for how many books I want to read in a year. Almost every time, I've forgotten about all of these tools and systems after just a few months. Sometimes, this was because they were too complicated. Others, I just got bored or distracted. For the past six months, though, I've been trying something different — and for the first time, it actually feels sustainable. 
This new system happened by accident, really. I had purchased a standing whiteboard for my office for easy brainstorming and work mapping — it served as a way to switch things up creatively after working from home for many months. For a while, I used it to jot down creative ideas and projects and make giant to-do lists on busy weeks. But toward the end of 2020, my schedule got so busy that I decided to break everything down into tiny, bite-sized pieces that I would look at day in and day out. I cleared my whiteboard and started from scratch, writing down four to six areas that I wanted to focus on for the month ahead.
Follow Topics for more like this
Follow for more stories like this
The first month, these areas were: working out consistently, reading, writing fiction, and waking up before 6 a.m. Next to each section, I'd write down a series of empty dots. For working out, I'd aim for 25-30 dots (each dot to represent intentional movement — a run, a long walk, a HIIT session, etc.); for reading I'd do six or seven dots (each one to represent a book read); and so on and so forth. When I completed one small task — one workout, one early wake-up, etc. — I'd fill in a dot. Every day, I'd walk in my office and look at my whiteboard and be able to quickly gauge where I was for any particular goal. This process of breaking each goal into the tiniest bite-sized pieces made me more likely to stick to goals without feeling overwhelmed with them, but it was another aspect of the whiteboard goal-setting system that made the habit feel truly sustainable to me. 
At the end of each month, I'd wipe away the month before and start over. If I had only hit a few of my goals, that was OK. This was a new month, and I'd adjust accordingly. For example, when I started mapping my goals for March, which I knew would be challenging for me personally and professionally, I adjusted my goals to focus on the habits that I knew would benefit my mental health the most. I made it a goal to attend four therapy sessions to actively remind myself each week of just how important it is to prioritize. I took away goals like waking up very early or working on creative projects that I knew would add unnecessary pressure throughout the month. 
The beauty of this system is not only that it breaks everything down into the tiniest baby steps, but that I can adjust it month-to-month. Next month, maybe I'll feel differently and have the emotional and mental space to challenge myself creatively a bit more — maybe I'll re-prioritize waking up by a certain time each morning or working on my book. Maybe I'll choose a new goal entirely. The whiteboard system makes every goal seem fluid like I can change it when it doesn't make sense for me and still feel successful, challenged, and intentional, both professionally and personally.
When I posted about this whiteboard goal-setting system on Instagram, I did so because I thought it might help other people rethink how they planned out and worked toward goals, too. Still, I was cautious about making people feel like I was placing some sort of moral value on "self-improvement" and hitting goals to begin with — I had that mindset for long enough to know just how toxic it can be. I made a point to explain how I adjust the goals month to month based on a variety of factors, and something about the process seemed to appeal to other people, too. 
Now, I'll receive notifications from people tagging me in stories showing off their own whiteboards. Every time, I'm both struck and inspired by how every person has a slightly different set of goals: Some people want to challenge themselves to get outside more, go on more walks, tidy their office more often, schedule date nights, or do something else entirely. It reminds me that goal-setting doesn't have to look like one particular set of priorities or one version of success. It can be personalized and flexible and in fact if you're looking to create a goal-setting that's sustainable, it should be. Because, as it turns out, it's much easier to accomplish goals when you actually enjoy the process.