I Tried TikTok's Amazon Price-Matching Hack at Target
We independently select these products—if you buy from one of our links, we may earn a commission. All prices were accurate at the time of publishing.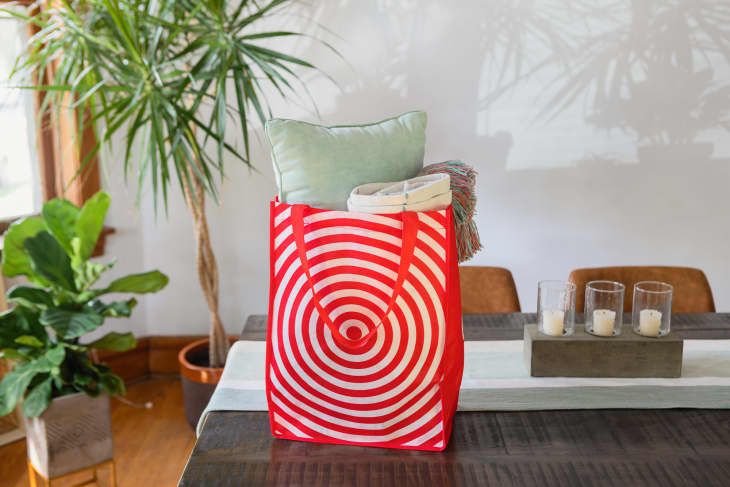 Target is, no joke, one of my favorite places to be. It's my go-to spot for restocking my toiletries, makeup, certain groceries, and, heck, even a lot of my wardrobe comes from Target. If there is something, anything, I need, Target probably has it. As an avid Target shopper, and as someone who has a Target RedCard and a Target Circle account, I was floored to learn that there is yet another way to save some money on your next Target run. 
According to TikTok creator @jessdimar, Target price matches. In her TikTok, the creator shares that she was able to purchase a Wet Brush for $9.99, as it's priced on Amazon, instead of the $17.99 price tag it had in Target. The cashier price matched it, no problem. Who knew! The comment section is largely in support, with current and former Target employees agreeing that yes, Target is able to price match as long as you have proof and it's from a select list of online competitors. This list includes Amazon, Costco, Apple, PetSmart, Sephora, Walmart, and more (you can peruse the full list here). One user even shared that they used Target's price matching policy to purchase an iPad mini for $100 less than the price listed in store. After reading so many positive experiences shared in the comment section, I knew I needed to see firsthand if this policy actually works.
First, I needed to take a look at my Target list and see if I could find better pricing somewhere else. Again, most of my everyday Target purchases are toiletries and groceries, so I went to Amazon and did some snooping. Price matching groceries was a bit tricky, especially because Amazon and Whole Foods are essentially one and the same, but I was in need of shampoo and foundation, which was much easier to check.
I was pleasantly surprised to find that MONDAY haircare is available on Amazon, and that my Monday volume shampoo was only $6.97, while it was $8.49 on the Target app. Score! I took screenshots of both, in case the price in store at Target was different from the app. Next up was the foundation — I kept hearing great things about the L'Oréal Infallible Pro Matte foundation and wanted to try it. Target's price was $13.49, but Amazon had it for $10.97. Another win! Finally, my husband and I were in need of some more Vital Proteins collagen, which we normally get on Amazon anyway, but I wanted to price check for the sake of the experiment. Lo and behold, a 20-ounce container of collagen is $10 more at Target than it is on Amazon. Sheesh! At this point, I was convinced it was worth it to double check the items I knew were available elsewhere. Equipped with my screenshots, I headed to Target the next day, hopeful I would be saving some cash. 
Once I was in the store and had everything in my cart, I decided not to self-check out like I normally do and waited in line for a cashier. (The comments on TikTok said you can make your purchases wherever as long as there's an employee nearby, though, so I may try that next time.) When it was my turn, I exchanged pleasantries with the Target employee, then asked, "Do you do price matching?" The employee said yes, then asked which items I would be price matching. I told her and pulled up the images on my phone, and she simply typed the new prices on the register and that was that. She checked to make sure the items were both listed on Amazon, but it really couldn't have been easier. I left with my discounted items, no questions asked.
Because they didn't have Vital Proteins in stock when I went, I ended up saving $6.13, which included discounts from the foundation, the shampoo, and my regular 5 percent off, as I used my Target RedCard. I totally see myself continuing to price match, especially if I need to make purchases on bigger-ticket items. One TikTok comment mentioned that she purchased a triple barrel wave iron for Amazon's price of only $24.99, and ended up pocketing about $40, as the Target price was a whopping $64.99. Even though I'm not currently in the market for a curling iron, I'm keeping this policy top of mind if I ever need to purchase something similar.
Target does have a few exceptions when it comes to price matching, including not being able to use coupons or compare pricing to a "marketplace" price from a third-party seller. Target also won't price match an Amazon lightning deal, or if the product includes a Target gift card with purchase (they often will offer a gift card if you spend a certain amount in a specific category, like skincare or beauty, for example). But other than that, it's all fair game. It's worth mentioning too that I was able to get the price match even with my Target RedCard, which is Target's debit, credit, or reloadable card that gives you a 5 percent discount on every purchase. So technically, the item is even cheaper than Amazon pricing, with the RedCard discount. It all adds up, and if you're headed out on a Target run anyway and have the time, you might as well double check that you're getting the best deal you can.