This IKEA PAX Hack Makes a Tiny Room Brighter and Infinitely More Stylish
We independently select these products—if you buy from one of our links, we may earn a commission. All prices were accurate at the time of publishing.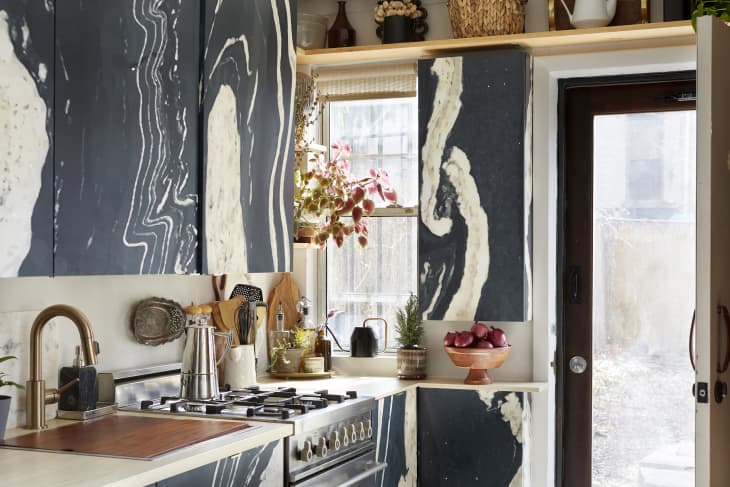 When you live in a small space with few windows, it's easy for your home to feel dark and dreary. If you dream of rooms filled with natural light pouring into a space and bouncing from wall to wall, a few mirrors placed strategically in the room just might do the trick. One stylish, small-space-savvy renter found a wall to create the illusion of more natural light in a room, all without a single window. If that sounds like something you can get behind, I won't gatekeep — and neither will designer Kim White.
Follow Topics for more like this
Follow for more stories like this
White lives in a 600-square-foot apartment in Brooklyn, New York, that she's been renting for more than two years. If White looks familiar, that's because she previously lived in a unit a few floors up in the same building but decided to relocate to a bigger apartment after one of her neighbors moved out. "Moving downstairs into a two-bedroom unit with a dedicated dining area, in-unit washer and dryer, and private outdoor space was an incredible opportunity," White says. And thanks to the rapport that she had already established with the landlord, White was allowed to repair and redesign her new apartment with few limitations. 
White considers her design style to be a brand of laid-back luxury that allows her to display her unique "sentimental treasure-hunting habit." While 600 square feet is almost double what she had in her previous 296-square-foot studio, White still had to implement a few tricks when trying to make her home feel open and spacious. "Mirrors are a great way to make a small space appear larger and to bounce light around," she says in her house tour, and that's exactly what she used when trying to make her lounge area feel lighter, brighter, and larger. In fact, she DIYed an antique mirrored wall above her banquette for this reason using – wait for it! — mirrored closet door panels from IKEA.
The banquette wall in said lounge area provided the perfect opportunity for this IKEA hack because this space is a fairly tight pass-through zone that needed a little bit of love and attention. So White installed a few rows of AULI mirror panels, which are compatible with the super-popular PAX system of wardrobes, right on top of each other to help throw a bit of light and visual intrigue around the space. And that's not all: White took this hack a step further by hand-painting the mirrors to give them a moody, antiqued vintage vibe that makes the room feel like a sceney bistro in the best way possible.
This project can be recreated in any room, on any wall, and at almost any price point. White used the AULI style of mirrors for their ample coverage, but you can buy frameless mirrors from IKEA for as low as $3.99. If you're renting, you may want to check with your landlord to figure out what type of adhesive or hanging method might be reversible but sturdy enough for this project; White herself said the first time she had these mirrors installed, they were slipping off the wall! So it may take some trial and error to get this project right. But when you do, it'll be more than worth it. Because trust me (and White) when I say that this IKEA hack can make virtually any space feel lighter and brighter overnight.