IKEA's New Sofa Looks So High-End That I'm Shocked at the Cost
We independently select these products—if you buy from one of our links, we may earn a commission. All prices were accurate at the time of publishing.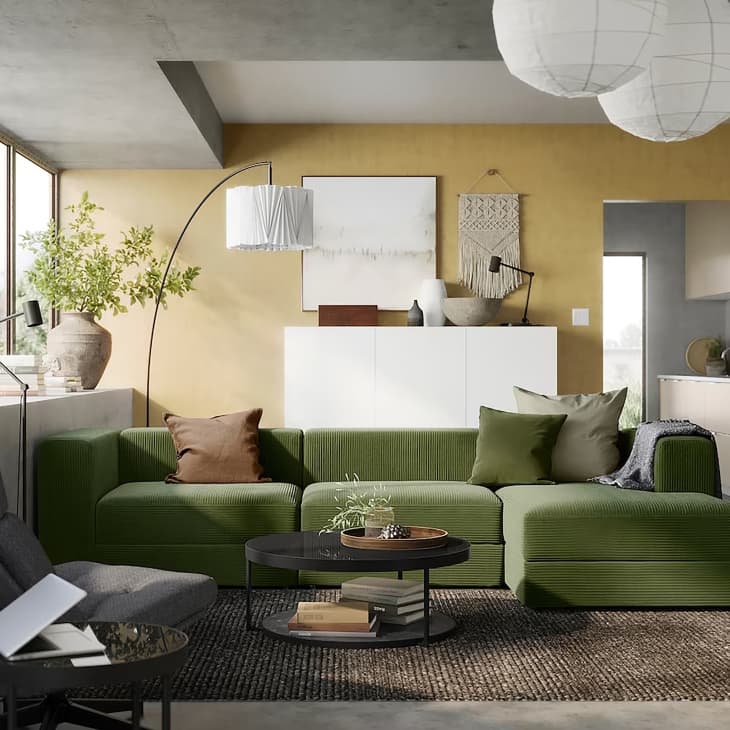 As someone who loves the sleek, low-slung designer sofas that have been popping up all over Instagram, I've spent months (if not years, at this point) casually perusing the internet to find a suitable alternative at a friendlier price point. Well, my friends, I'm ecstatic to say that my hunt is over, thanks to IKEA's new JÄTTEBO series sectional. 
This stunner became available in the U.S. on January 1 this year, and it has all the makings of a fan favorite. Characterized by its clean lines and modern, minimalist look, the JÄTTEBO is available in three neutral fabric options: corduroy green, corduroy beige, and a heathered gray with a felt finish (all removable and machine-washable — score!). A sofa like this acts as a blank canvas, giving you tons of room to get creative regardless of what the rest of your space looks like — one woman even styled it in her RV!
Follow Topics for more like this
Follow for more stories like this
Truthfully, one of the main reasons I haven't taken the plunge on a real adult sofa yet (our living room currently features a hand-me-down futon from my mother-in-law and a $50 yard sale love seat) is the fear of spending time and money picking out the perfect piece, only to eventually move and discover that it doesn't work in a new space. That's where the JÄTTEBO's adaptability comes into play: each module can be built upon and reconfigured, up to a six-seat sectional with headrests. Pick from a standard seat with or without armrests, a 1.5-width seat, and a chaise lounge that fits both perpendicular and parallel to your seat back, plus swaps between the left and right sides. The sofa's fully customizable and each piece moves around quickly, no tools needed, according to the IKEA site.
As for comfort, the deep foam cushion is meant to provide a soft, supportive seat. Additionally, the JÄTTEBO includes something that no other sofa that I've seen in this style has: hidden built-in storage within both standard depth seats and the chaise (I know, I know, *jaw drop*). That's right, similar to other IKEA couch designs, the uppermost seating portion operates on a spring system that easily lifts up (and stays locked in place) for organizing and accessing extra blankets, workout equipment, and even off-season clothes.
This sofa really seems to do it all — it's stylish, practical, comfortable, and a total steal. Similar variations from more high-end home brands might set you back well over $2,000, whereas the JÄTTEBO starts at $1,440 for a two-seater. While I've yet to take the plunge and purchase one, at least the question now is no longer, "Which sofa should I invest in?" but rather, "Which JÄTTEBO combination makes the most sense in our space?"