IKEA Just Released More Photos From Their HAY Collaboration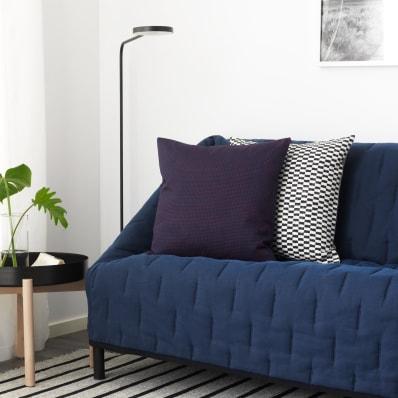 (Image credit: IKEA via Dezeen)
If, like us, you've been anxiously awaiting the arrival of the collaboration between IKEA and Danish design brand HAY, well, we have some great news. The Swedish retailer just shared some additional photos of the collection. Here's what we know so far.
(Image credit: IKEA via Dezeen)
Dezeen published the new photos of the YPPERLIG collection on Wednesday, which gives us a more complete look at the 30-plus piece line.
It's been over a year since IKEA first announced the collaboration between the two Scandinavian brands at their Democratic Design Day last June. At this year's event, we got a sneak peek at a few more pieces (including the molded chair and 50s inspired sofa—molded from a single piece of foam—below) and found out the name, YPPERLIG, which means "excellent" in Swedish.
(Image credit: Courtesy IKEA)
(Image credit: Courtesy IKEA)
The YPPERLIG collection "is focused on exploring the future Scandinavian design identity and understanding what the true functional and emotional needs are in the modern 21st century home" and is meant to "challenge people's perception of IKEA quality and design". Naming it excellent is starting to make sense.
(Image credit: IKEA via Dezeen)
We also know that HAY designed not one, but two new FRAKTA bags, one that has a hunter green and white pattern (which readers ranked as their fave FRAKTA), as well as another in yellow and black.
"We learned a lot of things from this collaboration that we can apply to our own company: the simplicity in the IKEA supply chain, and making something that's complex more simple and therefore better and less expensive," said Rolf Hay. "We also learned a lot about creating the best tools and strong solutions, and dealing with flat-pack challenges."
(Image credit: IKEA via Dezeen)
YPPERLIG debuts at IKEA stores in October 2017, and will include furniture as well as decor such as vases, candle holders, and blankets. Check out more of the pieces below:
(Image credit: IKEA via Dezeen)
(Image credit: IKEA via Dezeen)
(Image credit: IKEA via Dezeen)
(Image credit: Courtesy IKEA)
(Image credit: Courtesy IKEA)
(Image credit: Courtesy IKEA)