IKEA Has Partnered With Iconic Fashion Designer Zandra Rhodes For Whimsical Home Products
We
independently
select these products—if you buy from one of our links, we may earn a commission. All prices were accurate at the time of publishing.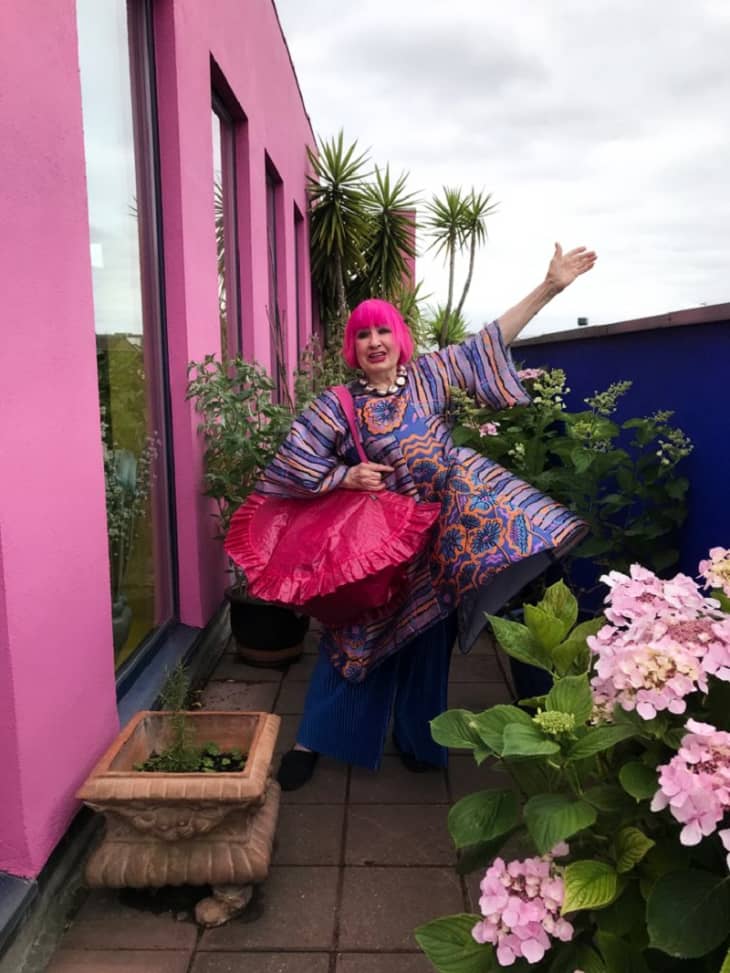 Iconic British fashion designer Zandra Rhodes is dipping her toes into the fabulous world of home products. Rhodes—who has designed garments for Princess Diana, Freddie Mercury, Elizabeth Taylor, and more prominent celebrities—has teamed up with IKEA for a new collection called KARISMATISK. Set to launch in IKEA stores in September 2021, KARISMATISK will consist of 26 unique and expressive home pieces in Rhodes' signature vibrant and bold hues. 
The first product in the collection is the KARISMATISK carrier bag (as seen in the featured image), Rhodes' take on the FRAKTA, the Swedish furniture company's iconic blue reusable bag. Like all products in the upcoming collection, fashion and function go hand-in-hand in the revamped carrier. Made with 80% recycled polyester, the FRAKTA comes in a bold and vibrant pop of pink that incorporates Rhodes' flair for color.
In a news release, IKEA said that the designer's "world of patterns and color" and "values she lives her life by" inspired the collaboration of functional and expressive pieces.  "It is wonderful being able to go all out with both patterns and colors," Paulin Machado, IKEA in-house designer, said of the collection. "Zandra is phenomenal at this—this simmering stew of bold patterns and bright colors that cooks up to something tantalising and beautiful."
"I am impressed by the open and inviting way in which ideas and concepts are explored in this collaboration," Machado added. "It is a super democratic way of working, where all ideas are welcome." 
Rhodes added of the KARISMATISK collection, "The IKEA team really [gets] the Zandra Rhodes aesthetic, and because of this we just bounce off one another. The design process has been organic and genuine, and this is seen throughout the whole collection." Given Rhodes' penchant for the color pink, we're anticipating lots of it in the collection. September 2021 can't come soon enough.