This Inexpensive IKEA Find Fancied Up My Entire Desk for Just $6
We independently select these products—if you buy from one of our links, we may earn a commission. All prices were accurate at the time of publishing.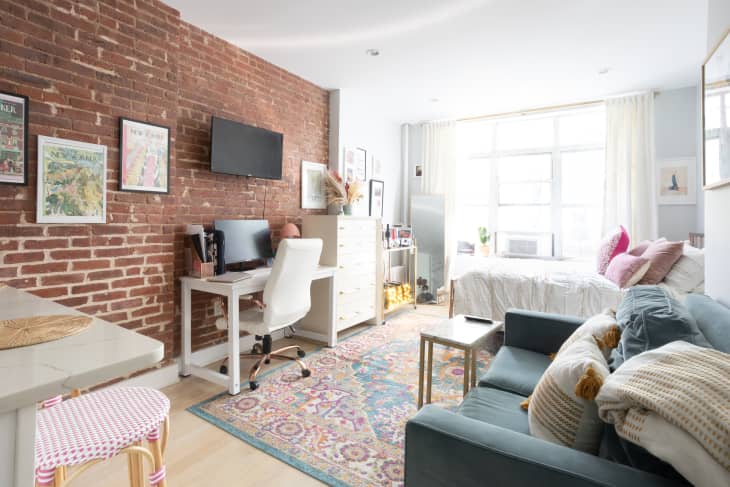 Regardless of their size, desks have a way of getting messy quickly. Thanks to papers, pens, your laptop, and the like, maintaining an organized workspace can be difficult. But if you're frequently using the area for study sessions or your 9 to 5, a few decorative items can go a long way in helping you to personalize your desktop. 
Follow Topics for more like this
Follow for more stories like this
As a freelance writer, I spend a lot of time at my desk, and nothing makes my work-from-home setup feel cozier than natural elements. I especially love decorating with crystals, and I find their hard textures look best when balanced with soft botanicals. After incorporating both of these accents into the corner of my desk, I wanted something to corral them and make my office area look more finished. That's why I was thrilled to find the OSTBIT tray from IKEA. 
This minimalist bamboo tray comes in three sizes — 8 by 11 inches, 10 by 13 inches, and 12 by 16 inches — and its price ranges from just $5.99 to $9.99. It's lightweight, easy to move, and gives off a soothing Japandi vibe. In my own at-home workspace, the tray's been spacious enough to layer underneath small decor, without taking over too much of the full tabletop. I've even played around with creating different vignettes, swapping out a lavender bouquet for a compact plant.
IKEA's versatile design also pairs well with my predominantly white desk, but the neutral coloring would work with just about any furniture material or finish. It's functional beyond home offices, too: Consider using this tray in a bathroom beneath a candle and hand soap, or as a kitchen organizer for cooking oils or coffee supplies. Even small coffee tables or dressers can benefit from a tray, so you could also try one of these there. 
Either way, if you have desktop, counter, or tabletop clutter that you want to manage in a more decorative way, nab one (or a few!) of these under-$10 IKEA OSTBIT trays. They'll whip your surfaces into shape and add a bit of personality to a spot when styled strategically.