This $3 IKEA Find Is a Steal, and It Offers Huge Hacking Potential
We
independently
select these products—if you buy from one of our links, we may earn a commission. All prices were accurate at the time of publishing.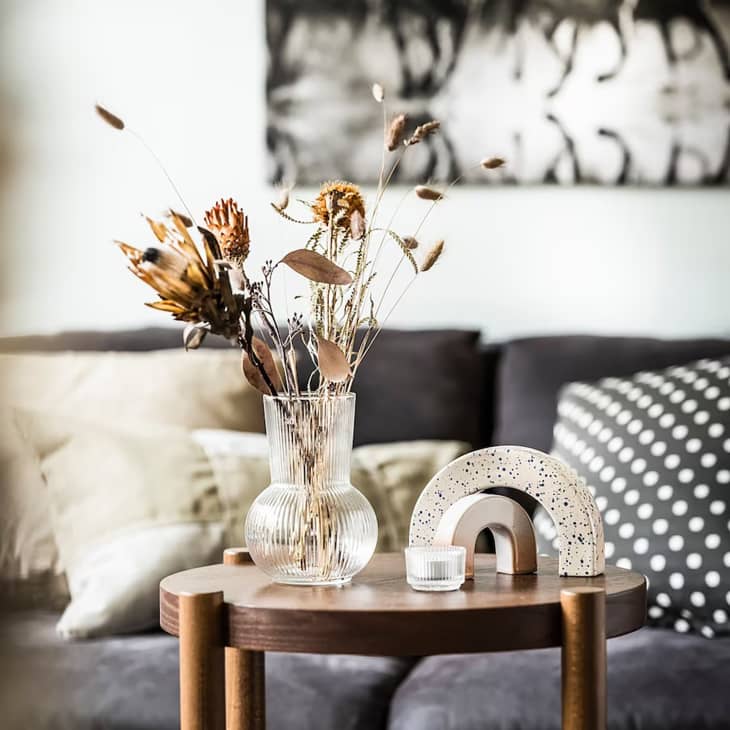 I'll be the first to admit that my vase collection is a little out of control. My stockpile includes well over a dozen vases — from tiny bud vessels that hold a single stem to oversized floor vases and every size in between. Aside from a few splurges I've made here and there, IKEA is my go-to for vessels because where else can you score aesthetically pleasing pieces at such great prices? But the price tag on my latest IKEA purchase shocked even me; the PÅDRAG vase costs a mere $3, though you'd never be able to tell that by looking at it.
At this price you might expect a small, nondescript plain vessel, kind of like the ones that come with florist arrangements, which function mainly as a means of keeping flowers fresh just while in transit. The PÅDRAG, though, offers much more with its ribbed texture, substantial thickness, and elegant shape, which features a rounded base paired with an angular neck. It's fairly sizeable, too, coming in at almost 7 inches tall. Perfect for cut flowers and also dried styles, the PÅDRAG packs plenty of versatility, too. But it doesn't end there. You can quickly hack it to give it a new look — or even several new looks — because at $3 a pop, you don't have to limit yourself to just one or two hacks.
If you need a little inspiration to get started on your own PÅDRAG project or two, you're in luck. These three hacks are easy to mimic, and you can switch up the colors and design details to match your personal style. 
YouTuber Mama_me_Time went for two glamorous gold looks. She covered the neck of both the vases with painter's tape then sprayed the exposed area, consisting of the circular base, a fun gold color. She left one vase like this while she wrapped some twine around the neck of the other for an extra touch of texture.
TikToker Ournumber_41 also purchased two vases but glued them together, one atop the other, to create a single taller vase. She then sprayed the whole thing matte black and ended up with a sculptural piece that looks like it cost so much more than $6. 
Blogger Sophie Zeiss of Sophie Galeria opted for a minimalist look with bubble details. She did this by gluing three wooden beads to each side of the neck of the vase. To finish the piece off and create a faux stone texture, she painted the vase in a pale beige and finished it with a granite spray paint.