If You're Not Shopping IKEA for This Indoor/Outdoor Item, You're Missing Out
We independently select these products—if you buy from one of our links, we may earn a commission. All prices were accurate at the time of publishing.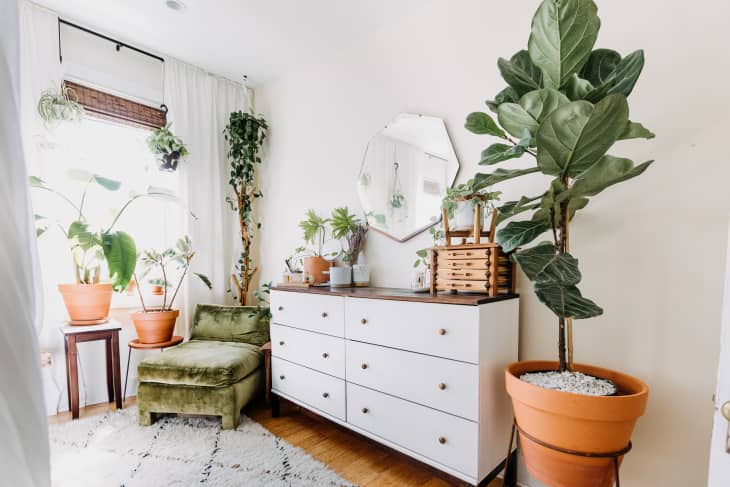 Plant lovers know that shopping for pots and planters can be just as thrilling as adding a new plant baby to your collection. If you're a seasoned plant parent, you're also likely aware that finding affordable planters can be a challenge, especially when you're looking to house larger species and mini trees. Some good news, though: The beloved Swedish budget retailer, IKEA, recently released a bunch of large terracotta planters that you can stock up on because they're all under $30. 
While planters aren't new to IKEA as a category, terracotta vessels in these sizes are a fairly recent offering that I myself just discovered. Terracotta provides so many benefits for plants in terms of letting soil breathe and preventing root rot and other diseases that they're a natural choice for all kinds of greenery. Stylistically, they can't be beat either; they're chameleons — whether your style leans modern, traditional or somewhere in the middle, this material will work with your decor. And with the prices so low at IKEA, you can indulge in lots of large plants, knowing that housing them won't break the bank.
Follow Topics for more like this
Follow for more stories like this
For all you plant people who can't resist colorful glazed pots or whimsical planters, don't despair. Terracotta pots are also infinitely customizable with just a few basic supplies, like paint and glaze, so consider these IKEA babies blank canvases. If you go this route, you'll end up with a unique piece that not only fits in perfectly with your home but comes in at a fraction of the cost of other large, store-bought decorative planters.
While these IKEA planters are available in a wide variety of sizes, it's the largest ones that are a ridiculously good value, starting at just under $20 for nearly 12 inches of pot in terms of diameter. The designs are timeless but each has a subtle twist, making pieces lean either slightly more modern or slightly more traditional-looking. These three styles are what's available right now, but I hope this category continues to expand so I can keep adding onto my own collective container garden, both indoors and outside.