IKEA's New Digital Experiments Reimagine the Role of Technology in the Home
We independently select these products—if you buy from one of our links, we may earn a commission. All prices were accurate at the time of publishing.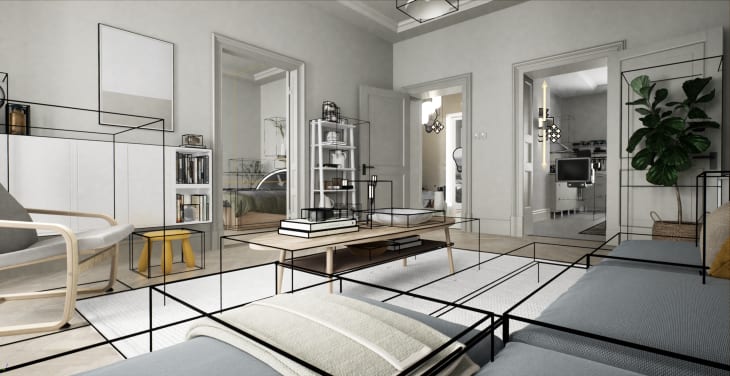 How will future technology redefine how we navigate our homes? This is the big-picture question that IKEA and design agency SPACE10 sought out to answer. The Swedish furniture retailer teamed up with SPACE10, a Danish research and design lab, for a series of digital experiments that explore how technology could enhance our interactions with our spaces at home and refine our everyday lives. The collaboration, coined Everyday Experiments and available to explore on EverydayExperiments.com, are focused on various themes, including Privacy and Trust, Play and Learn, and Design and Organize.
Through a range of digital experiments that correspond to these themes, Everyday Experiments reimagines how people can have more meaningful relationships with technology in their daily lives, transforming the everyday role of technology into something more extraordinary and challenging traditional conventions. The experiments focus on AI, machine learning, augmented reality, and spatial intelligence. For example, what if you could use sound to create silence? That's the question behind the Sound Bubbles experiment under Privacy and Trust. 
IKEA and SPACE10 collaborated with designer and artist Yuri Suzuki for Sound Bubbles, an experiment that envisions the ability to scan a room with a tablet to create a zone of localized silence in select areas around the home. With Sound Bubbles, a living room could easily become an office, while a kitchen could become a call center. 
Then there's Shelve It, an experiment under the theme of Design and Organize. Using augmented reality, spatial awareness, and 3D reconstruction, this particular experiment envisions the ability to design the perfect shelf space simply by looking at the wall. All of these experiments spark new ways of navigating and looking at the spaces in which we live. 
"Throughout this past year, technology played its most integral role in keeping us connected to our families, our work, our hobbies," said Fredrik Axén, digital manager of core business franchise at Inter IKEA Systems B.V. "At times we felt enabled by technology, other times it felt hard to escape. At IKEA, home should always be about people first."
"By letting technology into our homes, we wanted to explore how it can be part of our everyday lives, while making sure we still feel safe and free in our spaces," Axén continued. "It is integral to us at IKEA that as we continue to stay better connected with people through technology, that we place high value on privacy and preserving the boundaries between public and private."