A Simple IKEA Hack for Comfy (& Temporary) Guest Seating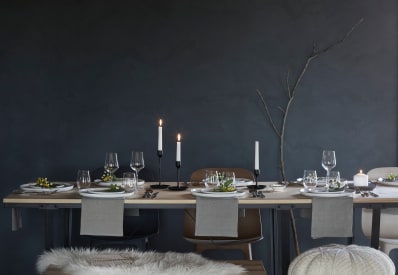 With the launch of their latest Winter Collection of textured throws, warm candles and confectionery goodies, IKEA aims to help add a little magic to the holiday season. But the company hasn't forgotten the most important part of gatherings — comfortable seating. If spare chairs don't have a place in your small space, consider another option: temporarily transform your stools or side-tables into the perfect perch for your guests.
In their press materials for the Winter Collection I noticed that IKEA is getting in on the hack action themselves by creating a more comfortable guest chair using one of their simple wooden stools. Below are their instructions which you can easily adapt to any stool you have at home:
1. Take a simple stool. Grab a comfy cushion and soft cotton throw.
2. Place the cushion on the chair and stretch the throw over it.
3. Choose a ribbon of your taste and bind the cushion and throw in place.
And when the clock strikes midnight (or 4am for all you party animals) and your guests have said their farewells, simply remove the string, blanket, and cushion and transform your cushy seating back to its original function.