IKEA's KUGGIS Collection Is the Best Way to Get More Concealed Storage Out of Your Pantry or Craft Closet
We independently select these products—if you buy from one of our links, we may earn a commission. All prices were accurate at the time of publishing.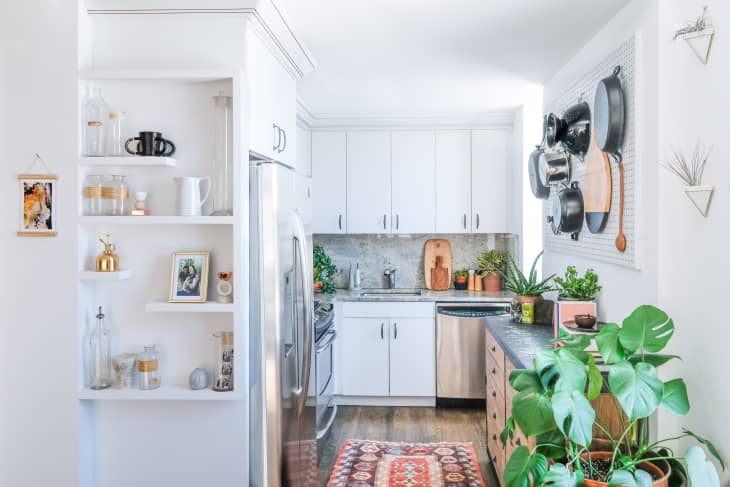 I know it sounds like I'm exaggerating, but I mean it when I say it: One slight shift in IKEA containers changed how I organized craft supplies and pantry staples on the BILLY/OXBERG Bookcase nestled in our breakfast nook/creativity corner. Initially, I used the best-selling VAREIA boxes to sort my children's art items. Even though our BILLY bookcase has doors, things were getting out of hand. I could see the brightly-colored chaos inside peeping out at me each time I opened our cabinet.
Valuing both my children's independence and aesthetically-pleasing organizational strategies, I needed an item that looked good and offered more ways to concealing its contents. This, along with some mayhem in my own office space, called for an IKEA run. There, I found the slightly more expensive KUGGIS series, but depending on your exact needs, this line starts at just $4.
There's so much to love about the KUGGIS box bins. First of all, the bold, minimalist shape feels fresh and playful, and it fits perfectly onto the BILLY/OXBERG shelves. The accent hole in the center adds a little pizazz to the otherwise plain fronts while providing easy access for tiny kid hands to pull the bins out when creativity strikes. The slightly shiny finish makes the KUGGIS look sleeker than your average plastic container; it's decorative and functional. Thanks to their thin lids, I don't actually have to see what's inside when I open the BILLY, and stacking is a cinch, meaning I can fit more of them on a small shelf if I'd like to. Depth-wise, the KUGGIS holds up in that department, too. Each box bin provides plenty of space for the mayhem of art supplies that we've stashed inside them. I even love the smaller version of the KUGGIS because it's the perfect size for pens, dry erase markers, or the endless supply of bracelet beads that seem find their way into my home. Finally, the fronts offer plenty of space for labels (because everything needs a label).
A simple swap of IKEA storage solutions, and the kid's art cubby looks like new. I'm not one to waste perfectly good storage options, however, so I repurposed my VAREIA bins in my pantry to divide and conquer all the nuts, seeds, and snacky things. In fact, I went a little overboard, creating multiple stations in my pantry: the oatmeal station, the kid snack grab-and-go station, the sweets station. The VAREIA works in the pantry to provide the visibility I require in the early pre-coffee hours, too, since they're lidless.
Going forward, I personally will be using a combination of both of these IKEA lines for all of my storage needs. The VAREIA and the the KUGGIS lines are similar enough aesthetically that my all of my home's trouble spots look cohesive when sorted and organized with these pieces. Now that's a win-win in my book!