Ina Garten's New Wall Hanging is Causing a Stir on Instagram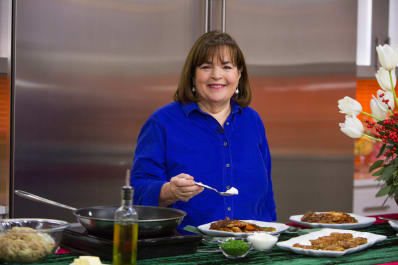 (Image credit: NBCUniversal/Getty Images)
This week, domestic doyenne and Hamptons entertaining heroine Ina Garten shared her latest home decor acquisition on Instagram, but the reception wasn't nearly as warm and inviting as her famous kitchen.
The contemporary art piece from a French antiques dealer is getting seriously mixed reviews — including from many who wondered:
Where was Geoffrey on this?
While Garten gushed on her social media account that "the gorgeous shell sculpture above my fireplace...makes the whole room glow!!", the polarizing piece from Galerie Stephane Olivier drew both ews and ahhhs. And the secret to this particular wall hanging's success or failure seems to be all in the styling and proportions.
First shared on Galerie Stephane Olivier's account back in November (above), the piece was part of a more rustic and neutral palette vignette, which included large-scale antique religious icons and relics along with midcentury lamps a bit closer together on an shabby-chic yet marble-topped cabinet, and presented in a bright light that allowed the wall hanging's natural shell composition to really shine.
But on Garten's low-lit Instagram share (above), where the wall art was also more exposed in a more sprawling vignette, where it shared maybe too much space with only other small-scale objects like ceramic bud vases, finger bowls, and a shadow box containing two butterfly specimens, the shell piece looked like (as some, both mean-spirited and well-meaning social commenters called it):
A giant Portobello mushroom (which would be so fitting for Garten, and the most popular feedback)
The top of someone's head
A dog's butthole
Something from the movie Alien with Sigourney Weaver
A thatched Tiki umbrella
A giant hair bun
The center, retina, or iris of a human eye
A flattened porcupine
A bagel (also fitting for the cookbook author and Food Network star)
Fur
A makeup brush
And so many more creative comparisons. What do you think of Garten's new artful acquisition?
Regardless of (or maybe because of) the reaction or comparisons, I think we all need to agree that this piece is both dramatic and provocative — and that beauty is, after all, in the eye of the beholder. And that's what makes our homes (and lives) so individual and unique.