The Most Inspirational TV Shows for Interior Design, According to Google
We
independently
select these products—if you buy from one of our links, we may earn a commission. All prices were accurate at the time of publishing.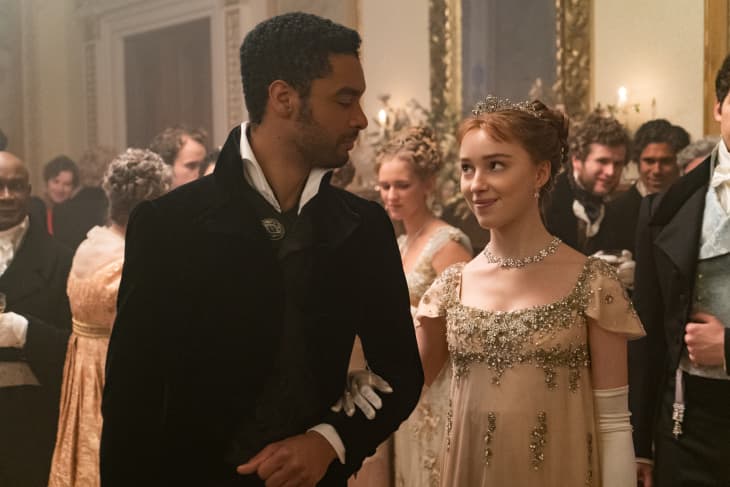 When it comes to interior design inspiration, our favorite movies and television shows can play a big role. From incorporating similar color palettes to paying homage to popular design moments through playful accessories, there are plenty of ways that media inspires a pop culture lover's interiors. Graphic designer Laura Horstmann nods to "Riverdale" and Harry Styles with their colorful LA rental, while the iconic "Friends" peephole can be replicated thanks to Etsy.
To discover which TV and movies are inspiring interior design in 2022, Uswitch analyzed Google search data from the last twelve months. Below, just some of the shows and movies that are inspiring interior style — and lets just say, you may be seeing quite a bit of British-inspired design this year.
With the second season of "Bridgerton" on its way very soon (finally!) it's no surprise that fans are turning to the hit show to inspire their royalcore design. "Bridgerton" interior design incorporates plenty of rich fabrics, floral upholstery and a color palette full of jewel tones, embracing opulence and adding a decadent feel to any space.
21B Baker Street has influenced many "Sherlock" fans over the last year with its cozy blend of Victorian furnishings and cluttercore design. Think bold patterns, wooden furniture, and plenty of vintage accessories that will add depth and character to your space.
This summer sees a new Downtown Abbey movie hit theaters—"Downtown Abbey: A New Era" is set for release on May 20—so fans of the period drama are looking to take inspiration from the lavish interiors of Highclere Castle. Like "Bridgerton", think rich colors and fabrics.
Period drama "Mad Men" may have come to an end in 2015, but the "Mad Men effect" is here to stay. Fans of the popular show are still turning to Don Draper and Co. for inspiration in their interior style, opting for swanky mid-century pieces and a '60s-style color palette.
Has it always been purple? No, but fans of "Friends" may be taking inspiration from Monica Geller and Chandler Bing's apartment! With many home decor lines inspired by the show, it's easier than ever to bring a touch of 90 Bedford Street into your own home.