5 Things I Learned from Taking an Interior Design Class — and The One Thing It Taught Me Not to Do
We
independently
select these products—if you buy from one of our links, we may earn a commission. All prices were accurate at the time of publishing.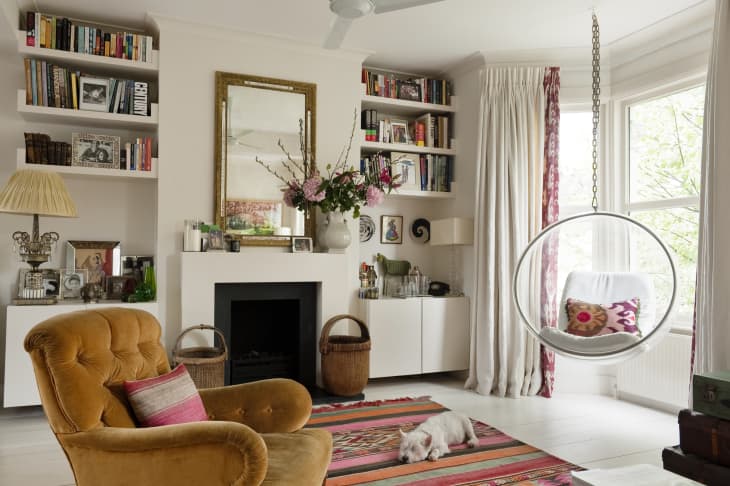 When my husband and I were quarantined together in our one-bedroom apartment for the first half of 2020, after my workday ended, I found myself learning Portuguese on Duolingo, watching roller coaster videos on YouTube, and constantly daydreaming about redesigning our entire apartment. I was yearning for a creative outlet, and the thing that felt the most exciting to pursue was interior design. Especially since we were home all day, the itch just wouldn't go away. I finally decided to enroll in Kelly Robinson's Where Spirit Meets Space, a 28-day design course, with the intention of transforming our little apartment, one project at a time. And I am so glad I took the plunge. 
The course went beyond just design principles and explored the deeper connection we have with our home, ourselves, and the world around us. I did indeed transform our apartment, and the impact on my mood and overall well-being was huge. Here are some of my favorite takeaways from the course, and the one thing I learned not to do.
Mixing colors and textures balances out a space.
In my early 20s, for some reason, I thought dark brown would pair well with just about everything. And while there's nothing wrong with dark brown, at the time my husband and I had a brown sofa, chair and ottoman, coffee table, dining table, and dining chairs. It was a lot of dark brown. I had no clue how to balance it out. Robinson's course describes balancing out a space with the five elements: earth, fire, water, metal, and wood. A balanced space will have a mixture of all of these elements, and while they're not all literal, the quality of each element should be present in some way. Earth can show up as anything made with brick, clay or ceramic, as well as anything earth toned. Fire can be a candle, a salt lamp, or the color red or orange. Metal and wood are self explanatory, and water shows up as the color blue, black, or gray, or materials like glass or mirrors. I love looking at decorative shelves around my home through this lens — if something feels off, I'm usually missing at least one element. 
Bringing nature in makes you feel good.
There's a reason people tend to vacation places with picturesque landscapes, like beaches or the mountains. Nature is calming, whether you're watching a sunset or swimming in the ocean. So it makes sense to have natural elements in your home as another way to create calm, and help you feel comfortable and at ease. Decorating with houseplants and flowers is a great way to bring nature inside, and faux counts as well! Even having artwork of natural scenes does the trick, and opening up your windows for fresh air and sunshine is a way to add beauty to a space that doesn't involve design at all. 
Your outdoor space is an extension of your indoor space.
Prior to taking this course, my small balcony was empty. Then, I learned any outdoor space you have is an extension on your indoor space. I first added solar powered string lights, and the change was immediate. All of a sudden, we could see the soft glow of twinkle lights coming through the window after dark, and it instantly made our space cozier. I eventually added some plants, a small patio set, and an outdoor rug — and it felt like we'd added square footage to our apartment. Mind blown! Even if you don't spend a ton of time outdoors, notice if you can see your outdoor space from inside your home, and consider anything you could add (or take away!) that would add a little more beauty to your lives inside.
Clear your space before you add to it.
I was definitely in the camp of, "Let's go buy a bunch of things to create my dream space!" prior to taking the course. But then I learned the very important first step of any project: decluttering. If you don't take the time to clear the space you want to work on, you can set yourself up for introducing more clutter, and even overspending. You may discover you've been hanging on to some things you don't need anymore, and clearing the clutter away before you dive in can also help you see a room in a whole new way. 
Robinson introduced me to the idea of essentialism, or only having things in your home that are essential to you, your family, your happiness, and your well-being. It's not necessarily about having less, but more about knowing the value and purpose of every item you choose to keep. This can be quite a process, especially if you're decluttering, but there is so much to gain when you let go of items you don't use anymore, or have fallen out of love with. If you're diving into your own design projects and bringing new pieces into your home, be sure to check in and ask yourself how essential each item is. And yes, decor pieces like art, unique furniture, and tchotchkes can be essential too!
Don't wait for permission to decorate your home. 
Ironically, the one thing this course taught me to never do is wait for the approval of a third party to design my own space. Following my curiosity, investing in myself and taking this course was the permission slip I didn't know I needed to start designing and styling my own space. I spent so much time daydreaming and creating mood boards in my mind, but didn't have the courage to act on any of it because I thought I needed some sort of credential, or a stamp of approval from someone else doing it on a larger scale than I was. The truth is, I didn't need a permission slip! While I did learn so many valuable things from the course, the biggest thing I learned was to trust my instincts, and to have fun. You don't need a degree to make your space beautiful, and while I definitely added design and styling tools to my tool belt, I mostly learned to take the pressure off of myself to get things perfect, try new things, and enjoy the process.
This piece is part of Transformation Month, where we're showing off amazing home makeovers, brilliant tiny tweaks, inspiring before & afters, and so much more. Head on over here to see it all!