Nostalgic & Chic Style in Chicago
We independently select these products—if you buy from one of our links, we may earn a commission. All prices were accurate at the time of publishing.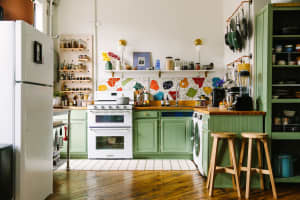 Can't-Miss House Tours Straight to Your Inbox
Keep up with our latest house tours each weekday with our House Tour of the Day newsletter
Name: Irina (and Lummi)
Location: South Loop; Chicago, Illinois
Size: 975 square feet
Years lived in: 1 year; owned
Coleridge, influenced by an opium-induced dream, wrote of "a stately pleasure-dome" that Kubla Khan established in Xanadu. In this space, verdant gardens mingled with caves of ice, and the sweet scent of incense floated above the sun-dappled hills, inspiring "deep delight." Irina, a philosopher and professor of 19th- and 20th-century literature, may not have been channeling Coleridge intentionally when she decorated her home, but with its calming backdrop, smattering of vivid color and patterns, and soaring views of Lake Michigan, Irina's home seems like a fresh and modern take on that vision in a dream.
One of her friends has termed the home "a philosopher's eyrie," and it seems the perfect description for the condo, which is filled with Irina's most treasured possession: her books. They line the main wall of the living space, and they are the first thing that one sees upon entering the apartment. Rather than being tucked away in nooks and crannies, they are like cherished friends, ready to share their stories at any instant.
Indeed, many of Irina's possessions — even the smallest ones — carry stories. On the refrigerator, there's a small Ziploc bag that contains a fragment of a plastic grocery bag. Lummi, Irina's rescue cat, decided at some point that the aforementioned bag would make a tasty snack, and he had to undergo surgery to have the offending bag removed. Irina, who has a warm and wonderful sense of humor, has tacked it up prominently, given her recognition that "It's the most expensive plastic bag I will ever own."
Philosophy, as a discipline, might carry an association of stuffiness for some, but in Irina's home, it's easy to see how a love of philosophy mingles with art, a sense of mirth, and creativity. Irina consistently tries to edit, restrain her love of pattern, and bring in only items that she truly loves.
All this effort has paid off in the form of a space with a sense of structure that actually facilitates creativity. In Irina's home, nineteenth-century bohemian meets mid-century modern. Rich textiles, family heirlooms, and romantic elements mingle with modern finishes, sharper angles, and clean lines. Streamlined mid-century classics add a sense of sophistication to the space, and provide structure for the play of bright colors or dense patterns. In the front room and guest room, warm grays and browns, simple lines, and cool metal accents temper occasional bursts of orange, yellow, pink, and red, making for an organic, cohesive design where no single color, piece, or pattern feels like it's starved for attention. In the bathroom and the bedroom, one can find the sophisticated, restrained palettes of Coleridge's "caves of ice," which nevertheless maintain a sense of warmth and play, thanks to Irina's adept pattern-mixing.
Apartment Therapy Survey:
Inspiration: I love Scandinavian midcentury modern style for its clean lines and warm wood tones that keep the overall look inviting rather than stark. I spent many hours in the Helsinki Design Museum when I was in Finland for a conference and at the Swedish Museum of Architecture in Stockholm. But you might be surprised to find out that my love of mid-century modern design can be traced all the way back to my childhood in Kazakhstan. My grandmother, who was a high school principal, and my grandfather, who was a journalist, had a spacious old apartment in Astana reminiscent of Berlin's altbau buildings. I lived there with my parents until I was 9. Unlike typical Soviet apartment blocks, our building had high ceilings, herringbone parquet floors, and a large bay window in the living room. I grew up surrounded by books, many of them rare first Soviet editions of Russian classics that my grandfather collected and that we had to leave behind when we moved away. The books were kept in sleek bookcases with glass fronts that I had to ask permission to open. I would read in my favorite armchair, upholstered in red, which was part of an entire living room suite that could have been right off the set of Mad Men. I still yearn for the freestanding kitchen cabinets that were imported from Finland and had cubbies and drawers for anything and everything that needed to be stored. I think that all the spaces that I've lived in since then have been an attempt to recapture that atmosphere of my first childhood home.

Favorite Element: The roof deck of my building with sweeping views of downtown and Lake Michigan is still breathtaking. I seem to use it year round. In the winter I like to come out there with a cup of hot chocolate, and I practically live there all summer long.
Biggest Challenge: Restraining myself from mixing too many patterns/colors at the same time. I sometimes joke that if I let myself have free reign, my apartment would look like a Russian brothel 🙂
What Friends Say: My writer friend Vicky says, "I think your apartment combines perfectly your interests in philosophy and aesthetics, in reading and socializing, logic and joie de vivre. I think of it as a philosopher's eyrie." My friend Erin, who is the managing editor of a magazine, says, "What I love is how light and airy and inviting it is. It is artfully decorated but not fussily so, which happens to be precisely the kind of decor I like — warm, neither cluttered nor too spare, comfortable, stylish but un self-conscious. When can I move in?"
Biggest Embarrassment: My fridge, which is older and occasionally makes a low rumbling sound that friends refer to affectionately as "the old yeller."
Proudest DIY: The "D" in most of my DIY projects stands for "delegate." I usually call my friend and contractor Matt of Matthew Kellen Creative (MKC) and he executes my vision. You can see the "before" and "after" of my apartment on his website. Matt remodeled my entire apartment, and I relied on his construction expertise and his creative insight to turn this apartment into my dream home.
Biggest Indulgence: My books. My dear friend and mentor Frank, who is a Near Eastern Languages and Literatures scholar and who was my professor at NYU, has given me his collection of rare and out of print ancient philosophy books as a gift. I call it my "intellectual dowry" and will never part from them!!
Best Advice: Too often people seem to assume that they have to gut a space to make it their own or to bring it up to date when a fresh coat of paint can transform everything from the walls to the look of your entire kitchen. And it's often less expensive and better for the environment!
Dream Sources: DWR, White on White, Room and Board, Hive, Blu Dot, Jonathan Adler, Dwell, all those wonderful vintage stores I always ogle when in Stockholm's Sodermalm. I seriously COVET a Saarinen oval tulip table!!!
LIVING ROOM AND DINING ROOM
Paint color: Benjamin Moore, Smoke and Mirrors
Arco lamp (reproduction): Overstock.com
Couch: Gus Modern
Pair of slipper chairs: eBay
Rug: West Elm
Book shelves: IKEA
Sapien bookcase: DWR
Pair of wishbone chairs (original): gift from a student
Dining room wishbone chairs (reproduction): Overstock.com
Dining table: Boconcept
Eames coffee table (reproduction): Interior Express Outlet
Light fixture (70s vintage): antique store in Edgewater
Deb Haugen "Swing" print: Crate and Barrel
Atomic clock: eBay
Black and white etching by Alissa Margolis: gift from the artist
Kilim rug: Istanbul
Textiles: Stockholm, Sweden
Cabinet paint color: Benjamin Moore, Burnt Ember
Cabinet pulls: eBay
Stainless steel backsplash tile: Subway Tile Outlet
Lomonosov tea set: gift from a friend
Accent wall paint color: Benjamin Moore, Coachman's Cape
Bed: Ikea
Drapes: West Elm
Runner: Overstock.com
Lamp: Target
Sconces: IKEA
Screen: eBay
Print by Andre Brasilier: Art.com
Decorative baskets: West Elm
Afrikan mod ikat pillow: Villa Home
Day bed: CB2
Credenza: Overstock.com
Arm chair: DWR
Rug: family piece we brought from Kazakhstan
Throw pillows: TJ Maxx, CB2
Marimekko tapestry: Helsinki, Finland
Table lamp: West Elm
Floor lamp: curbside find, Hyde Park
Russian Palech lacquered plates: gift from a relative
Florida Flower mosaic tile: eBay
White subway tile: Subway Tile Outlet
Basket-weave mosaic tile: eBay
Mirror: Z Gallerie
GROHE Concetto Starlight faucet: Lowes
Motiv sconces: Faucetdirect.com
Marble vanity top: Stone City, white mist
Vanity hardware: Overstock.com
Rug: Crate & Barrel
Stool: antique store in Edgewater
Kraus Aura bathroom accessories: Overstock.com
Prints (vintage): Prague
(Images: Carolyn Purnell)
• HOUSE TOUR ARCHIVE: Check out past house tours here.
• Interested in sharing your home with Apartment Therapy? Contact the editors through our House Tour Submission Form.
• Are you a designer/architect/decorator interested in sharing a residential project with Apartment Therapy readers? Contact the editors through our Professional Submission Form.