James & Briony's Tokyo Home

Name: James & Briony
Location: Azabu Juban — Tokyo, Japan
Size: 550 square feet — 1 bedroom
Years lived in: 1
I met Briony at the check-out counter of IKEA in Tokyo last August, I spotted her effortless style from a distance and she had that 'lust for life' twinkle in her eye. We instantly clicked and soon realized we had so much more in common than the obvious 'Lost in Translation' theme of Tokyo — we shared a passion for design, cooking and a fascination with this magical land that we now call home. In the following weeks we continued our meet-ups and giggled over endless cups of matcha tea lattes, we were both in love with the city, but also overwhelmed and mostly gobsmacked by our new surrounds.






















James and Briony moved from Sydney to Tokyo at the beginning of last year after James accepted a job offer. They arrived with only a few suitcases, a box filled with art and heaps of enthusiasm. Fast forward a year and they have created a beautiful homey nest with all the personal touches that is reminiscent of a home that's been lived in for years. They always knew moving to Tokyo would mean living in a small space — since they were not on an expat contract — but some things came as a surprise, the oven-less (typical Japanese) kitchen, a remote control bath and a contract that stipulated no drilling or pictures on the wall all were challenging. Briony is an Interior Architect and she soon masterminded clever solutions — she can now even cook (and bake!) without a conventional oven.
The couple have settled into their new home (and city) effortlessly and they are learning the language to assist the process. Briony also opened a cooking school 'At the table' and she and I started an interior consultancy BottegaTokyo here in December, who knew IKEA could be so serendipitous?





















Apartment Therapy Survey:
Our Style: Homely comfort
What Friends Say: Kawaii!
Favorite element: Second hand bench picked up for less than $100 from Meguro Dori
Proudest DIY: We have none to date as we are not allowed to fix anything to any part of the apartment!
Biggest Challenge: Making a typical Japanese apartment feel like a pocket of home
Biggest Indulgence: Eames fibre glass rocking chair
Dream Source: They do say that the world is your oyster…
Best advice: Keep it simple — which has really worked in our tiny space





















• Aboriginal artwork from the Kimberley
• The Smelling Mistake by Tasmanian artist Tom Samek
• and our trusty Keep Calm and Carry On
Even though it is small and simply furnished, it is jam-packed with love.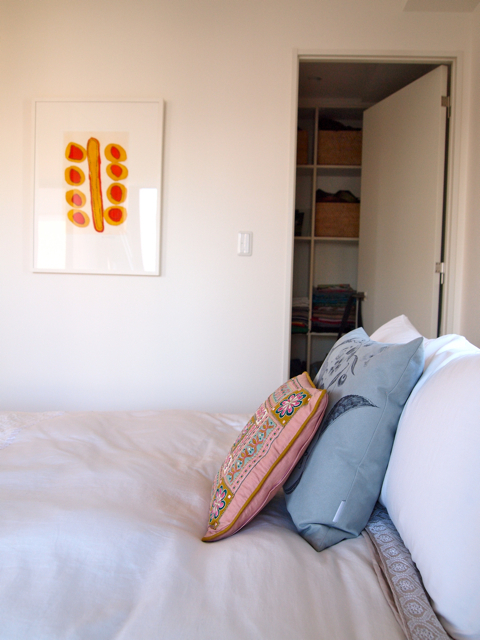 Published: Feb 9, 2011