Say Goodbye to Blank Walls for Good with Art You Already Have — Here's How
We independently select these products—if you buy from one of our links, we may earn a commission. All prices were accurate at the time of publishing.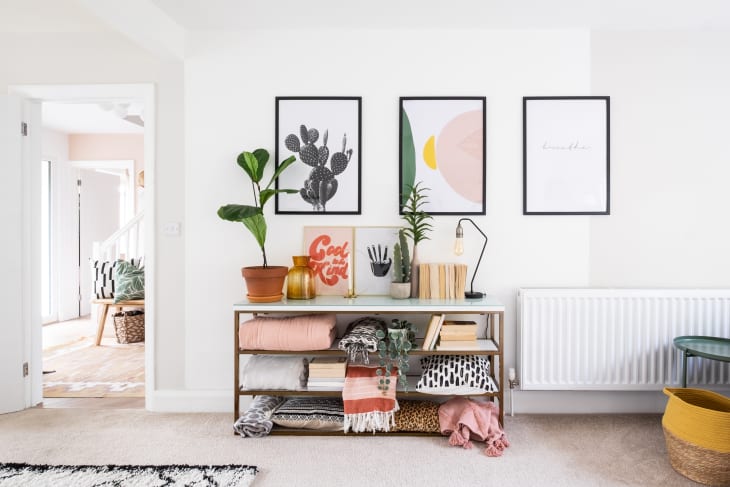 Apartment Therapy's January Cure is a free 20-day program that'll help you reset your home for the year ahead. Sign up here and get all assignments delivered to your inbox. Joining us today is Apartment Therapy's executive home director Danielle Blundell.

Follow Topics for more like this
Follow for more stories like this
That's why today's assignment is dedicated to all things art — and we have just the expert in mind to help you achieve some next-level style in your home. 
Helping guide you through today's assignment is Apartment Therapy's executive home director Danielle Blundell. She's here to provide you with expert advice on selecting and showcasing art pieces.
Day 11: Find and frame some art
If you're surrounded by blank walls and that's bumming you out, you can do something about it today. You just need to add a little bit of artwork to your home, and a frame will make any piece pop and look extra polished hanging on your wall. Whether you gravitate toward serene, black-and-white photos or you're all about technicolor, graphic prints, or paintings, something out there will speak to you, and framing it doesn't have to cost a fortune or take forever to accomplish.
First up, you'll need to find that special piece. Maybe you have a poster you bought ages ago that's stashed in a corner somewhere and you've been meaning to frame it forever, or perhaps you purchased a print on your last trip, and you've yet to touch it. If you're an artist yourself, you probably have a favorite watercolor or sketch you've made at some point. Even if art truly hasn't been on your radar before, that's okay, too. What you choose to consider artwork can be anything — a Playbill from a show you loved, a letter someone special wrote to you, a scrap of wallpaper that makes your heart go pitter-patter. The options are truly endless. You could even frame a favorite T-shirt, sports jersey, or pennant!
Once you've selected your artwork, it's time to frame. You can approach this in a couple of different ways. First, measure your piece and figure out what kind of matting you want (if any) and what your ideal mat size and color is (if you want it). If you have an appropriately-sized frame handy (with or without matting), use it right now! I'd recommend dusting or cleaning the glass on both sides and letting it dry thoroughly before you pop your piece into the frame and secure it. And don't forget to do a streak check before you hang it for the best results.
No frame? No problem! You can shop for a fairly inexpensive style at places like IKEA, Target, Michaels, West Elm, and Crate & Barrel. If you'd like a custom job, just make today the day you're going to drop it off or send it out. Sites like like Framebridge and Simply Framed have pros on hand to help you measure, select the right frame, and figure out some of the hanging hang-ups you may encounter when your piece arrives. A professional job will cost more than a DIY one, so do what's best for your budget. Some items, like tapestries or wall hangings, might not even need framing, so you can skip ahead to phase of this task right away.
Once your framed piece is in-hand and ready to hang, hang it! Make sure you know what kind of walls you have (drywall, plaster, etc.) so you buy and use the appropriate hanging hardware for that building material. If you're nervous about making holes in your walls because you rent or otherwise, consider Command strips for lighter pieces; 3M actually has certain options that can accommodate pieces up to 20 pounds!
Now, all that's left to do is to enjoy your beautiful artwork display. In fact, I bet you'll be ready for even more art almost immediately once you see how much of a decorative impact just one piece can make!
PRO TIP: If you really want to get art placement perfect — or you just like seeing all the options —  consider tracing your frame to make a hanging template on paper first. You can move this template around (secure it each time with painter's tape so your wall paint won't peel) until you find your ideal spot, which means fewer holes to worry about if you don't get things quite right the first time around.
What art do you plan to hang in your home? Share it with us in the comments below.
More ways to participate in the January Cure:
The Cure Program is a tradition here at Apartment Therapy — it happens every January, April, and September. Click here to learn more about the year-round program and when to sign up.