Jeanetta & Brian's Incredible Shared Space
We independently select these products—if you buy from one of our links, we may earn a commission. All prices were accurate at the time of publishing.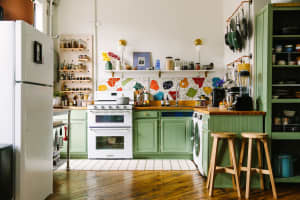 Can't-Miss House Tours Straight to Your Inbox
Keep up with our latest house tours each weekday with our House Tour of the Day newsletter
Follow Topics for more like this
Follow for more stories like this
While poking around Instagram, I discovered Jeanetta and fell in love with her new office. To my delight, it turned out that she shared the space with Brian, inside the incredible new Unique Space in DTLA. This is my third tour of interiors inside the Unique Space, and I have to say— they are quite unique.
Jeanetta and Brian are both designers and with that comes a love of graphics, prints, typography, layers of texture and most of all things that work well in a designed space (together). Sharing a space can be a challenge when your aesthetic's vary…however when you can find the perfect balance, it can turn in to something magic like this! I really love everything about their office; the wall paper, their use of the space and layout, and of course their clever ways of displaying their work and fun DIY projects. Welcome!
A quick bio of the two designers:
"Years ago, Brian Saldivar and Jeanetta Gonzales crossed paths while in design school and have remained great friends ever since. Now, both accomplished in their fields, they've parlayed their creative interests into acquiring a shared workspace at Unique Space in the downtown LA Arts District.
Brian is a seasoned graphic designer. His design work ranges from packaging to branding and app design. With this space, Brian is now inspired to tap into his fine art roots, by fusing classical style and technique with personal expression.
Jeanetta Gonzales is a graphic designer, surface and pattern designer and a licensed artist. In addition to design she teaches seminars and workshops at local art colleges. In their studio, Brian and Jeanetta nurture their individual design companies with the freedom, fun and inventiveness vital to creating their artistic visions."
Apartment Therapy Survey:
Jeanetta: I am pretty eclectic and love to use color and mix different styles. I like mid century modern, global and Scandinavian design. I love a room that feels lived in and inviting – with collected items and personal touches.
Brian: My style is a mix between industrial/rustic and mid century modern. I like clean lines with a pop of color mixed in with interesting textures. Our studio is a reflection of our individual design tastes and personalities mixing masculine and feminine styles. We need the space to function as a design and art studio and a welcoming place for clients to visit us.
Jeanetta: We were inspired by the industrial vibe of our building, The Unique Space, and the Arts District Area. We determined that we both liked rustic and industrial design styles so we used that as a jumping off point when decorating the overall area. We didn't want it to feel too disjointed or too matchy-matchy. For us the studio should be a good blend of our personal styles, compliment the architecture and be an inspiring place to work.
Brian: The wallpapered wall is our favorite. It breathes life into the room with just a touch of glam and the Illustrative style resonates with the both of us. Even though our taste may vary in design and décor this was certainly our common ground. It's also an unexpected surprise when visitors enter the space and turn towards the door.
Jeanetta: Coming up with a comfortable floorplan for our individual work areas was a challenge for us. We taped the floor and sketched ideas before we brought in our furniture to ensure we would have ample room for our designated work areas. We divided the room so we each have a computer desk with an area to draw and paint and a common area with a large work table and bookshelves.
Room For Improvement / future projects:
Brian: They really like the space and thought it was inviting. And can really see the collaboration take shape.
Jeanetta: "Ahhh – fresh paint smell!" They like the newness and high ceilings. Friends are really impressed with our studio and how we collaborated on the décor. They say it feels homey and inspiring.
Jeanetta: We like to work with task lighting versus the florescent, overhead lighting so we are looking into lighting options. We are thinking of installing a lighting system that utilizes the amazing vertical space.
Brian: We also want to add area rugs to warm up the room more.
Jeanetta: It's not a DIY but a moment we are proud of that happened organically. While shopping for items on our decorating list, I ended up finding this beautiful, reclaimed barn wood from Montana to use for Brian's custom desk and our shelving unit.
Brian: I wanted to do something cool with the tall walls we had so I brought in one day a wallpaper sample I had my eyes on to show Jeanetta. She loved it of course so we decided to wallpaper the far wall. It is kind of a role reversal for us considering Jeanetta designs patterns and I love rustic items – it all came together so smoothly. We were so excited.
Brian: The wallpaper and installation was a big indulgence for sure – a great splurge that really adds a designer touch to the room. The pattern is also a great balance of masculine and feminine with its illustrated trees and gold pears – a complete reflection of our shared space.
Jeanetta: We are two designers who like to hoard fun stuff. Having a shared space means we need to be mindful of clutter. Our studio needs to be functional and inspiring, as we both need room to work and think. Art projects can get messy so keeping our items contained in boxes, carts or cupboards cuts visual clutter and makes things easier to sort and access.
Jeanetta: ABC Carpet and Home, Anthropologie and Room and Board
Brian: One Kings Lane, Room and Board, First Dibs, and City Foundry
Jeanetta –
Iomega External Hard Drive
IMac, Epson Stylus Photo R1900 Printer
Epson V500 Scanner

Brian –
iMac, G-Technology 2TB G-Drive External HD
Jambox (Apple Store)
Magic Trackpad
Apple Wireless Keyboard
iPhone 4s Dock
Jeanetta –
White desk and flat file cabinet: IKEA
3-tier cart: IKEA
Drafting table: found on the sidewalk thrown away (big score!)
desk chair: West Coast Modern Furniture
wall shelves: Silverado Salvage & Design
brackets: Home Depot
Brian –
Work Bench: Long Beach Flea Market
White Cabinet and wall cabinets: Ikea
Custom Computer Desk Top: Silverado Salvage & Design
Computer Desk Legs: HairpinLegs.com
Eiffel Wire Chair: Purchased from an Eagle Rock "Hipster" on Cragislist.com
Studio Designs 42" Vintage Drafting Table/Rustic Oak: Warehouse Deals from Amazon
Jeanetta –
African baskets: Baobab Enterprises
Terracotta Plant Cradle: Muddpuppy on Etsy
Ceramic vessel: gretelhome.com
ceramic bowl: West Elm
Picture frames: thrifted and Aaron Brothers
Glass bottles, thrifted and Ludeen's
Pens and Journals: Muji
Animal Mug: Zuny
Coat rack: CB2
Pinboard: a friend made it using fiber board and fabric
Red Vase: Heath Ceramics
Soy Candle: Frites Candle Co.
Grape Wood sculpture: Home Goods
Craft paper and black boxes, Target, IKEA and The Container Store
Urn: Thrifted
Stapler: Nickey Kehoe
Tote bags and fabric: by me
glassware: West Elm & Bodum
Wooden Birds: carved by my Uncle
Black Bird votive holder: Crate and Barrel
Wire Basket: Marshalls
Miles Davis Poster: Hollywood Bowl concert souvenir
Bike Spoke Mirror: CB2 from several years ago
Square mirror: Anthropologie
"Do Your Best" Pennant: Threepotatofour.com
Brian –
Cork: Amazon
Silver Frames: CB2
Black Frames: IKEA and Pottery Barn
Wall Clock : Awdsnends from Ebay
Trash Can: Container Store
Repurposed Toothpick Holder: 1920's German Hotel
Business Card Holder: Cozysale from Etsy
Woods and Pears Wallpaper: Walnut Wallpaper
Wood Tray: MacKenzie Antiques
Chalk/Pinup Board: Home Goods
Medicine Containers and Paint Cans: Container Store
Test Tube Vase, Mushroom Mug, and Gumball Container: Gold Bug
Munny Toy: Kid Robot
Candle and Desk Clock: Nordstrom
Jeanetta –
Bronze desk lamp & OttLite: Joanne's Fabric and Crafts
Brian –
Swing Arm Light: IKEA
OttLite Vero Table Lamp Brushed Nickel: Amazon.com
Organizing Tools/Accessories: – IN "ACCESSORIES" SECTION
Brian –
Handmade Letter Pan-Pacific Print: Modern Optic from Etsy
"1963" Mad Men Art Print is a tribute to Mad Men Season 2 Ep 04 "Three Sundays" Featuring the Don Draper Quote
Hero Design Studio and Print Mafia
360 Vodka and Tarantula
Packaging Design for McCormick Distilling
Thanks, Jeanetta + Brian!
• HOUSE TOUR ARCHIVE: Check out past house tours here.
• Interested in sharing your home with Apartment Therapy? Contact the editors through our House Tour Submission Form.
• Are you a designer/architect/decorator interested in sharing a residential project with Apartment Therapy readers? Contact the editors through our Professional Submission Form.
Updated daily with fresh tours full of photos for you to pin & enjoy!