Jen & Nate's Upcycled Mix
We independently select these products—if you buy from one of our links, we may earn a commission. All prices were accurate at the time of publishing.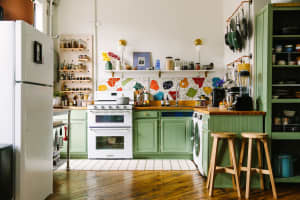 Can't-Miss House Tours Straight to Your Inbox
Keep up with our latest house tours each weekday with our House Tour of the Day newsletter
Name: Jen Selk & Nathan Kalman-Lamb
Location: Midtown — Toronto, Canada
Size: 2 bedrooms, 800 square feet
Years lived in: 2.5 years together, Nate for 5 — Rented
Follow Topics for more like this
Follow for more stories like this
Jen and Nate's two bedroom Toronto apartment proves yet again that you needn't spend buckets of money to make a home function well, look beautiful, and reflect the unique personalities of its inhabitants. Even with a small budget, this couple's hard work has resulted in a space filled with striking visual impact and plenty of comfort.
A self-professed cheapskate, Jen doesn't aspire to own designer pieces or follow the latest trends; she does, however, insist on sheltering only those items that speak to her or Nate personally. Jen finds charm and style in items that others see only as cast-aways, relying on an arsenal of creative interventions to help return them to their former luster. Jen shares her methods, current decor, and style crushes on her blog. She has also recently opened an online boutique, Will & Bequeath, for those of you looking to score similarly eclectic and enchanting second-hand treasures.
Throughout the couple's home, family heirlooms and art pieces can be found alongside salvaged furniture and thrift store finds. Collections are thoughtfully organized and displayed to cut down on visual clutter, while still keeping things interesting. The two are not afraid of a little experimentation in the color department, recently choosing a deep blue paint for their bedroom and a rich chocolate color in the bathroom. The edges of the doors leading to the two bedrooms have been painted contrasting orange and green–hinting at the amount of thought and effort that goes into creating a home this stylish and livable.
Apartment Therapy Survey:
Our Style: Eclectic cheapskate
Inspiration: I'm most inspired by failures — art attempts gone wrong, horrible old furniture put out on the curb, anything handmade that's just a little bit wonky. Failed attempts have so much heart. They inspire me to try new things. After all, what's the worst that could happen?
Favorite Element: I tend to be in love with whatever I finished most recently. Right now, I'm pretty into the salon wall in our hall way, and the very dark blue walls of our bedroom. In a week, I may love something else more. I'm lucky. I used to tell people that I wanted my future home to be filled only with things I loved, and I'm doing pretty well on that front. (Do I love my vacuum cleaner? Not particularly — the suction leaves something to be desired — but in terms of the home's decorative elements, I'm all set.)
Biggest Challenge: Turning the place from a dark, dingy, mouse-infested cave, which it was when Nathan lived here with roommates — sorry, Nate — into what it is now: a cozy home. Just making the space livable (at least, by my standards) was a big job and on many occasions along the way, I wished we'd just found a move-in-ready (read: clean) apartment instead, but in the end, it was worth it.
What Friends Say: You found this in the garbage?
Biggest Embarrassment: Nothing about our place really embarrasses me, but I have several clichéd pieces (a hide rug and mounted antlers, for example) that are questionable. In addition to this stuff being ubiquitous, I'm troubled by the ethical questions associated with animal products, even though I eat meat. When vegan friends come to visit, I feel like the worst host in the world. (I also hate the green laminate countertop in the kitchen … but hey, it's a rental. You can't have everything.)
Proudest DIY: My DIYs are my babies, so it's hard to pick just one. That said, I recently built/revamped a big credenza for our front hall that turned out pretty well. When I tell people I made it with cheap kitchen cabinetry, fence post spires, hardware and paint, they're always surprised.
Biggest Indulgence: Oddly, it's the little stuff — decorative pieces, housewares, knickknacks, bad art — that add up. I buy it all second-hand, mostly from places like Goodwill, so no single item is a splurge, but I'm addicted, so over time, I know I've spent more than I should have on stuff we don't need.
Best Advice: Relax. Your home will never be perfect, and even it could be, perfection is overrated. It makes people uncomfortable. (And for goodness sake, wash your shower curtain once in while. Or at least replace the liner.)
Dream Sources: This is going to make me sound like an insufferable goody goody, but even if money was no object, I'd keep shopping the way I do — at Goodwill, on Craigslist, etc. The thrill of the hunt and inexpensive price tags make me happier than any designer or brand name I can imagine.
• Zebra runner: Pay Less for Everything, Toronto
• Credenza: DIY
• Hide rug: IKEA
• Black and white throw pillow: IKEA
• Matchstick blinds: Zellers
• Furniture, Curtains, Accessories: Thrifted/DIY
• 1940s-era dining table (Canadian): inherited
• Light fixture: Home Depot
• Vinyl bird decals: Deserres and Dollarama
• Mirror: Demolition site curb find
• Art: John Currin postcard from the Tate Modern, London; the rest is inherited
• Cabinet hardware: Home Depot
• Art, Accessories: Inherited/Thrifted
• Furniture: Engen, from IKEA
• Gold screen: Inherited
• Light fixture: Home Depot
• Accessories: Thrifted
• Wall colour: Behr, Night Shade #740F-7
• Window curtains: IKEA
• Cupboard hardware: Anthropologie
• Wall colour: Ready-mixed CIL, Chocolate Kiss #CC217
• Desk: IKEA
• Desk lamp: IKEA
• Woven rug: IKEA
• Curtains: IKEA
• Bedding: Beddington's
• Light fixture: Rona (outdoor, coach-house style, black)
• Additional furniture (beds, chair): Thrifted/DIY
• Light fixture: Rona (outdoor, coach-house style, white)
• Salon wall art: Thrifted/DIY/Family photos
• Vintage men's neckties: Goodwill
• HOUSE TOUR ARCHIVE Check out past house tours here
• Interested in sharing your home with Apartment Therapy? Contact the editors through our House Tour Submission Form.
• Are you a designer/architect/decorator interested in sharing a residential project with Apartment Therapy readers? Contact the editors through our Professional Submission Form.