Jenna's Colorful Colonial Reno
We independently select these products—if you buy from one of our links, we may earn a commission. All prices were accurate at the time of publishing.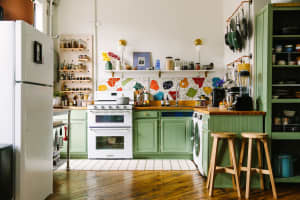 Can't-Miss House Tours Straight to Your Inbox
Keep up with our latest house tours each weekday with our House Tour of the Day newsletter
Name: Jenna & Lexxa
Location: Baker Neighborhood; Denver, Colorado
Size: 630 square feet
Years lived in: 13 (Jenna) & 17.5 (Lexxa); Owned
Jenna Miles, the owner of Denver's "modern mercantile" shop Hazel & Dewey,  and her partner, Lexxa, are the happy residents of a two story renovated colonial in the city's quaint Baker District neighborhood. I first met Jenna in her shop, filled with the most incredible kitchen items and hostess gifts. As I discovered, Jenna and her partner own a home just a few blocks away that's just as colorful and thoughtfully crafted as the shop itself. Jenna gave me a peek inside, made me a cup of hot green tea, and began to tell me the most amazing renovation story I had ever heard. 
Follow Topics for more like this
Follow for more stories like this
Lexxa bought the house back in 1995 and it was in bad shape, but the the price was right and she had a vision. She knew the house would take a lot of work, hard work, but something told her to snatch it up.The home had been abandoned and neglected for many years, but it had good bones, was in a good (soon to be great) part of town, and it had a second floor that she planed to make into a rental property. Thankfully Lexxa had the foresight (something she attributes to some great advice given her by her realtor at the time) and the vision to see the incredible potential hiding beneath the surface. Shortly after, Jenna moved in and together they dedicated a whole year to renovating the home. Working in a house with two levels made it easy to renovate on one level while living in the second. Not only were they able to create their dream home, but they were also able to create a secondary income-generating rental space to share with the many great people (the current tenants are friends and musicians) who would soon come into their lives. 
After all the hard work was done, for Jenna and Lexxa, decorating their home was as simple as surrounding themselves with things they loved. Most of the decor in their home is influenced by extensive time spent in both Mexico and Africa. As you can also see, these two are not afraid of letting color into their lives, something I feel they have done beautifully. The walls are bright with invigorating hues and adorned with signature pieces from friends and local artists. Whimsical touches, like the collection of vintage sunglasses (a gift from one of Jenna's old co-workers) showcased in a bookshelf, keep this classic reno feeling very much their own. The main takeaways from my recent visit to Jenna and Lexxa's inspiring home: #1 – Buy a property that has secondary income generating potential, #2 – Buy in a historical neighborhood that has the potential to transform into the next cultural hipster hotspot (fingers crossed), and #3 – Don't be afraid to make it your own!
Apartment Therapy Survey:
My Style: An artistic blend of modern and old, with a hint of Mexico (like a dash of lime juice to make the flavors pop).
Inspiration: Antique/vintage tools (I don't like modern appliances or anything plastic), Mexican culture and art with specific inspiration from Robert Brady's house in Cuernavaca, our artistic friends, COLOR!
Favorite Element: Aesthetically: the high ceilings and large windows, which flood our living space with the amazing Colorado sunshine. It makes the space feel so much bigger. Practically: the wall niches and built-in storage. The niches are the perfect place for a rotating display of my little collections. Plus, the drawers under the stairs are the perfect place to dump the everyday clutter when company arrives.
Biggest Challenge: The small kitchen. I don't have a pantry, which means that one of the under-counter cupboards serves as food storage. It is dark, over-crowded, and unorganized down there. As a cook, baker, and owner of a kitchen gift/supply store, the kitchen is the most important room in our apartment, but we've never really figured out how to utilize the space better. I hope to have a kitchen makeover in the near future.
What Friends Say: That we have a warm and cheerful place. Everyone feels comfortable here.
Biggest Embarrassment: It has been 12 years since we remodeled the apartment, yet we still have a hundred little things that haven't been finished.
Proudest DIY: The house was in sad shape when Lexxa bought it, as it had been abandoned for years. The two of us plus one very experienced friend spent a year renovating the entire apartment, ourselves. We pulled down walls and ceilings, put up new walls and ceilings, widened windows, tiled, skim coated, refinished floors, painted, and custom built the heck out of our apartment. It was a lot of hard work, but we learned so much and are quite proud of the outcome. If I have to pick one thing, it's the design of the floor tile in the kitchen and bathroom, which Lexxa designed and installed herself.
Biggest Indulgence: The art collection. It's like buying a designer wardrobe for your walls. Fortunately, we have a lot of friends who are artists so we often get a good price, or make a trade for jewelry and art that Jenna has made.
Best Advice: Take your time and invest in quality pieces that make you happy. For a more creative and unique home, shop at small local stores or markets where you will find items that won't end up in thousands of other homes. Also, don't hang your art too high on the wall! A good rule of thumb for hanging artwork, center the middle of your piece at an average eye level…..about 58-60 inches from the floor.
All of the interior paint is Porter Paints from Allen Paint, our neighborhood paint store. The walls are eggshell and the trim is semi-gloss. All of the wall paints were thinned down with water and Floetrol to create a glaze that we hand-brushed onto the walls in order to create some visual texture. I couldn't find the paint chip for the white that we used (it's been 12 years) but here are the colors:
Living Room wall: Carrot Cake

Kitchen wall: Rustic Pottery
Living Room wall: Carrot Cake
Dining Room wall: Evening Glow
Kitchen, living room, dining room trim: custom color
Bedroom wall: French Lilac
Bedroom trim: Minerva
Mission desk: hand-me-down
Vintage folding chair: yard sale
Bookshelves and under-stair drawers: custom built by Ken Goodwin
Rosewood china cabinet: yard sale
Wall hooks: Kitsch Kitchen in Amsterdam
Handcarved/painted dragon and creature from Oaxaca, Mexico
"Frieda" by Carlos Fresquez
"Forster" by Katy Johnson
"Alice in Wonderland" by Elsita
Sofa, loveseat, chair & ottoman: Macy's
Counter stool by Jil Cappuccio of Sewn
Table lamp: vintage from Lee Alex Decor
Floor lamps: Ikea
Oregon Dew in the Calla Lily Blues" by Audrey Miles Cherney: www.rosehipstudio.com
"Spooky Old Woods" by Johanna Mueller, http://johannamuellerprints.com/home.html
"Best of Luck" intaglio print by Ron Fundingsland 
"Iconic Bracelet No. 10" by David Morrison
African New Year's mask from Santa Fe flea market
Blue + gold abstract painting by M. Raitano
Wood skeleton from Oaxaca, Mexico
Nuestra Senora de Guadalupe retablo by Madrid y Madrid, from El Sanctuario de Chimayo gift shop
"Foxhole" by Kym Bloom, http://www.kymbloom.com/
Beetle plate by Christine Boyd
"La Vida" by Jenna
Teapot by Diane Sullivan
"Evelyn Rose" by Ray Beasley
Table & chairs: hand-me-downs, upholstered by Jenna
Table runner by Skinny laMinx, from Hazel & Dewey
Fireplace mantel, shelves, and cupboards custom built by Ken Goodwin
Plaster frieze: found in our basement. We think it was an extra panel from one of the area's old movie theaters.
African instruments from Zimbabwe
Handcarved Jaguar's head from Guatemala
Solidtype X by Rick Griffith of Matter
Glitter painting by Zachary Burk
Large intaglio print by Lisa DiMichele
Sacred Hearts collected from trips to Oaxaca, San Francisco, Santa Fe, Chimayo, & Austin. One was handmade by Jenna's sister and nieces. One was handmade by Jenna.
Mudpuppy planter + air plant, blue & green jars from Ironwood
Most of the new and vintage pots, vessels, and tools come from Hazel & Dewey
Cactus: City Floral
Floor tile: Bud's Warehouse
Countertops: Formica laminate in an alphabet print from Home Depot
House portrait by Jude Morales, http://www.judemorales.com/
"Miguel" by Elaine Scheffler
"Things to do in Denver When You're Pissed" by Rachel Dickerson
Sugar skull clock by Jude Morales, from Hazel & Dewey
"Baker Peas" by Kenny Bee
Bed frame, under-bed drawers, mattress, & pillows: The Natural Sleep Store
Bedcover: Piramide in Manitou Springs
Lightbulb pillow by Utilitarian Franchise, from Hazel & Dewey
Table lamps and nightstands: thrifted or found
Dresser: vintage from Decade
Crescent mirror: thrifted
Dressing mirror: made by Lexxa & Jenna
Hummingbird woodblock print & abstract colorscape by Jenna
Steel lamp (on dresser): made by Lexxa
Sink, bathtub, ceramic tile, and floor tile: Bud's Warehouse

Faucets, mirror, and lighting: Home Depot

Cabinet, counter, and built-in shelves custom built by Ken Goodwin
"Flowers for Frederic" by Kym Bloom
• HOUSE TOUR ARCHIVE: Check out past house tours here.
• Interested in sharing your home with Apartment Therapy? Contact the editors through our House Tour Submission Form.
• Are you a designer/architect/decorator interested in sharing a residential project with Apartment Therapy readers? Contact the editors through our Professional Submission Form.