Joanna Gaines Reflects on 20 Years of Marriage to Chip and Sending Her Oldest Son Off to College
We
independently
select these products—if you buy from one of our links, we may earn a commission. All prices were accurate at the time of publishing.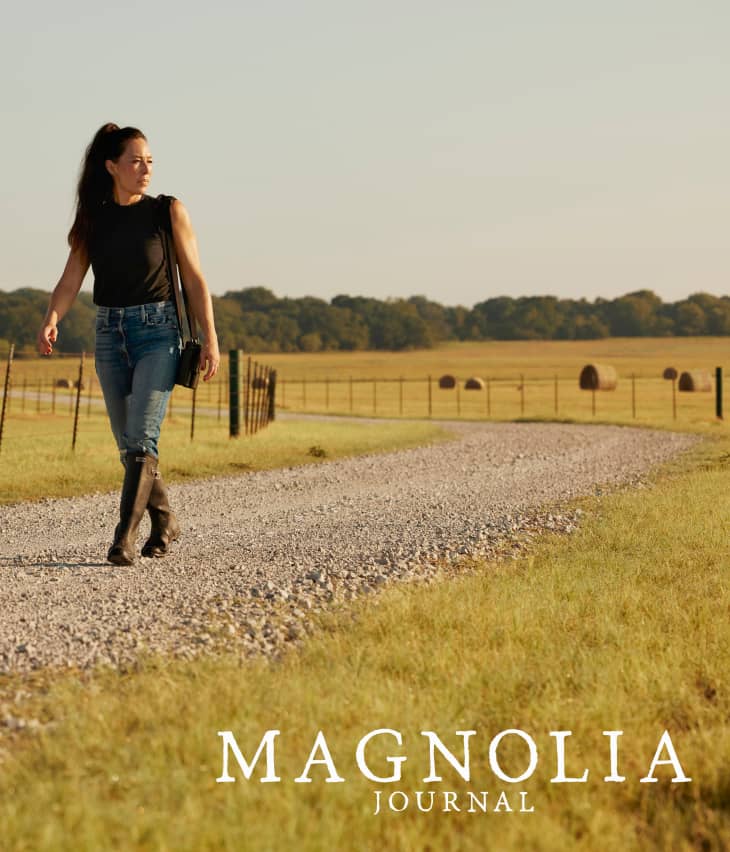 Like many sick of sweating the day away, Joanna Gaines is getting ready for fall. While the former "Fixer Upper" alum and Magnolia Network tycoon says she's ready for "cooler winds and golden leaves," that change of season will also come with some big transitions for the Gaines family: oldest son Drake is leaving for college. In the fall issue of Magnolia Journal, Gaines reflects on how difficult the transition will be, and the lessons she's learned in 20 years of marriage to husband Chip.
"Soon, our oldest son, Drake, will be leaving home for college. In the grand scheme of heartbreaking things, this one comes with a lot of gratitude and excitement," explained Gaines. "But still, my first child is moving away, and our family dynamic will change because of it, and that can feel like a loss of its own. I catch glimpses now of what that life will look like and wonder if — or how many times — that might bring me to the floor." 
In addition to her complex joys and sorrows of sending Drake off to college, Joanna reflected on the lessons she's learned over the last two decades, as she's walked through life with husband Chip by her side. But she also opened up about the hardships they've faced. 
"In our 20 years of marriage, Chip and I have experienced a little bit of all of it. Losing a loved one. Shifts in friendships. Bills we couldn't pay. Moments where our hearts were broken. Times when all hope felt lost and circumstances were out of our control," Gaines explained. "When all I could think to do was lay face down on the floor in surrender."
Still, it's in that surrender that Gaines found her greatest strengths. Saying that life is about "finding ourselves a new crisp page," she shared that sometimes "we have to surrender ourselves to the promise of growth that follows the fall." 
In the meantime, Gaines is ready to enjoy the autumn season with the rest of us. 
"This year, I'm waiting on fall the same way I always do. I'll watch the sky. I'll listen for rain. I'll pause at the trees with turning leaves. But I'll do it all a little more patiently. A little more gratefully, remembering that strength isn't earned in endings or beginnings but in the space I'm forging along the way," she shared. 
Gaines' plans for fall are an interesting pivot from the message she shared this past summer, when she announced she took up roller skating in a mission to let go and have more fun. She snagged a pair of green skates with pink laces, and donned them to roll around the driveway with her daughters. 
"Who knew if I'd ever use them, but I'd just resolved to have more fun, loosen up a bit, and a pair of retro roller skates seemed like a near-perfect reminder of that," she wrote in the summer issue of Magnolia Journal.
Things have been busy these days for Chip and Jo. Earlier this week, it was announced that the couple's Magnolia Network would find a new home on HBO Max beginning Friday, September 30. (The full Magnolia Network slate will still be available on Discovery+, as well.)