Jonathan Scott Says All Vaulted Ceilings Need This Feature
We
independently
select these products—if you buy from one of our links, we may earn a commission. All prices were accurate at the time of publishing.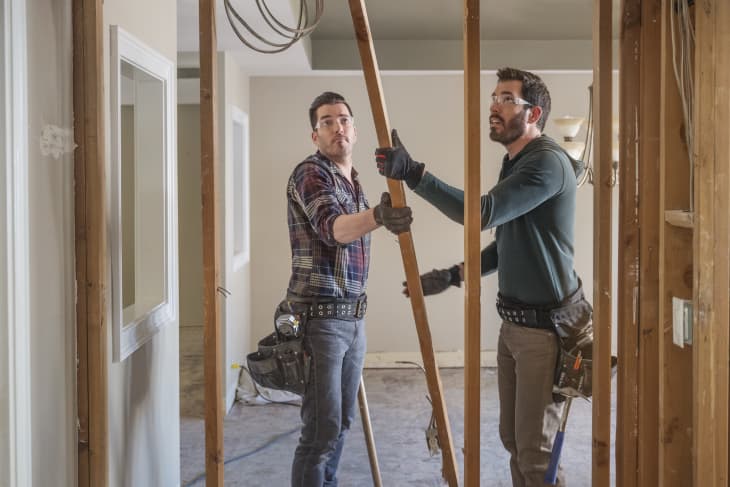 If you have a high or vaulted ceiling and you're not taking the opportunity to install beams, you are seriously missing out, Jonathan Silver Scott (of Property Brothers fame) said in a recent Instagram post. According to Scott, all high and vaulted ceilings look good with natural wood beams — but you don't need to rework your home's infrastructure to get the historic look. It's actually a much simpler process if you go decorative rather than practical.
"It always seems like such a missed opportunity when somebody has nice high ceilings, or especially a vaulted ceiling, and they don't put in beams," Scott said in his May 9 video.
"We work with Barron Design and they can do anything we want — any color beam, any size, and finish," he continued. "Some of their beams are faux, made out of foam, but they look real. Others are actual wood, but they're hollow on the inside." And that hollow interior can actually be used to disguise features you might not want on display in your home.
Scott says that he used a Barron Design hollow beam to disguise an HVAC vent that ran through his bathroom. "What would have just been maybe drywall or something unattractive is now a gorgeous feature."
And because these aren't real beams, you'll be saving yourself a bunch of money on the project, too. Some clever DIY-ers can even fashion their own hollow beams out of planks from the hardware store. Although, DIY installation may be tricky depending on just how vaulted your ceilings are, so do your research before diving in head-first.
So if you've been looking for your next home project, look up! You may just need to give your vaulted ceiling a refresh with some inspiration from the old world.