These Colorful Bowls Save Me So Much Space and Effort in the Kitchen
We independently select these products—if you buy from one of our links, we may earn a commission. All prices were accurate at the time of publishing.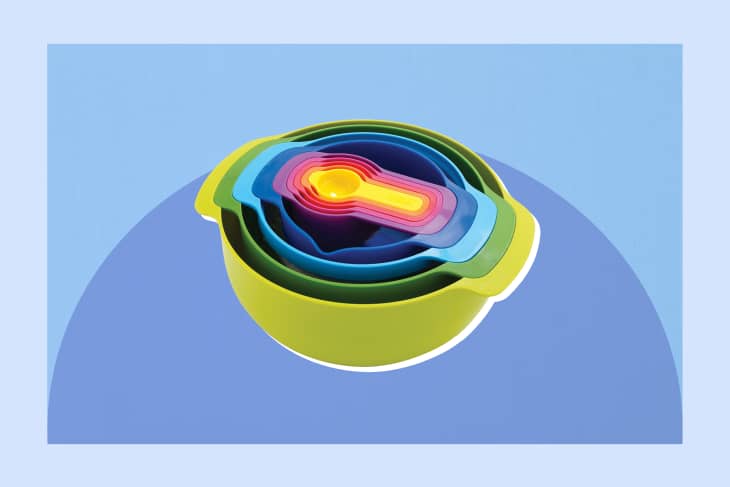 While I do enjoy cooking and baking, what I don't enjoy is rummaging through cluttered cabinets and drawers to corral all of the bowls, measuring equipment, and other tools required for meal prep. That's why I finally did myself a solid and invested in the highly rated Joseph Joseph Nest Plus 9-piece set, which seems to have been designed with me in mind: It includes a large mixing bowl, a strainer, a mesh colander, a smaller mixing bowl with a spout, three measuring cups, and a teaspoon, all snugly stacked together. And let me tell you, reader, it's been a total game changer.
Follow Topics for more like this
Follow for more stories like this
For starters, the compact set, which is currently 53 percent off during Macy's Valentine's Day event, has been such a space saver for tiny kitchens like mine, and it makes organizing a lot easier. Everything fits neatly into one large bowl so that all of your cooking essentials aren't eating up valuable cabinet space. And that's not all: Previously, my measuring cups and spoons were always jamming my narrow drawers, but now that space is freed up and the drawers slide smoothly.
Cooking has become a less chaotic, thanks to the set: When I'm ready to bake a cake, whip up dinner, or prep a salad, I simply take the large bowl out of my cabinet, and I have every single tool I could possibly need at my disposal. Genius! And I have to say that the bright colors of the set add an extra bit of cheer to my routine.
The pieces themselves are top quality: The two mixing bowls and strainer are slip-resistant, so they stay put while I vigorously mix to the tunes of Madonna, and the wide handles make everything a whole lot easier to grip. All of the pieces are dishwasher-friendly as well, which makes cleanup really easy, although I do rinse the mesh colander by hand just to be safe.
I have had this set for over four months now, and I'm still patting myself on the back for this clever purchase. I love it so much that I recently snagged a set for my 79-year-old grandma back in India who loves to bake but has severe arthritis that makes it hard for her to grip heavy ceramic mixing bowls. Here's the message she recently texted me:
"I made my mother's caramel custard after almost five years thanks to your gift."
I'm not crying, you're crying.