The $15 Microwave Tool That Makes Snack-Size Portions of Popcorn
We
independently
select these products—if you buy from one of our links, we may earn a commission. All prices were accurate at the time of publishing.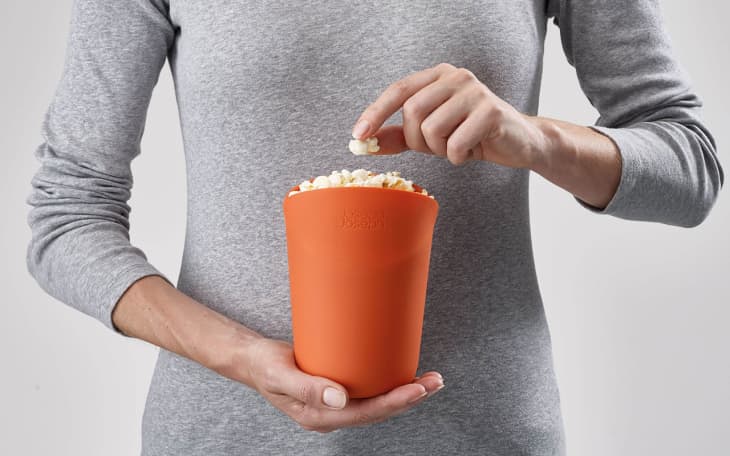 I don't know about you, but I love a good snack. My go-to? A classic bag of microwavable popcorn. However, dear reader, I do have a confession to make: I often have a very hard time finishing this delectable snack. I know, I know, who can't finish a bag of microwave popcorn? To quote one Taylor Swift, "It's me, hi, I'm the problem, it's me." My solution for the longest time was to buy loose kernels and make a smaller portion on the stovetop. However, more often than I'd care to admit, I have been left with both scorched popcorn and a scorched pan. As a result, I resigned myself to the fact that when I wanted popcorn, well, some of it was going to see the bottom of my trash can. Luckily, it seems there may just be something out there to solve this problem: the Joseph Joseph Single-Serve Popcorn Maker.
Designed with small snackers in mind, this silicone popcorn maker is about to change the game for popcorn lovers everywhere. It couldn't be easier to use: Simply pour an ounce of popcorn kernels into the cup (there's even a handy measuring guide in the base of the popper to help you out), close the flaps, start your microwave, and wait for the flaps to open up as the popcorn reaches the top. Best of all, this popper requires no oil or butter (though, hey, no one's stopping you) meaning it'll make a healthier portion of popcorn while you're at it, too.
Amazon shoppers are loving this find with one customer raving, "I looked around at so many microwave popcorn poppers before deciding on this one, but I'm super happy with my final decision. This one just hits all the marks. It pops a perfect single serving, there's only one piece (no lid to mess with or lose), it's dishwasher safe, doesn't take up much space in the dishwasher, and pops popcorn beautifully! Love this thing!"
One common thread we noticed in reviews is people are loving the ease of these poppers. "Popcorn is kind of my thing and since I like eating it almost every day, this popcorn maker is a lifesaver," shared one reviewer. "No oil necessary, so healthier than stovetop and I'm able to make a single serving without all the fuss." Another went on to say, "These were so easy to use and clean. They have held up so well. So glad they popped into our lives and made popcorn making a breeze."
Coming in at just $15, the Joseph Joseph Single-Serve Popcorn Maker Set features two single-portion popcorn makers (in classic Joseph Joseph hues!) so you and another popcorn lover can get it on the fun. So, whether you're looking to snack a little healthier or be a little less wasteful with your popcorn, pick up this popper — it'll change everything. Now if you excuse me, I've got an order to place.