55 Journaling Prompts to Help Set Intentions for the New Year
We independently select these products—if you buy from one of our links, we may earn a commission. All prices were accurate at the time of publishing.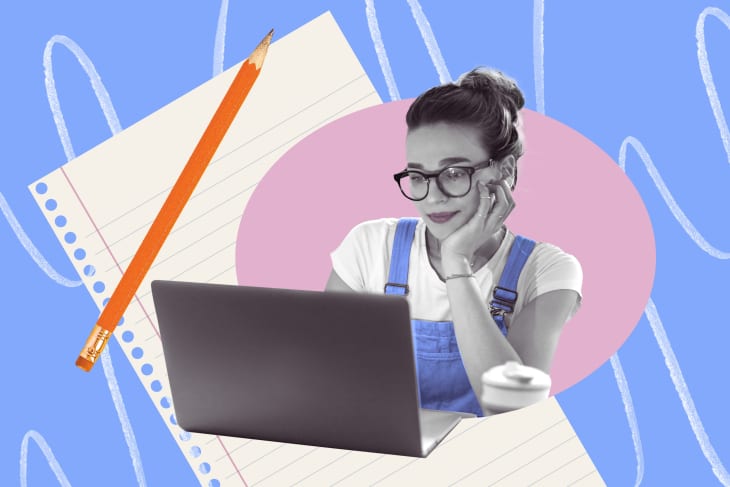 Meeting professional and personal goals means knowing what those goals are — and the New Year is the perfect time to figure those out. Your intentions may come when you're in the shower, on a walk, or right before you sleep. Sometimes these whispers need a nudge to become priorities in your day-to-day life. 
Follow Topics for more like this
Follow for more stories like this
Journal prompts can be useful tools to reflect on the past and set specific intentions to move ahead in the new year. You can either reflect on some of these prompts by writing them in a journal, or even talking them over with a friend.
If you're looking to break in your brand new journal, use these journal prompts to help with self-discovery, anxiety, healing, and reviewing the year, as well as questions to help teens: 
Journaling Prompts for Self-Discovery
Self-discovery often requires time to reflect. Near the end of December, I reflect on choosing a word of the year, as opposed to setting resolutions. Choosing one word is a way to prompt me into self-discovery on how I want to set the tone for the next 12 months. In years past, I've chosen compassion, laughter, pause, and let go. Here are some of the ways prompts can help you arrive at your word of the year: 
What one emotion would you like to focus on in the new year?
Is there a particular characteristic you admire that you want to incorporate into your life?
Make a list of different words that appeal to you. Is there one word that stands out? 
Think about what you want more or less of in the upcoming year. What one word will help you get there?
What one word do you think you can practically stay consistent with during an entire year?
To help the self-discovery process, you don't necessarily need to rely on a word of the year. You can ask general questions to dive deeper into your self-discovery journey. Psych Central offers some questions on how to approach this process: 
List 10 words that describe you (good or bad). Which traits do you want to focus on in the New Year? Which traits do you want to eliminate?
What values are the most important to you? How do your actions reflect those values?
What life events have shaped your life today? Why?
Your life would be incomplete without ___. 
What are you most grateful for?
How do you practice self-care?
What inspires you or motivates you?
What makes you angry?
What are three things you turn to when feeling stuck?
Which relationships bring you the most joy? 
Journaling Prompts for Anxiety 
Research shows that to help alleviate stress and anxiety, journaling can lessen intrusive thoughts. In a study, participants who journaled for seven weeks found that consistently writing thoughts in a notebook or journal helped with anxiety. Confused on where to start? There are some recommendations on what to ask, according to The Good Body. 
What are your top stressors? How do you react when these occur?
Are you aware when you're anxious? What feelings often come up?
What do you need at this moment?
What are three self-care practices you can readily access when you feel anxious?
When do you feel the most anxious? What are your triggers?
What is your anxiety revealing about you?
What are ways to treat yourself more kindly?
How has your anxiety helped you?
Where in your body do you feel anxiety the most?
List at least five things you are grateful for. 
Journaling Prompts for Healing 
Healing requires time to process all of the emotions — it will likely feel uncomfortable, but it also likely means you're involved in helping yourself get better. Silk and Sonder offers some questions that may be helpful in your healing: 
What is the most difficult to process regarding your pain? 
What feelings do you experience most often?
What practical tactics are you using to help you heal?
Where do you want to be in your healing journey six weeks from now?
Think about someone else who is trying to heal. What would you say to them?
Have you drawn boundaries with the people or situation that caused the pain?
What has the pain taught you?
What are 10 hopeful things you say to yourself?
What do you hope for in the future?
What could you do to bring yourself more peace? 
Journaling Prompts for Reviewing the Year 
As you enter into a new year, it makes sense to review how you spent the last 12 months, from what you did right to where you may improve in the upcoming months. The questions can be broad or as specific as you like. Renowned therapist and author Nedra Tawab recommends that you ask these questions: 
What were the learning lessons of 2022?
How did you show up for people and in what ways did people show up for you?
What professional accomplishments did you complete this year?
What personal goals did you meet this year?
In what ways will you take better care of yourself in 2023?
What ways can you manage your feelings better in the new year?
What limiting beliefs do you need to let go of?
What persons and situations should you avoid in 2023?
What goals do you have for 2023?
What do you hope for in 2023? 
Journaling Prompts for Teens 
Journaling is beneficial for adults, but can also be a useful strategy for teens. Teens are likely going through so many ups and downs in their adolescence — feelings that arise from social media, navigating relationship issues, and working through managing school work, friends, and extracurricular activities. If they practice journaling in their formative years, it can be something they carry with them in adulthood. 
When do you feel the most calm? 
Name the things that make you feel anxious. How do you react when they happen?
What are the things that bother you the most?
What three things can you do to immediately feel better? 
How do you handle stress?
Do you have a healthy relationship with social media and your phone?
Do you have at least one or two people you can talk to when feeling stress?
What are you grateful for?
Describe what makes you feel happy. 
If you had to pick one song to describe your life, what would it be?