This Whimsical Sheets Set Makes My Bedroom Feel Like a 5-Star Hotel (And I Can't Get Over How Soft It Is)
Apartment Therapy received compensation for this post, which was written and edited independently by our editorial team.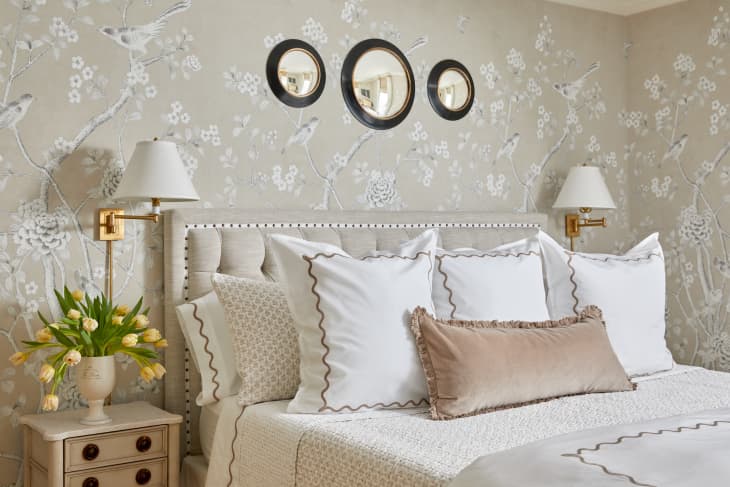 Before I started working at Apartment Therapy almost a year ago, I didn't give a whole lot of thought to what I was putting on my bed. I thought sheets were sheets — obviously, I've learned my lesson and am horrified that I slept in a less-than-optimal way for well over a decade. Now, I've become something of a sheet connoisseur. I know the difference between linen and cotton, change my sheets every single week, and now give serious thought about what I want my bedscape to look like (Before AT, I didn't think that was a word).
Follow Topics for more like this
Follow for more stories like this
Kassatex, one of my favorite bedding brands, gave me the opportunity to create the calm and chic bedscape of my dreams. Kassatex collaborated with interior designer and author of "Elements of Style," Erin Gates, to come up with a whimsical bedding collection that I was immediately obsessed with.
The Ripple collection combines Kassatex's five-star-hotel-worthy bedding with Erin Gates' eye for style. This fun take on New England-style bedding includes a ripple detail that I can't get over. The sheets are both classic and modern — a difficult balance to strike. Truly, these are the most stylish sheets that I currently have in my closet. The embroidered ripple detail is featured in two colorways, Slate (which is the one I tested) and Taupe. The collection also features a duvet cover, shams, a quilt, throw pillow covers, bolster pillow covers, and a throw if you want to go all in on this look.
These calming colors help create a serene vibe, which I need because it takes a while for me to fall asleep. The feeling of the sheets themselves also helps. Crisp yet soft (my favorite type of sheet texture), these 300-thread count sheets are made out of cotton percale and Tencel lyocell. They're so breathable and lightweight — perfect for getting us through New York City's unexpected heat wave this week.
If you're on the hunt for stylish, spring or summer bedding, I'm telling you that your search has ended. It can be hard to find awe-worthy sheets, but the subtlety of this collab is a crowd-pleaser. It also reminds me of Apartment Therapy's logo, which only makes me love it more.
At $160 for a queen-sized set, I think that this sheets set is definitely worth it. It ticks all three of my requirements: Is it well-made? Do the sheets feel good? Is it chic? It's hard to fit all of those qualifications. Whether you're shopping for yourself, looking for a gift for Mother's Day, or a wedding present, this is the sheets set I recommend.
Nikol, our commerce editorial assistant, also tried out the new, matching Kassatex x Erin Gates shams.
"Most people who live in small apartments do it out of necessity, but I have to admit, I've preferred cozy, intimate spaces for as long as I can remember," Nikol says. "That's not only because I like cheaper rent and not having to clean a ton, but I also just enjoy a soft, homey ambiance in every sense. Part of achieving this entails outfitting my room with lots of plush bedding in soothing colors. You can imagine, then, how excited I was to try the new Iris Block Shams from Kassatex. I got two in the standard size, and my pillows have never felt more comfortable."
The shams add some texture and depth to any bedscape, creating a richer, more layered, and inviting look.
"Made from 100 percent cotton, these shams are perfect all year round," Nikol continues. "Although their material is thick and quilted, the coverings stay cool throughout the night and have never caused me to sweat or overheat. But, as nice as they feel, I must say my favorite thing about them is their hand-stitched detailing. Each sham has a pick stitch pattern on one side and a stunning iris motif on the other. I got mine in the taupe color, which I love because it's easy to match with other bedding and decor in my room. There's also a charming 'slate' option, which will give your bed a more coastal aesthetic. Finally, I love the cases' subtle zipper closures. My pillows used to always spill out of their shams, but that clearly hasn't happened with these Kassatex x Erin Gates coverings. Suffice to say, other than on laundry day, these darling shams won't be coming off my pillows any time soon."