Kelly's Luminous Tree House
We independently select these products—if you buy from one of our links, we may earn a commission. All prices were accurate at the time of publishing.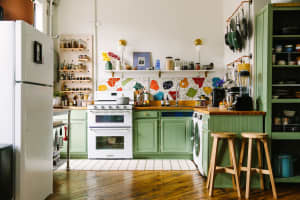 Can't-Miss House Tours Straight to Your Inbox
Keep up with our latest house tours each weekday with our House Tour of the Day newsletter
Name: Kelly Furman
Location: Graceland West; Chicago, Illinois
Size: 1,400 square feet
Years lived in: 5 years; owned
Kelly is a colorful person, vibrant in personality and exuberant in spirit. Her home, which she affectionately calls the "tree house," captures the poise, humor, and grace with which she approaches the world, but it does so with an understated elegance. Filled with calm, soothing whites in a variety of shades and textures and punctuated by the occasional dose of high contrast color, her home is an airy, ivory nest.
Kelly travels a lot and is frequently on the go, so she has countered the pace of daily life by creating a tranquil home with plenty of places to settle down with a good book and a glass of wine. There are some all-white spaces that feel uninviting. The fears of spilling, soiling, or marring are too great to truly be at ease, and even though there may be a pervading sense of peace in the color palette, there's an even more pervasive sense of fussiness or discomfort.
Nothing could be further from the truth in Kelly's luminous, airy home. The sofas are deep, the chairs are plush, the textiles are warm and inviting. There's an ease and confidence to the decor that fills the space with comfort, and if you had any residual reservations about being a red-wine-spilling klutz, Kelly's inviting, casual demeanor immediately puts them to rest. (See the photo in the slide show of her "expensive" wine for evidence of her affable warmth.)
The space is so harmonious, you might never guess that most of Kelly's decor comes from an eclectic array of sources. Estate sale finds, family hand-me-downs, and thrifted treasures make up most of her furniture, and thanks to an approach to design inherited from her mother, Kelly relishes the chance for change instead of being overly attached to her decor. Photographs from her extensive travels feature prominently above the mantel, while a poster from a favorite hometown restaurant takes pride of place above the bed. Many of her belongings come with a history–"this belonged to my uncle, who was quite the character," "this was a gift from my parents for my thirtieth birthday," "this came from a family friend," "my dad and I renovated this part of the house together." Even the flowers come from her family's garden. Because of these legacies, her space feels rich and personal, like a collage of the lives of the people and places that she holds dear.
Apartment Therapy Survey:
My Style: Early attic, basic basement, or reclaimed treasure. My style is a random bit of old and new but mostly just things I like from places and people I love.
Inspiration: My travels, estate sales and great friends and family. I love finding furniture and objects that have meaning to me but do not like a lot of junk. I love wandering around flea markets, furniture stores and open houses for ideas. I grew up moving a lot, and my mom has furniture ADD, which seems to be genetic, so I'm not afraid of change. Mom and her friends have great style and tips. I have been lucky enough to poach their things (thanks Joan!).
Favorite Element: The space! I looked for a condo for three years before buying. When I walked into the living room the light and space sold me. It is my tree house.
Biggest Challenge: The "charm" of a vintage building. Nothing is really straight and there is always a long project list.
What Friends Say: That it is comfortable and homey, which is what I was going for. A younger friend of a friend once said "this is what I want my house to look like when I'm older." This was funny because I am about 10 years older and my house IS what I wanted it to look like when I was younger. I took it as a really nice compliment.
Biggest Embarrassment: My pink doors! We stripped the woodwork and have painted the doors about 12 times and the old stain still comes through. I've learned to accept them as "accent" pieces.
Proudest DIY: Stripping all the wood work and putting up the backsplash in the kitchen. I am fortunate to have some very handy parents who live close and like doing projects. We had a lot of bonding time, and my house would not be what it is without their help.
Biggest Indulgence: Two rounds of renovation. The only rooms I haven't touched are the bathroom, hallway and the dining room.
Best Advice: Pick colors you like and surround yourself with things that make you happy. Don't be afraid of spray paint or furniture that looks "loved." Dig around in that junk shop/old barn/estate sale. Suburban estate or garage sales are untapped gold mines! Pick colors that look good on YOU so that you will look good in your house.
Dream Sources: ABC Carpet and Home, the amazing stores in Farmville, VA, shopping trip to Thailand just for furniture, Arhaus Furniture, Dwell, and any Sarah Richardson project.
Paint color: Bleeker Beige by Benjamin Moore
Rug: HOBO find (Home Owners Buy Out)
Table: Estate sale
Chicago picture: Gift
Hallway rug: Crate & Barrel Outlet
Paint color: Bleeker Beige by Benjamin Moore
Ceiling fan/light fixture: Came with the house
Bar: Estate sale
Wing chairs: Estate sale
Wine tower: Crate & Barrel
Couche: Paladin soda purchased at Greenfront, VA
Pillows: Arhaus & Home Goods
Round side tables: Estate sales
Floor lamps: Target and estate sale
Coffee table: Crate & Barrel
Rug: Pottery Barn by way of an estate sale
Media console: Costco
Mirror: Lowe's special
Frames: Michael's
Baskets: IKEA & Home Goods
Coat rack: Home Goods
Paint: Manchester Tan
Headboard: DIY project
Wall mirror and bedroom set: Suburban garage sale, painted
Chair: Family hand-me-down
Rug: Estate sale
Desk: Reclaimed treasure from downstate IL (used to be a library table)
Standing mirror: Crate & Barrel
Duvet: IKEA
Pictures: IKEA
Funky chicken: Marshall's
Book shelf: Marshall's
Tower: Christmas Tree Store
Shower curtain: Home Goods
Paint color: Bleeker Beige by Benjamin Moore
Hutch: Estate sale
Accessories on top of hutch: Estate sales
Table: Pottery Barn, by way of an estate sale
Chairs: Estate sale
Slipcovers: Room & Board
Rug: Family hand-me-down
Tall bookcase: IKEA
Smaller bookcase: Estate sale
Glass bookcase: Crate & Barrel
Chandelier: Restoration Hardware Outlet
Picture: Tavern Restaurant (Libertyville, IL)
Paint: Manchester Tan
Hoosier hutch: Family hand-me-down (originally bought at Goodwill)
Backsplash: HOBO, tumbled marble
Kitchen cabinets: re-used original stock cabinets, but moved them with the kitchen reno
Rug: Greenfront, VA
Paint: Saybrook Sage by Benjamin Moore
Bedframe: Costco
Duvet: Arhaus
Dresser and mirror: Reclaimed treasure from downstate IL
Secretary: Family hand-me-down (mom bought it at a Goodwill)
Rug: Family hand-me-down
Picture over bed: Tavern Restaurant (Libertyville, IL)
Picture by door: Heather Brown print
Lamp: Pottery Barn, by way of estate sale
Night stands: IKEA and estate sale
Chair: Reclaimed treasure from the alley (!) that I had re-caned
Picture: Framed coffee bag from Costa Rica
Plants, boxes, and baskets: IKEA
Table and chairs: Tuesday Morning
Rug: Mad Mats from Gethsemane Garden Center
Grill: Gas Weber Grill from Lowe's
• HOUSE TOUR ARCHIVE: Check out past house tours here.
• Interested in sharing your home with Apartment Therapy? Contact the editors through our House Tour Submission Form.
• Are you a designer/architect/decorator interested in sharing a residential project with Apartment Therapy readers? Contact the editors through our Professional Submission Form.
Updated daily with fresh tours full of photos for you to pin & enjoy!