Kevin Costner's New App for Road Trips Tells You About the Places You Travel Through
We independently select these products—if you buy from one of our links, we may earn a commission. All prices were accurate at the time of publishing.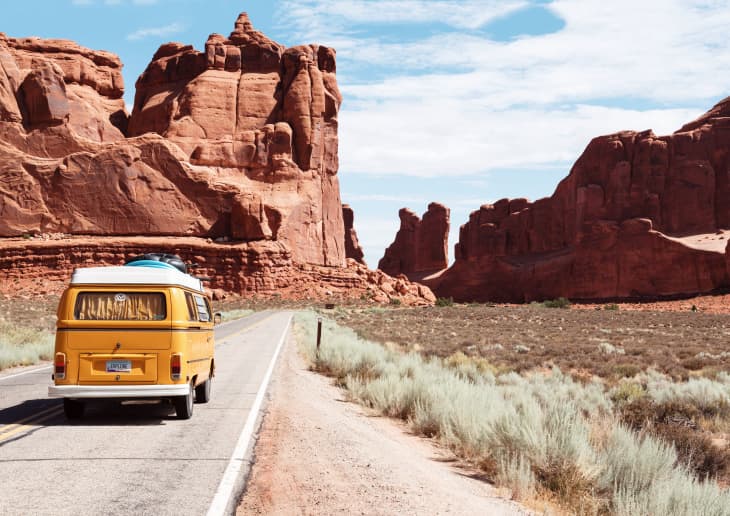 If you went on vacation this summer, chances are you had to buckle up. According to AAA, more than 96 percent of travel this summer were road trips. With flying still looking less relaxing than ever, this trend will likely continue for quite a while. To add value to your future road trips, who better than movie star Kevin Costner? Costner, star of dozens of Hollywood films including "Waterworld" and "Dances with Wolves", is the co-founder of HearHere, a recently launched audio entertainment app for road-trippers across the U.S. 
Follow Topics for more like this
Follow for more stories like this
HearHere is an iPhone app (an android version is in the works) that tells travelers about the people, places, and histories of the lands they visit. The app uses GPS to give users the feeling of listening to a travel podcast that changes based on where they are. Describing itself as "a hands-free experience that delights, informs and entertains," HearHere promises to enrich road trips by playing listeners short, two to three-minute audio snippets about interesting features they encounter on their travels. 
Driving through a storied area, the app shows users a popup to let them know it has something to tell them. After pressing play, a narrator—often Costner himself—tells listeners about the area's notable features such as its history, sports, culture, music, and geology. Like a personalized interpretation board, this information can also be curated based on your interests. So, if you're a history buff, the app might talk about the first peoples to live in that specific area or historical figures that come from there, whereas if you're interested in geology, you might learn about how the mountains there formed.
HearHere plans to tell users stories from more than 10,000 places across the U.S. It already has over 1,500 audio stories recorded with narration from Costner, NBA Coach Phil Jackson, and more. 
Describing the inspiration behind his involvement with the app on the company's website, Costner credits his love of the multifaceted nature of history. "I am in love with history. I am in love with Country. I am in love with all the edges, all the disappointments, all the progress—all worth knowing. The truth will always be more interesting than the lie—and HearHere gives us the opportunity to reveal it."
While no amount of interesting historical facts will make me think Waterworld was a good film, a personalized travel experience sounds like a great addition to a road trip. Learning how a landscape formed sure beats playing another game of "I Spy" anyway.