A Teacher-Turned-Designer Furnishes a Playroom for Her Kids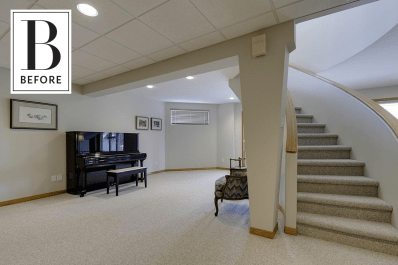 (Image credit: Alana Chernecki)
Project by: Alana Chernecki of Brillante
Location: East St. Paul, Manitoba, Canada
Alana, a school teacher turned designer, blended both of her realms of knowledge in creating a playroom for her daughters. A mix of style and pedagogy, the space is designed to foster creativity and imaginative play, while still looking sleek and age-appropriate.
(Image credit: Alana Chernecki)
From Alana: As a former teacher, mom of three young girls and lover of good design, I often tell my clients that, "I am a mom who straddles the line between good teaching and design."
I design spaces for kids from a teacher's perspective, and believe the space that surrounds our kids has tremendous power to shape attitudes, behavior and learning.
(Image credit: Alana Chernecki)
I knew when it came time to design our own family's playroom, I wanted an equal balance of inspiration, function and organization. I wanted our girls to be inspired to create, to play, to muck about, to learn. I wanted them to feel independent and comfortable in their space; to access art media without constant permission — which can inhibit creativity, and I wanted for everything to have a place — so that clean-up wasn't such a big chore.
I also wanted to instill responsibility and foster ownership of the space, so it was important I approach things from the teacher's perspective. Labels on everything, beautiful baskets to house toys, glass jars and canisters to store art media, and flexible seating for a variety of play scenarios.
Independence and engagement in learning and play is so vital, and so it was important for me to create a space that reflected those values.
I've set up my space much like a mini-classroom: a whiteboard/standing easel for play-school and art; baskets with items for designated "learning centers" — music, dramatic play, construction - to name a few; as well as an inviting reading nook made up of fluffy poufs and pillows and a cozy play teepee. A play table and chairs, and an abundance of art supplies are offered for art-making and projects.
(Image credit: Alana Chernecki)
Live plants and organic textures bring a lively, interesting dimension to the play landscape, sparking imaginations and creativity. Lush gardens become a magical hideaway for fairies; a palm tree becomes a jungle for a tiger.
Our play space gets a lot of mileage, and is the perfect place for the girls to unplug, to play imaginatively and to delve into fun and creative projects.
Resource list:
Thanks, Alana and Brillante!
• Are you a designer/architect/decorator interested in sharing a residential project with Apartment Therapy readers? Contact the editors through our Professional Project Submission Form.
Apartment Therapy supports our readers with carefully chosen product recommendations to improve life at home. You support us through our independently chosen links, many of which earn us a commission.