4 Kitchen Backsplash Trends on Their Way Out, According to Real Estate Agents
We
independently
select these products—if you buy from one of our links, we may earn a commission. All prices were accurate at the time of publishing.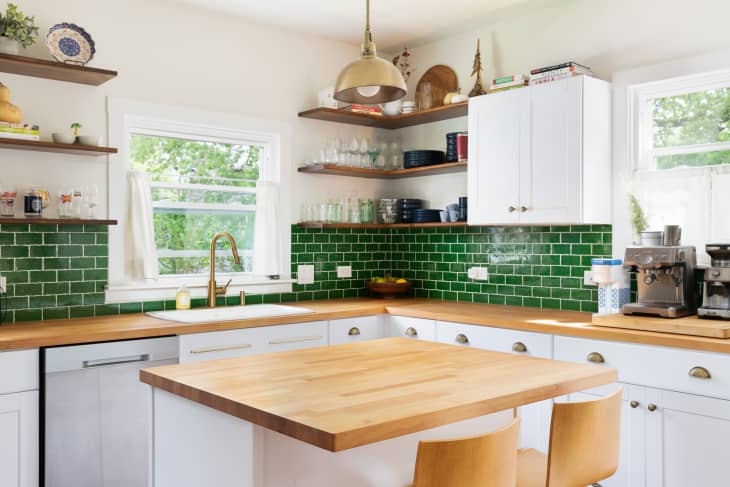 Backsplashes are often the focal point of a kitchen, especially if they're a unique material or style. But buyers today are looking for very specific things in a backsplash. If you have any of the following in a home you're trying to sell, real estate agents say you may want to consider a restyle.
Lacquer or Stainless Steel
Though once super trendy, these materials are no longer super popular, notes Patrick W. Smith, a broker at The Corcoran Group in Long Island City. They didn't have much staying power — so current buyers are more likely to want to replace them right away.
Buyers also aren't interested in anything that can be considered "busy" right now. Think: speckled granite (both as countertops and a backsplash), loud colors, and hectic patterns. Smith also says that textured or pebbled materials are out — they're difficult to clean and are a turn-off for buyers today.
Backsplashes aren't just for a small space above the stovetop anymore. Today's buyers want something larger, that takes up an appropriate amount of space to catch every spill and splash. "Today's buyers expect the tile or stone surface to line the wall from the back edge of the counter to the bottom of the cabinetry," Smith says.
Did someone in your life have a themed kitchen growing up? (Ours was cows.) Well, if their backsplash had tiles to match the theme, that's a no-go. Ditch the farm animals, fruits, and vegetables on the tiles in favor of something with more universal appeal.
To attract current buyers, pick subtle design choices and try to maximize the backsplash space, Smith says. Some homes he's seen have open shelving built into the backsplash wall that are highlighted with accent lighting. The walls in that case — usually made with tile or stone — go all the way up to the ceiling.
"There are also more subtle design choices like evaluating the positioning of the outlets on the backsplash wall and determining if the backsplash material pattern lends itself to the outlets being installed horizontally as compared to vertically for a seamless look," Smith says.
He's also working with an interior designer for a development that will have a handmade glazed ceramic tile backsplash. The tiles are cost-effective, have character, and are easily wipeable. And if your countertops are a particularly special material (think marble or quartzite), having a backsplash in the same material always looks nice. "A good kitchen backsplash should enhance the interior design of the kitchen and home," Smith says. "It should be beautiful to look at and yet easy to maintain and clean."