Before & After: Kitchen Cabinets Get a Bold, Happy New Color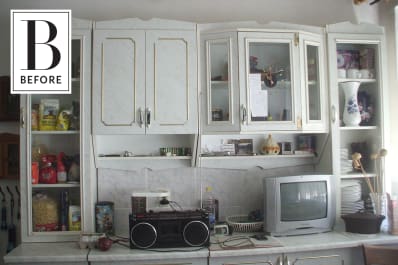 (Image credit: Submitted by Luliana )
Never underestimate the power of well placed chalk paint. Iuliana's kitchen was in need of a new look and a full-blown kitchen renovation wasn't really do-able — but she would not be deterred. A couple of coats of sunshine yellow later, her kitchen is brighter, cheerier, and her budget remains intact (which we imagine made her feel bright and cheery, too).
(Image credit: Submitted by Luliana )
From Iuliana: I just couldn't stand our old kitchen anymore, it was outdated and boring, with many odd decorations I didn't like at all. In our family my husband does all the cooking, and I thought it would be a good idea to offer him a kitchen update, since he's so good at it.
(Image credit: Submitted by Luliana )
It took three weeks, the cost was around 600 lei ( $155 USD). This included the chalk paint, the brushes and the wax. I did it all by myself and I didn't really have any surprises, except that I wasn't in love with the color after painting one or two cabinets, so I was a little afraid of what it would look like in the end.
The new cabinets bring me instant joy because they're the color of happiness. For the moment I wouldn't change anything at all. Along with the kitchen, I've painted many other pieces of furniture, old projects that were on hold for some time. My husband said he's afraid that only our dogs will escape from being painted.
(Image credit: Submitted by Luliana )
Iuliana's words of wisdom: Be brave enough to try to change what you don't like about your furniture because in the end you may be profoundly satisfied. Why not got for it!
Thank you, Iuliana!
Need a primer on Chalk Paint? We've got you covered! And while you're at it, check out these other inspiring chalk paint projects.