The Housekeeping Rule That's Kept My Family's Kitchen Drawers Spotless for More Than 75 Years
We independently select these products—if you buy from one of our links, we may earn a commission. All prices were accurate at the time of publishing.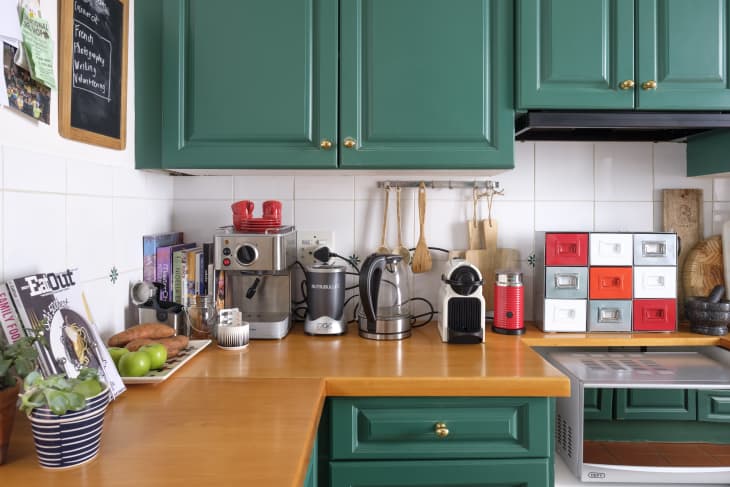 My grandmother's kitchen was a fabulous '70's kitchen with yellow formica counters and a trailing ivy that hung in a half-circle basket from the ceiling. A tiny bird made of itty-bitty feathers glued to a styrofoam ball perched on a wire stuck into the soil, and the cat, Michelle, liked to curl up on the ottoman by the TV, annoyed at all the family noise but choosing to hang out with us anyway.
Follow Topics for more like this
Follow for more stories like this
It was here that I learned how to make olive sandwiches, how to eat ice cream cones, dipped one bite at a time into a bowl full of chocolate sprinkles, and how to maintain a clean and orderly kitchen.
Among my grandmother's rules were: One person cooks, the other person cleans up the kitchen; take the trash out every single night after dinner cleanup; and never, ever leave drawers open while cooking, eating, or cleaning up.
That last one has kept four generations of kitchen drawers spotless. Here's why:
Why You Should Never Leave Kitchen Drawers Open While Cooking, Eating, or Cleaning Up
Consider this scenario: Your brother is getting out spoons for dessert and you're wiping down the counter, which is covered in sourdough crumbs. As the rag hurtles toward the open drawer, sticky crumbs and the inside of your drawer are on a collision course.
Or think about this one: You're baking and you've just pulled out the measuring cup for the flour. Your three-year-old wants to put the flour in the mixer and doesn't quite get all of it into the bowl. You didn't close the drawer all the way and now you have a small pile of flour inside the drawer divider where you keep your measuring cups, spoons, pastry brushes, etc.
Drawer interiors in general are not easy to clean. You need to empty out all kinds of utensils or tools to get to the mess and drawers are awkward spaces to wipe or vacuum. If you do vacuum the interior, you definitely need to wipe it out because you don't want the tools you use to clean your floors to indirectly come into contact with items used to cook or eat.
So in this case, as with many, the best rule of thumb is rigorous prevention. Make it a hard and fast rule that drawers must be closed immediately after getting something out or putting something away and you'll minimize these kinds of accidental avalanches and trickles of counter messes into drawers.
Just like my grandmother and mother were, I'm a stickler about this rule with myself and my whole household. It's one small, generational "secret" that keeps my kitchen running smoothly.