8 Kitchen Items You Can Actually Clean in the Washing Machine
We independently select these products—if you buy from one of our links, we may earn a commission. All prices were accurate at the time of publishing.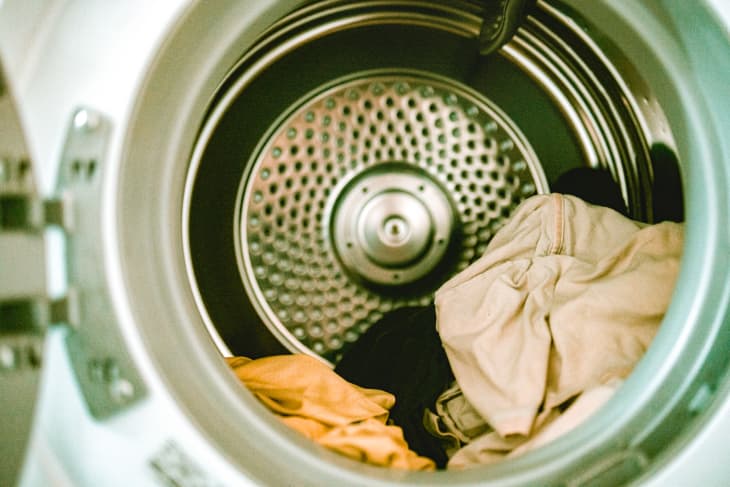 When it comes to keeping your kitchen clean, there's typically a whole lot of wiping, washing, and scrubbing involved. Certain tasks, without question, need to happen in the sink (or dishwasher, if you're lucky enough to have one). But if you have access to a washing machine, you may be able to save time — and dish soap — by throwing certain kitchen items into the laundry. Yes, you can toss in dirty rags and aprons, of course, but we asked the experts what unexpected items you can clean in there, too. 
Follow Topics for more like this
Follow for more stories like this
Below, eight surprising things from your kitchen you can wash in your washing machine:
You may already know cloth oven mitts can be thrown in the washer, but if you have a silicone mitt, you can throw that in the washer, too. Just wash them like you would any other clothing item. "Silicone [oven mitts] are safe in particular because they are waterproof, stain resistant, and hard to damage," says cleaning expert and owner of Rhythm of the Home, Stefan Bucur. 
Silicone shelf liners can do wonders in keeping your fridge shelves clean — but they can be a pain to wash. They're too big for the dishwasher, but too awkward to wash by hand. For that reason, Bucur recommends tossing yours in the washer. 
Sticky or grimy blender gaskets can also go in the laundry, but don't just toss them in with everything else. "You should ideally place them in a small laundry bag to prevent them from getting lost in the process," says Bucur. 
Dirty sponges don't just smell — they can also spread germs to surfaces you're trying to clean. "Tossing them in the washer with your regular laundry and adding a cup of vinegar to the rinse cycle can help keep them fresh and disinfected," says professional cleaner Laura Avila.
Dish-drying mats are typically made from absorbent materials such as microfiber or terry cloth, which can trap moisture and harbor bacteria over time. Laundry expert Johanes Bangao Godoy of Liox Clean suggests throwing yours in the washer. "The high-speed spin cycle can effectively remove excess water from the mats, ensuring that they dry more quickly, reducing the risk of mold or mildew growth," he says. 
Once they start to smell or accumulate dirt and grime, you can also wash small rugs and floor mats in the washer, says Lily Cameron, cleaning supervisor at Fantastic Services. "They can be washed on a gentle cycle as long as they aren't made of delicate materials or have rubber backing," she says. 
Reusable lunch bags are great for the environment, but they tend to get dirty quickly from food residue. Luckily, Cameron says you can wash them with your laundry using a mild detergent. For best results, air dry them.
Along with your oven mitts and shelf liners, you can also launder silicone kitchen utensils. Cameron recommends using regular laundry on a hot cycle with heavy-duty detergent, which will help clean stuck-on grease.

As a reminder, always double check the materials and manufacturer's instructions on cleaning, and sanitize anything that's been in contact with potential contaminants before you put something in the washer.