The One Kitchen Renovation with a Low ROI (and 4 Other Mistakes)
We
independently
select these products—if you buy from one of our links, we may earn a commission. All prices were accurate at the time of publishing.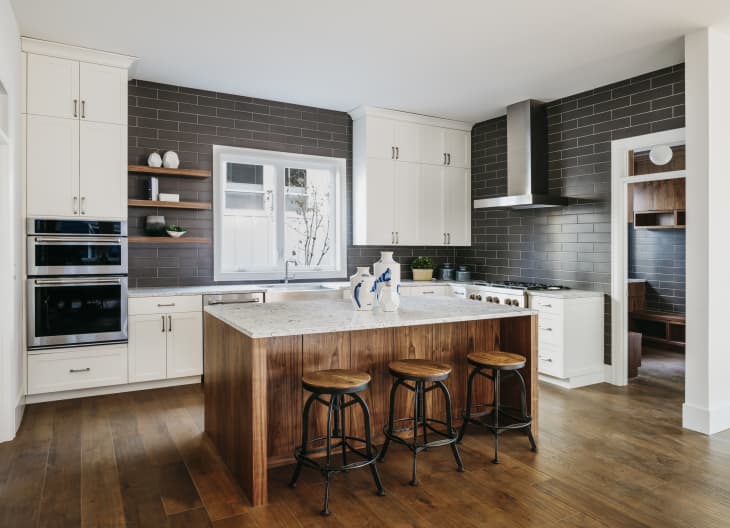 Kitchen renovations often carry the largest price tag of any home upgrade. Sellers will splurge on everything from the backsplash to the range to the little custom details they're imagining will make cooking and entertaining easier. But if they plan on selling in the near future, is there a point of diminishing returns when it comes to kitchen renovations?
Some real estate experts say yes. Not every renovation and kitchen update is going to have a significant ROI, and some may actually turn off future buyers. So before you settle on the kitchen reno plan, here are five kitchen updates you might want to skip.
Gorgeous ranges that run north of $20,000 have become all the rage on Instagram, which could tempt those with deep pockets to splurge on a red or royal blue vintage-inspired range. But this isn't an upgrade that'll necessarily get you your money back — particularly if buyers don't love your taste in teal.
"Custom color appliances are a hard no-go when looking to maximize your ROI on a kitchen renovation. While you may love it, you are reducing your buyer pool to people with a certain joie de vivre," explains Nikki Bernstein of The NikkiB Group at Berkshire Hathaway.
"While the built-in coffee maker is cool, most people do not see the value in a built-in when they can pay up to $500 for a top-of-the-line brewer," says Bernstein, who recommends skipping a built-in machine that could cost more than $3,000. Instead, spend the money on a coffee or espresso maker with all the bells and whistles, saving yourself $1,000 or more — and saving your future buyer from figuring out how to remove the built-in.
Updates Out of Step with the Market
While you may think a luxe, newly renovated kitchen translates to an immediate upgrade in price, think again. You first want to consider whether these renovations are in keeping with the market demands and the preferences of local buyers. 
Steve Nicastro of Clever Real Estate says that you should analyze comps, or comparables, before making any big kitchen upgrades. He explains he once met with a homeowner in a more affordable market who invested in a kitchen renovation that included quartz countertops and high-end stainless steel appliances. "The market was primarily budget-conscious first-time homeowners," he says. "The upgrades didn't necessarily resonate with the expectations of potential buyers in this price range, which likely impacted the ROI."
"Installing custom-built cabinets can significantly increase your expenses, involving meticulous measurements, intricate designs, and skilled craftsmanship," says Paul Brundell of real estate investment firm Kosy Living. This is great if you're in your forever home, but it might not make sense if you plan on selling in the next few years. 
"The ROI might not justify the substantial costs involved — especially if you choose fittings that are bespoke to you," Brundell says. He reasons that a pull-up cabinet for a stand mixer is great for the avid home baker, but it could be seen as a waste of space for a future buyer who doesn't regularly try to channel The Great British Bake Off at home. Instead, he suggests saving the money and opting for semi-custom cabinets to get a high-end look without the price tag.
"While a luxurious marble countertop may seem like the epitome of elegance and sophistication, it's essential to weigh the cost against the return," Brundell says. Marble requires significant maintenance, including regular sealing, as well as preventative measures to stop it from staining and etching. For savvy buyers who recognize that upkeep, they may want to avoid marble. "Instead, I would consider more cost-effective alternatives like quartz or granite. These materials offer durability, style, and a better chance of recouping your investment," says Brundell.
On the Other Hand, Don't Skimp If You Splurge
Bernstein warns sellers of going too far in the other direction: "One mistake I see in the opposite direction is people selling million-dollar 'remodeled' homes with standard appliances. Don't tell me the job is finished with a 36″ fridge." She explains that when you're renovating a kitchen at a high price point, the appliances matter. If you're going to splurge, splurge on the workhorses of the kitchen, too.