7 Types of Kitchen Tools You Should Collect for Your First 'Adult' Kitchen
We independently select these products—if you buy from one of our links, we may earn a commission. All prices were accurate at the time of publishing.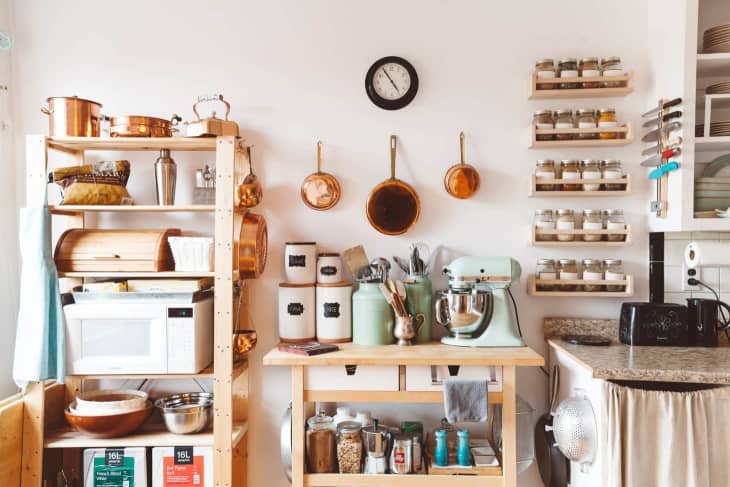 Your kitchen should be a place where you want to spend time. And part of making this all-important space in your home a haven for creativity and deliciousness is investing in quality tools and supplies to help your meals come to life easily and enjoyably. 
Follow Topics for more like this
Follow for more stories like this
That's why we asked a few kitchen experts for their best tips on cultivating the ideal functional "adult" kitchen — one filled with things you love and will actually use as you slice, dice, and sauté your way to your next great meal. Consider this list the next time you're ready to purchase some new cookware and other kitchen items. 
Spice up your spice organization.
"Make cooking flavorfully more enjoyable by getting your spice situation in order," says Andrea Gharritt, functional dietitian and lifestyle design coach. "There are so many creative solutions available these days: tiered racks, magnetic boards, pull-out drawers, and more. Find something that works in your kitchen, and you will thank yourself every time you can easily find that one spice you need and don't need to shuffle between 15 different little containers."
Get quality knives that make slicing and dicing a breeze.
Researcher, editor, and producer Katie King recommends tossing that bulky knife block taking up space on your counter in favor of a few workhorse knives that suit a variety of purposes. "For most kitchens, all you need is a chef's knife, a bread knife, and a paring knife," she says. "Your chef's knife should be your biggest investment and the first thing you buy. Be honest with yourself about your own needs and go from there."
David Lennon, general manager of the Smith Tower Visitor Experience in Seattle, agrees. "Invest a couple hundred dollars in a decent set of kitchen knives and either learn how to sharpen them or find a local place that will sharpen them for you," he says, adding that most grocery store butcher shops will do it for free or for a small fee. Don't forget to tip! 
Swap out your pepper shaker.
Claire Lower, senior food editor at Lifehacker, says something as small as upgrading your pepper shaker will make all the difference in how your food tastes. "If you can shake the pepper directly from the canister and onto your food, get rid of it, and get one of those little pepper grinders," she says. "The little black specks that come out of those [direct] shakers don't taste like anything, don't smell like anything, and don't even look like pepper." You can get a simple grinder from the grocery store or upgrade to a fancier version like this copper mill from Crate & Barrel — either way, you'll enjoy more flavor and a restaurant-worthy dining experience.
Start a collection of pots and pans you love.
When it comes to pots and pans, you may want to replace anything that's showing major wear or those coated with Teflon, which can potentially have health concerns. King says to keep a nonstick pan made with ceramic instead of Teflon on hand for scrambled eggs and frittatas, but also to amass a quality set of pots and pans you'll get excited to use. "Start building a new set [around your old pans]: get a well-seasoned cast-iron pan, some stainless steel pieces, perhaps some enameled cast iron as well," King recommends. This doesn't need to be done immediately, either. "For every new pot you bring into your house, throw away one of the old ones," she says.
Go for smart pot storage, too.
Once you've assembled a set of pots and pans you can't live without, Gharritt recommends finding a way to make them easily reachable, with their lids organized so you can find what you need when that pot of quinoa is bubbling over on the stove. "Whether it's hanging them or installing a lid storage rack in your cupboard, having your pans accessible and well-preserved just makes it feel like you are leveling up your cooking game," she says.
Purchase some fridge organizers.
In case you haven't caught on, our experts think organization is key to a grown-up kitchen, and that includes your refrigerator contents. "I'm not saying it's gotta look perfectly Pinterest-worthy, but it is helpful to know what's in your fridge and where it is, and making sure it's properly stored to prolong the shelf life," Gharritt says. 
If you need additional storage or organization in your fridge, try see-through bins and bags so you know where everything is and don't have to waste time rummaging around. "Things like clear bins and reusable Green Bags can make the most out of your fridge while keeping your food fresh," says Gharritt. Group things like stock and soup containers together if they have a similar shape to save space, and keep your dips and condiments organized according to purpose for a more harmonious fridge overall. Make a point to regularly clean out your fridge, wipe down the shelves, and toss anything expired, as well. 
Spring for a design-forward utensil holder.
Gharritt also recommends organizing your utensil drawers — and if you've never used that plastic meat chopper you got in a multipack of tools, set it free! "Prioritize only the cooking tools you use on a frequent basis," she says. "I would suggest keeping all the utensils you use on the countertop in a cute container. This helps alleviate the panic of needing to grab a spoon quickly so whatever you're cooking doesn't burn." And it will make your countertop look pretty, too!