These 4 Uni-Tasking Kitchen Tools Take Up Space, But I'll Never Get Rid Of Them
We independently select these products—if you buy from one of our links, we may earn a commission. All prices were accurate at the time of publishing.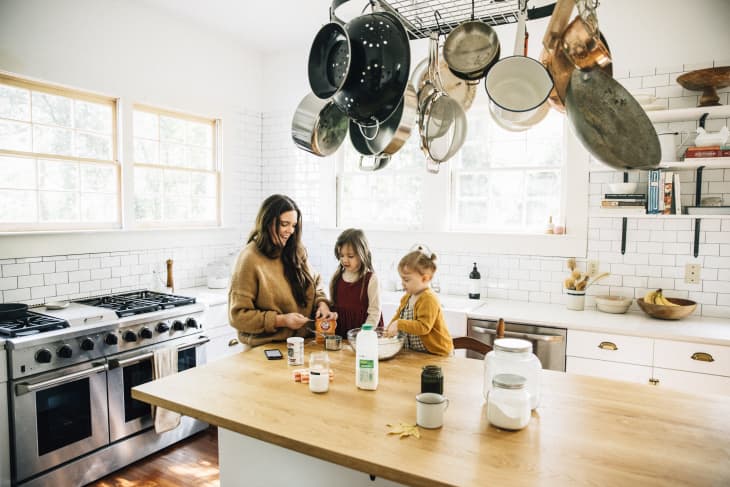 I've written scores of articles about decluttering. Whether it's long lists of items you can probably get rid of with impunity, ways of thinking about your things so you can let them go without emotional turmoil or guilt (or retrieving them from the donate pile!), or decluttering mantras that can help you decide what to toss and what to save, I've done a lot of thinking and talking about how to live a more simplified life by getting rid of the excess.
Follow Topics for more like this
Follow for more stories like this
The goal of just about all decluttering efforts is the same: a life lived more fully because it's less obscured by stuff. This plays out on a large level (like weekends spent not cleaning out the garage) and a micro, but still high-impact, level (like being able to get the colander out without creating an avalanche of bowls and food storage containers).
So we advise, over and over, to get rid of multiples, say thank you and goodbye to the products that do nothing but make it harder to get to your favorites, and to store the things you use once a year in a more out-of-the-way place. And we sound the familiar reminders to practice the one-in-one-out policy when bringing new items into your home, and to be extremely wary of tools that perform only one very specific task.
This last bit of advice is a rule I practice—with exceptions. I have a few uni-tasking kitchen tools in my kitchen that take up space, aren't practical, and don't contribute to daily life running more smoothly… but I'd never get rid of them. These items are part of our family's traditions and memory-making.
Here's what they are and how they make us happy:
Our strawberry huller is a tiny tool that, though it only performs one very specific task—removing the stems from strawberries—has a permanent place in our kitchen drawer. First of all, it performs its job well. It makes a cut in the shape of a V that allows you to pull out the strawberry stem and leaves with one swift movement. We eat strawberries constantly when they're in season, and the huller gets a good deal of use. But the huller doesn't only serve our family through it's overt purpose. It also gives the kids a job to do that allows them to contribute to family meals. This is particularly meaningful on Saturday morning waffle days. While I'm pouring batter onto sizzling grates, the kids are pressing the button on the huller and making a pile of strawberry leaf discards. The two inches of space the huller takes up in the drawer is more than worth it.
We moved to Tallahassee, Fla., in July of 2011 and one of the very first things we did was pick blueberries at a local farm fifteen minutes up the road. We have done it every year since. The pictures I've taken of our family at the farm chronicle our growing brood; we have three more children than we did that first summer, and the youngest one is old enough now that she plopped her own blueberries into the bucket on our tenth visit to the farm last month.
When we get home with our berries, we eat them and bake with them and put them in our pancakes and eat some more. But our very favorite thing to do with them is make blueberry ice cream. Each year, we boil berries with sugar, add cream and vanilla, and watch the gloriously hued mixture churn in the ice cream maker. We pile the ice cream on sugar cones and lick them as they melt over our fingers in the backyard.
I've made other kinds of ice cream a few times, but really, our ice cream maker lives for its part in making our once-a-year blueberry ice cream dreams come true. The ice cream maker isn't necessary for making meals or saving money or any other pragmatic purpose, but its treasured role in making our unique family tradition come alive earns it a spot in our cupboard.
We had no way of knowing it at the time, but when we received an apple peeler and pie dish for our wedding, they became the first family-tradition-makers we'd own. I make an apple pie for Thanksgiving every year, and as we've added children to our family and they've gotten old enough to use it, apple-peeling has become part of what it means to prepare the family feast.
We set it up on the counter, close to the garbage can so we can sweep the apple peels in easily, and the kids drag stools over and scuffle over who gets to start first and whose turn it is and all the usual sibling stuff. The rest of the year, the apple peeler sleeps in a tucked-away corner in a bottom cabinet. But the promise of seeing the kids' eyes light up when they turn the knob and watch the apple spin is worth digging it out every single year.
If the apple peeler is our oldest family tradition kitchen tool, the pasta maker is our newest. I knew going into it that spending $30 on a bulky tool we'd hardly ever use and certainly didn't need was frivolous. But it was quarantine and I never did get any sourdough starter made and since the one time I'd made pasta by hand as a kid, I'd always wanted to try again.
So I clicked Buy Now and the next Friday, my three big kids and I each had a volcano of flour we were cracking eggs into to make our dough. It was one of the highlights of quarantine. The pasta was delicious and shockingly easy to make. I told my husband this was proof of my Italian blood. The feel of soft noodles dusted in fine flour sliding through our fingers was tactile bliss and the satisfaction of making pasta from scratch made for an evening that will live in my memory forever. We've made far too much pasta since, but even if we'd only made it that one time, the promise of family fun and togetherness the pasta maker holds means I'll be keeping it for a very long time.