This Game-Changing Find Helped Me Finally Get the Deep Sleep I've Been Dreaming About — and It's on Sale
We
independently
select these products—if you buy from one of our links, we may earn a commission. All prices were accurate at the time of publishing.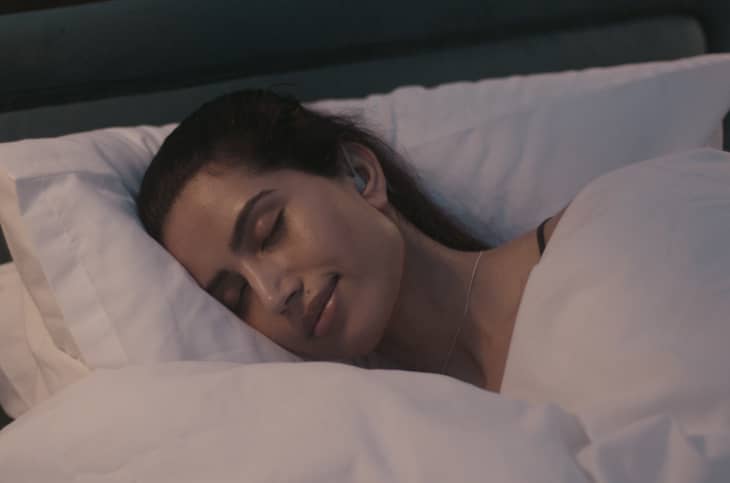 If you're anything like me, you always seem to be chasing that ever-elusive good night's rest. Sleep troubles have plagued me for as long as I can remember, so when it comes to testing products that promise to deliver better sleep — from the perfect set of sheets to a clock designed to help you wake up refreshed — I'm the first to raise my hand. A couple of months ago, I (warily) started looking into sleep headphones. I live on a busy city street and struggle with turning my brain "off" at night, so the idea of headphones to drown everything out with some calming sounds was enticing. However, I was hesitant: Would I really be able to find a pair that was both comfortable to sleep in and able to help me fall (and stay) asleep? Yes, yes I was. Let me introduce you to the Kokoon Nightbuds.
I first came across these headphones when I was browsing the National Sleep Foundation's website (I love staying up to date on sleep news) and saw they had won the 2021 SleepTech® Award. Designed to help you get to sleep and stay asleep, the Kokoon Nightbuds are sleep-monitoring headphones of the future. With features including adaptive audio, a comfort sleep design, and a corresponding app with everything from soundscapes to sleep insights, it's hard not to be intrigued by this sleep device. So when I was given an opportunity to put them to the test, I jumped at the chance. 
In all, three things stand out about my experience with these headphones: how comfortable they are, how easy they are to use, and how well they truly work. I'll be honest, the first time I saw the neckband I was worried, namely about whether the wires would get lost in my curly hair, but I found myself really enjoying the curved design of the wires. I didn't have to worry about losing the headphones or accidentally strangling myself in my sleep (we've all been there, right?). And I would be remiss not to mention the earbuds themselves, which sit so comfortably in my ears I barely feel them, a big plus for a side-sleeper like me.
To use these headphones, pair them with your phone via Bluetooth, and download the Kokoon App. While a lot of the top sleep headphones work exclusively with their own corresponding apps, the Nightbuds do not. These headphones connect directly to your phone, so you're not limited to the sounds on the Kokoon app, which, admittedly, has a limited selection. But with curated Spotify playlists and access to every music and podcast streamer (I listen to the Get Sleepy podcast religiously), I have the freedom to find the content that'll help me get those precious Zzz's.
But perhaps the most impressive thing about these headphones is their performance. When I say they blocked everything out, I mean everything. I'm talking neighbors. I'm talking sirens. I'm talking snoring. As I mentioned, I live on a busy city street, so to say the newfound silence was jarring the first night would be an understatement. But after a few nights of actually sleeping throughout the night, I was sold. And I haven't even told you about my favorite feature: adaptive audio. As the Nightbuds detect you've fallen asleep, they fade out your audio and swap it for one of three colored noise options (white, pink, or brown) to make sure nothing disturbs your deep sleep. You can even program them to wake in the morning.
Now let me be clear: I'm well aware that even on sale at $175 (regularly $250), these headphones are not cheap. However, when you take into account all of the thoughtful features, the incredible performance, and their comfortability, Kokoon Nightbuds are more than worth the investment. If better, deeper sleep is on your radar, take a chance on the Nightbuds. I think you'll be more than surprised at the good night's sleep you get.