LA House Tour: Cindy and Harvey's Eichler Original
We
independently
select these products—if you buy from one of our links, we may earn a commission. All prices were accurate at the time of publishing.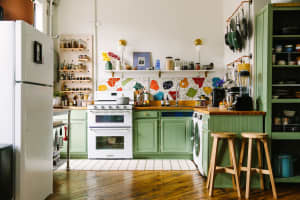 Can't-Miss House Tours Straight to Your Inbox
Keep up with our latest house tours each weekday with our House Tour of the Day newsletter
Name: Cindy and Harvey
Location: Granada Hills, CA
Size: 2500 sf
Years lived in: Own, 9 months
In the northern most part of Granada Hills, in an area where time seemingly forgot, is an enclave of colourful modernist homes…a slice of Midcentury heaven filled with preserved and renovated homes all sharing the recognizable architectural details of the California-based, post-war residential real estate developer, Joseph Eichler. Cindy of OneStopModern was kind enough to invite us to step inside her renovated Eichler home on this magical block…
"The house was built in 1965 by A. Quincy Jones and Frederick Emmons for Joseph Eichler. From my knowledge, it was the model home, the first one built and the last one sold. The previous owners purchased the house from Joe Eichler himself and lived here until the lady of the house died last year. We purchased it in June 2007."
My/Our style: mid century modern, eclectic.
Inspiration: other Eichler enthusiasts, John Lautner, Harry Bertoia, architects Jones and Emmons.
Favorite Element: SoCal living in the atrium. We use it as a park, playroom, and chillout zone.
Biggest Challenge: The house suffered damage from the 1971(?) earthquake and the fireplace was lost and never rebuilt. We used old blueprints to rebuild the fireplace with that design and to those specs. We made a few alterations. Instead of using full cinderblocks, as in the original, we faced ours with cinderblocks that had been cut up. This not only saved us a tremendous amount of money but also gave us the option to use a prefab firebox. The second alteration to the original is that we put a firebox on the exterior to use in summer on cool nights. This fits in perfectly with the indoor/outdoor feel of the house and also is an updated vibe.
The second big project was tearing up the original 10″ linoleum squares that all the homes were outfitted with, and uncovered concrete slab underneath.This was a big undertaking but the benefits outweighed the cost and labor involved. The concrete was sanded down, and a coating of sheen was applied and it now looks like glass (on a good day without feet and paw prints).
The third project was restoring the kitchen. What we did here, was refinish the cabinet doors in splashy orange and green, sanded and re-stained the wood, and added reclaimed original light fixtures and a ceiling fan by modern fan company.
Another task, one where I decided to launch my new website, was outfitting the house with architecturally appropriate hardware, sink faucets, heating vents, fans, light fixtures, street numbers, and decorative furnishings. It literally took me 3 months and over 20 online sites to accomplish that undertaking. Now I have sorted, sourced and scoured the internet to make these "simple" (well you would think simple) fixtures all available under one virtual roof….hence the name…onestopmodern.com.
The final projects that we are still in the midst of are re-landscaping the front and back yards, replacing the old wood panels with a new walnut version, re-staining and renovating the wood slat ceilings and beams throughout the house, updating the master and spare bathroom and finding/fabricating the perfect modern outdoor daybed.
As I have heard, owning an Eichler is a full time commitment. Just when you think you are done with one thing, something else needs your attention.
What Friends Say: they want to come stay, and it would be so much nicer with a pool.
Biggest Embarrassment: the walls are still the originals. We have yet to redo them with walnut veneer. And my landscaping. We ran out of $$.
Proudest DIY: finding architecturally appropriate modern hardware via the internet only. Because of my work background, I always had security in knowing that I could find almost anything out there furniture, carpet, fixturewise. That is what gave me hope when we bought this house. The house was in such bad shape, I literally held my hands to the sides of my eyes like a horse with blinders on to see through all the filth and mistreatment of our home. I thought that if I felt like this, the self proclaimed researcher, experienced set decorator, and mid century hunter, I cannot think of what the droves of others felt when they saw the house before me. It was horrific.!! Anyway, finding things for the house was a chore as I mentioned earlier, but it all paid off because I started my business to help all the other modern home fixers out there.
Biggest Indulgence: original Panton light, Platner table and sectional couch.
Best advice: I shot in an Eichler home 3 years ago, and the neighbor said to me, once you appreciate this kind of architecture you will obsess on owning one until you do. Boy was that neighbor correct.
Dream source: my site, have to think a bit more on that one.
Appliances: Pacific Sales, Bosch, The Great Indoors
Hardware: onestopmodern.com
Furniture: IKEA, Urbanoutfitters, onestopmodern.com, West Elm, cb2.com
Accessories: etsy.com, onestopmodern.com, Urbanoutfitters, ebay.com
Lighting: LampsPlus, onestopmodern.com, Overstock.com
Rugs and Carpets: onestopmodern.com, West Elm, cb2.com
Window Treatments: IKEA, Pottery Barn
Artwork: Chaisso.com, onestopmodern.com, Cost Plus, Urbanoutfitters
Paint: Mann brothers, Sherwin Williams, Pratt and Lampert
Flooring: Redid concrete slabs from carpet and lino to shiny glossy
(Thanks, Cindy and Harvey!)
And check out our archives of past house tours HERE