4 Laid-Back Cities in the South You Should Consider Moving To
We
independently
select these products—if you buy from one of our links, we may earn a commission. All prices were accurate at the time of publishing.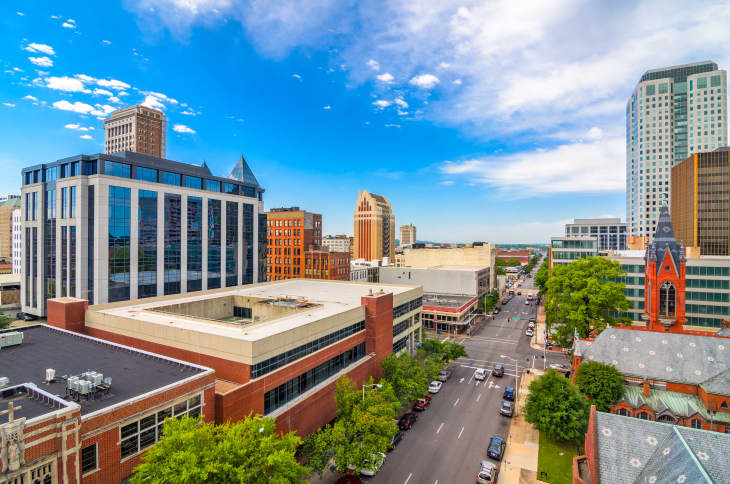 When it comes to deciding where to put down roots in the U.S., there's a lot to consider. From the wide-open desert landscapes of the Southwest to the pine forests of the Northeast, the country's regional diversity spans terrain, temperature, population, culture, and more. 
Personal preference plays a huge role in which region of the country people tend to live in. But if you're tired of brutal winters, paying a king's ransom to live in a shoebox, and think you'd like to try out tree-lined streets and some of the best food in the country, consider moving to one of these laid-back cities in the South.
Birmingham/Hoover, Alabama
Not too big, not too small, the Birmingham/Hoover area provides the best of both worlds. It's urban, but has several million acres of forest land, and some of the most beautiful golf courses in the country. If you suffer from Seasonal Affective Disorder, or any version of the winter blues, which stems from a lack of sunlight, Birmingham might be the cure. The city averages 99 sunny days and 111 partly sunny days a year. And regarding temperatures: It has an average yearly high of 73 degrees, and an average yearly low of 53 degrees.
In this neck of the woods, the unofficial uniform is khaki pants/shorts and your favorite Alabama, Auburn, or UAB t-shirt. One reason for such casual dress? Birmingham's new moniker: Dinner Table of the South. From Southern classics, soul food, and BBQ to more upscale offerings, the city gives a new meaning to the term "comfort food."
Sarasota has been called the best place to retire, but regardless of your age, it's a great place to live. Some of the white sand beaches include Longboat Key, which has 12 miles of shoreline; Siesta Key, largely considered one of the world's best beaches; and Caspersen Beach, replete with hiking paths. Your four-legged companions will enjoy Brohard Paw Park, which is a dog-friendly beach with doggy drinking fountains, fire hydrants, and dog showers. Another favorite is Manasota Key, which has four beaches, picnic tables, grills, and a state park. What could be more fun (and laid-back) than frolicking on the beach, parasailing, and riding jet skis, followed by watching the sun set over the Gulf of Mexico?
Atlanta is known for having the world's busiest airport, and at certain times of the day, I'm sure that polar ice caps melt faster than the city's traffic moves. That hardly sounds like a laid-back city. But Atlanta is the most laid-back large city in the South. It has the diversity and Fortune 500 power of New York (thanks to companies like Coca Cola, UPS, the Home Depot, and Delta Air Lines), and is also the headquarters of the CDC, CNN, and teams representing every major professional sport.
Additionally, Atlanta boasts not only good wages and plenty of employment opportunities, but also  a much lower cost of living compared to other powerhouse cities. And that means you don't need two or three roommates just to make ends meet — and you can have a bedroom with a closet, instead of a bedroom that is a closet. This lack of financial stress and a relaxed corporate atmosphere make Atlanta one of the most laid-back cities in the South, especially for first-time home buyers.
It's called The Big Easy for a reason. Thousands of people descend on New Orleans each year for Mardi Gras, but the spirit of celebration lives in this city 24/7.  Even death is sometimes celebrated with a jazz funeral, complete with a brass band and parade.
New Orleans has weathered storms literally (most notably, Hurricane Katrina in 2005), but the city's resilience is borne of an "everything's going to be alright" mentality that's contagious. A fusion of distinct architectural styles, as well as world-famous Creole and Cajun foods and impromptu musical performances, add to the city's reputation as one of the most easy-going cities in the South. As a bonus, the reasonable home prices will earn you a thumbs-up from your financial advisor.