5 Little Landscaping Maneuvers That Can Increase Your Home's Value by Thousands
We independently select these products—if you buy from one of our links, we may earn a commission. All prices were accurate at the time of publishing.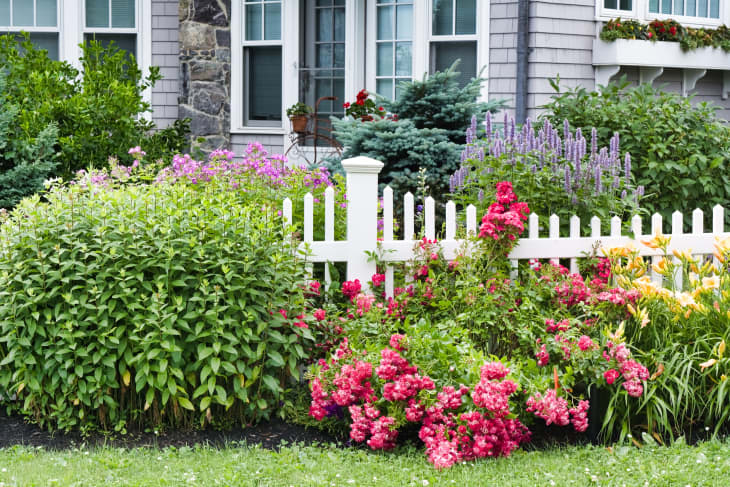 You may not immediately think of your yard when you consider all of the ways to add value to your property. But according to the pros, updating outdoor spaces is one of the quickest ways to increase your home's value on the cheap. 
Depending on the type of landscaping updates you make, Blythe Yost, CEO and cofounder of Tilly, an online platform for landscape design, says you can increase your home's value from anywhere between 10 and 12 percent. (For a $300,000 home, that's around $36,000.) 
According to Yost, sometimes that number can climb to as high as 17 percent. "Having good curb appeal and making a good first impression is very important when it comes to the value of your home," she says. Some landscape elements can make a big difference in your home value — here are a few of them.
A great front walkway can help your home make a solid first impression, Yost says. If the path to your front door currently features wobbly stepping stones or uneven bricks that have become a tripping hazard, it's unlikely that your home is putting its best foot forward. By repairing any damaged materials, or upgrading dated hardscaping, you can improve the overall look of your yard as well. 
Add an entertaining area.
Increasing your property's usable space is a form of expanding the square footage, according to Kevin Lenhart, Design Director of Yardzen, which is why his company specializes in creating functional outdoor spaces that are so beautiful, you'll want to spend as much time in them as possible.
"This might include adding a defined dining space under a pergola, a seating area around a fire pit, or adding hardscaping that serves as a multifunctional platform for entertaining, exercising, or relaxing," he says. "Though those specific additions might not come with the home when you sell it, an outdoor space [that is] ready for living and doesn't require a ton of fixing up immediately communicates value beyond the four walls of the home." 
Stay on top of maintenance.
If your yard is overgrown, Yost says a simple way to update the space is by simply removing any plants that are unwieldy or unsightly. "Weeds or a jungle will make someone worry about what the inside of the home looks like — so clean it up and keep it simple!"
Plant trees in your yard.
Trees automatically add value and are a long-term investment with long-term rewards, according to Lenhart. "Trees, in general, are a really comprehensive value add as an aesthetic, functional, and ecological resource," he says. "In my opinion, removing mature trees that are not problematic (threat to foundation, unstable, diseased, etc.) would lead to a devaluing of property." He says this is especially true if you define value beyond just money. 
Look into what buyers want in their yards.
Even if you're not ready to sell yet, investing in the landscaping upgrades that buyers want can help you in the long run. "Some of the top gardening trends for spring and summer 2021 include vertical gardens, raised flower beds, and planting lavender, so you might want to consider incorporating these too," explains Mark Gordon, director of mortgages at comparethemarket.com.
Whatever you do, just don't make any changes without seeing what's legal in your area. Otherwise, your upfront investment could cost you in the long run. "First and foremost, it's important to check beforehand what you can and can't do, whether that involves a landlord's approval or even planning permission," Gordon says.