4 Landscaping Trends on Their Way Out, According to Real Estate Agents
We independently select these products—if you buy from one of our links, we may earn a commission. All prices were accurate at the time of publishing.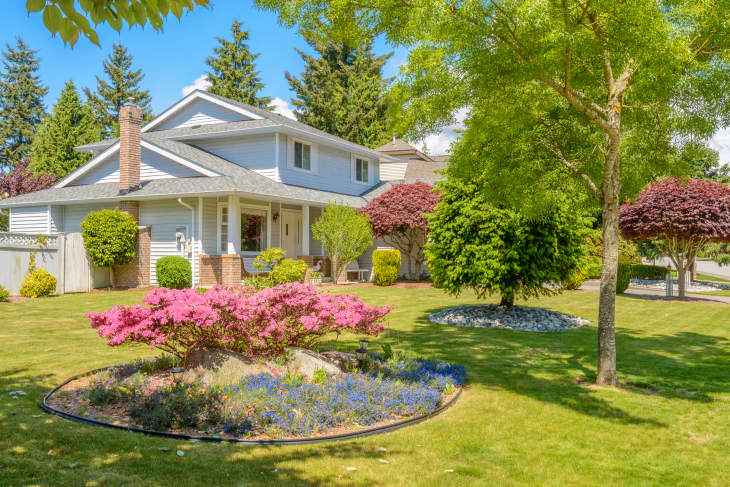 Home decor styles and tastes change all the time. Even casual interior design fans can easily identify, with just a handful of clues, when a home's signature style was last updated. (I'm predicting shiplap will be to the 2010s what geometric shapes were to the 80s). 
Decor fads don't stop at the back door, either. Landscaping styles can also come and go as people's tastes (and needs) change. And with the year we've all just had, a lot of our needs have moved more towards having outdoor spaces that feel like an escape. That's why real estate pros predict we'll soon be saying goodbye to these formerly popular landscaping choices. 
Outdoor spaces that can't be enjoyed
Gone are the days of outdoor spaces that are more form than function, according to David Bibian, a Localize partner real estate agent with Brown Harris Stevens. "For the past couple of years, we've seen a trend in landscaping where the younger property owners want to utilize their outdoor space and have it landscaped with herb gardens, water elements, reclaimed cobblestone gardens, and modern-[looking] outdoor furniture," he says. In other words, no more ornamental designs that you can't relax in. He says buyers are also leaning more toward properties with raised wooden garden beds that bring more usable space to the backyard or garden. 
Landscaping trends have gone the way of low maintenance and climate-friendly. "Beautiful and traditionally prized flowering plants such as hydrangeas and rhododendrons have fallen out of favor due to the fact that they demand constant watering and maintenance," according to agent Parisa Afkhami with Warburg Realty. "Roses, while beautiful, require regular pruning and feeding and sometimes spraying," she says. Homeowners are opting for native plants and pollinator gardens over anything that puts further strain on the planet's natural resources.
Formal or high-maintenance gardens
About ten years ago, it was common for people to have formal gardens that required a lot of maintenance, water, and attention, according to Rose Kemp, an associate with RE/MAX Town Centre in Orlando, Florida. "Over the last few years, between the series of droughts and longer workdays, people have begun to appreciate lower-maintenance style gardens." We may be spending more of our days at home, but that doesn't mean we have more time on our hands. Homeowners want landscaping options that don't pile onto their already heavy workloads. 
Yards that impress others
With everyone spending so much more time at home these days, Tate Kelly, real estate broker, cofounder, and principal of the Landmark Advisors Team at Compass says there's been a shift away from outdoor spaces that are sleek, modern, and stylish in favor of raw comfort.
"There was a trend of square hotel-style furniture that lacked character and felt like you were at a fancy nightclub or restaurant," he says. "It wasn't really functional or cozy, but it looked great." These days, people are almost drawn to the opposite. Kelly says patio furniture needs to hold up to an eight-hour workday for some (and the occasional after-hours cocktail), which is why homeowners are likely going to be more focused on the way pieces feel than the way they look moving forward.