8 Easy Ways to Deck Out Your Home for the Holidays With What You Have On Hand, If You're a Procrastinator
We independently select these products—if you buy from one of our links, we may earn a commission. All prices were accurate at the time of publishing.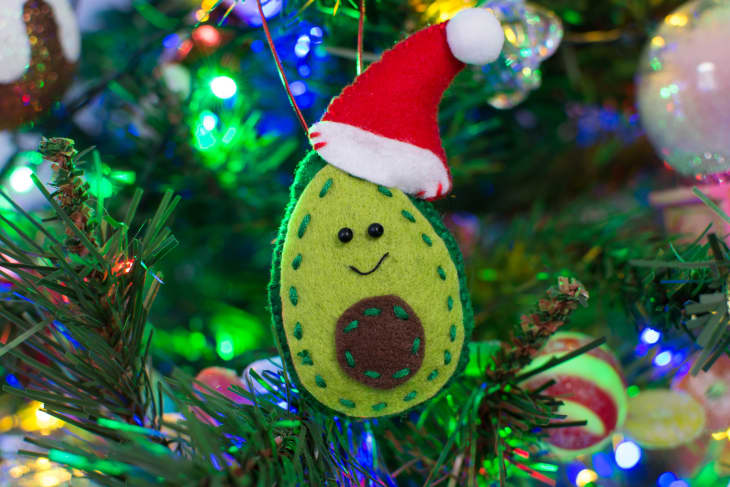 You know the feeling: All year long, the holiday season seems far, far away… and then all of sudden it's here full force. The month of December brings with it a slew of neighborhood parties, gift exchanges, and other festivities, not to mention so much cookie baking. You meant to get a head start on decking the halls, but you're only human, after all! Luckily, there are plenty of ways to make your home feel merry and bright, even if you've procrastinated and don't have time to hit the stores. We turned to eight home experts who shared a variety of simple yet festive solutions that will make your space shine, even at the last minute.
Follow Topics for more like this
Follow for more stories like this
Try This Twist on a Tree Skirt
"I always love to find ways to use vintage or thrifted books! Last year, I gathered all the black ones I had around my house and made a tree skirt out of them." —Haneen Matt, blogger at Haneen's Haven
Shop Your Yard — And Pantry!
"I love incorporating natural materials in my winter decorations and repurposing items I already have on hand. Instead of tinsel garlands, I go for wood beads. Wood bead garlands are available for purchase year round, or you can even easily DIY them with craft materials. Another great tip is to use moss and pine cones. If you're lucky, you might even be able to find those in your backyard or local park. Enlist the kids in your family to string popcorn and cranberries or other dry snacks for a creative crafty garland. And of course, add candles and fairy lights for that magical holiday mood!" —Stefana Silber, blogger at Stefana Silber
Make Over a Mason Jar
"Take a Mason jar and either use textured spray paint or paint mixed with baking soda for a chalky, snowy texture. Add ribbon and/or branches and berries from outside to complete the effect!" —Cerrissa Fitz, principal at Piranha Design
Shine Bright with Twinkle Lights
"Twinkle lights are something I have and use throughout the year. No need for special lights when you keep these handy. Scatter them on tabletops, in glass vases, or on the mantel to bring in that seasonal feel." —Heather Thibodeau, blogger at The Heathered Nest
Repurpose Everyday Containers
"Add greenery stems to kitchen utensil bowls, or fill glass canisters or bowls with ornaments!" —Gbeke Omosebi, blogger at Simplicity for Designs
Make a Quick Switch
"I often swap my taper candles throughout the house for different colors depending on the season. It's such an easy way to introduce a new color and can be coordinated with your other holiday decorations. I have a collection of taper candles in different colors, which makes it convenient to swap them throughout the year. My favorites are eucalyptus green, French blue, and burnt orange." —Caroline Agee, founder of Tuckahoe Home
Empty the Fridge
"One of my favorite ways to decorate for the holidays — especially if you live in a small space and don't have a lot of room to store holiday decor — is to use fresh items such as bowls of fruit — my favorites include clementines, pears, and pomegranates for color and texture." —Chrissy Hunter, blogger at Harlowe James
Bring the Wreath Indoors
"If your home is looking bare and cheerless, rethink those wreaths you have on your front door. Since you spend most of your time inside your home, what about displaying that wreath inside? A small nail inconspicuously hammered into the trim will be an easy hole to hide and can hold a wreath." —Chrissy Marie Serrano, blogger at Chrissy Marie Blog