This HGTV Tip Suggests You Add More Cabinets to This Room (No, Not the Kitchen)
We
independently
select these products—if you buy from one of our links, we may earn a commission. All prices were accurate at the time of publishing.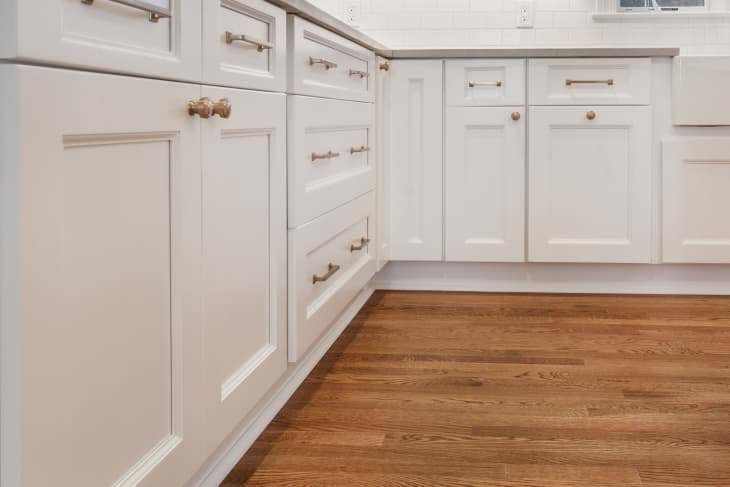 Who doesn't love a ton of cabinets? They always seem to get filled up with things you need stored, no matter how many you have or how spacious they are. But there's one room featured on the season finale of HGTV's "Rock the Block" that you pay more attention to when it comes to adding cabinets: the laundry room.
During the season finale, the judges made their rounds through final home designs — which each team of designers had to complete throughout the series — during which they stopped in one laundry room. There was lots of "oooo-ing" with the understanding that anyone can appreciate extra laundry room storage, especially crisp white cabinets that extend almost to the ceiling.
The laundry room becomes the catch-all area for miscellaneous things: objects that don't belong in your entryway, kitchen-related items that you don't want to put in prime cabinet real estate, and/or belongings that may or may not belong in the bathroom (extra toilet paper, maybe?). All of this stuff deserves its own organized and designated space, and the laundry room is often the perfect place for that. 
Above your washer and dryer, there's often some vertical space that might end up serving as an open platform for stuff that you don't actually want displayed. Installing cabinets allows your laundry room to look clean and crisp without clutter from extra beach towels and detergent messing up your mojo. Plus, the functionality and design of cabinets add resale value to a home without much extra cost — builder-grade cabinets will do just fine in this room.
So the next time you're looking to spruce up your laundry corner or room, look up to see what vertical space you have to work with. It might make the perfect home for new cabinets.