Laundry Chutes Have a Dirty History (But I Still Want to Bring Them Back)
We independently select these products—if you buy from one of our links, we may earn a commission. All prices were accurate at the time of publishing.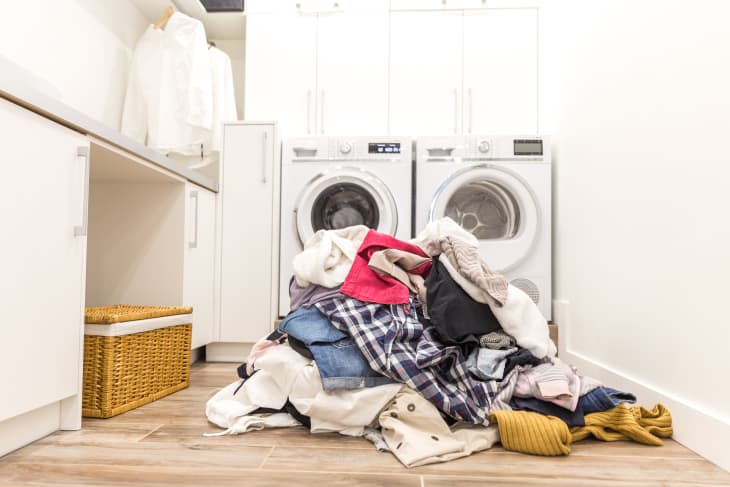 This past fall, my fiancé and I finally faced our financial fears and bought a place of our own in Chicago. Months later, I'm still basking in that "pinch me!" glow, living in daily disbelief that I get to live here. (Trust me when I say the monthly mortgage payments bring me crashing back down to reality!) 
Yet, even though this new home has me walking on air, I've found myself starring in my own version of the "If You Give a Mouse a Cookie" book series. Never before in my series of Chicago rentals did I have a refrigerator with a built-in ice maker and water dispenser. Now that I have that cookie, I want an even bigger dispenser to fit my tumblers. Never before did I own a whole parking space! But now I want a covered one. And the biggest cookie of all: my laundry room.
Or should I say: laundry closet. To have an in-unit washer and dryer in Chicago — or anywhere! — is a massive privilege. Ours is in the basement, tucked away toward the back of the building, right beneath where our main bedroom, guest bathroom, and hallway intersect. Friends, I've got my cookie. Now I want my laundry chute. 
Growing up, my grandma had a laundry chute in her home. I'd marvel at how the chute was built into the wall exactly above the laundry basket. Looking back, I can't believe that residential homes moved away from this feature. Have you ever lugged an overflowing laundry basket down a long hallway, trudging it down the stairs, all the while having a tiny, ferocious corgi nipping at your heels? I have, every week, on laundry day.  
As it turns out, the history of my all-time favorite bygone home feature doesn't involve corgis or cookies. While the exact origin of the laundry chute is a little hazy, they probably evolved from other types of industrial chutes dating back well before the 1800s. Chutes for coal and rubbish were common, and as homemakers started catching on to the communicable nature of germs, the predecessors were adapted for soiled linens. 
As anyone who lacks in-unit laundry and relies on those weekly (bi-weekly?) laundry days knows, after a while, sometimes your hamper develops a disturbing funk. Bougie families understandably sought to remove piles of dirty laundry soiled from plowing fields, milking cows, serving apprenticeships with the local undertaker, etc. At the turn of the 20th century, disease was associated with squalor; as such, if you were "sophisticated" (read: wealthy), you had a laundry chute to keep your filthy secrets out of the home's public sphere. Further, having a laundry chute in the home signified that a family had plenty of clothes to wear between washes — another indicator of wealth. Even Florence Nightingale, founder of modern nursing and namesake of the very sexy Florence Nightingale Effect trope, established guidelines for the construction of chutes for maintaining sterile hospital laundry.   
Then there's the horrifying and macabre history. Asylum patients escaping through the chutes. Folks getting stuck in there and, you know, dying. And naturally, the whole radioactive poison towel incident (which, unbelievably, didn't even happen that long ago). 
Today, designers aren't constructing new homes with laundry chutes, not just because the architects are boring and terrible, but also because home trends have eliminated the need. Multi-level homes feature laundry rooms installed on the same floor as bedrooms, saving families the dreaded trip to and from the basement. High-efficiency washers and dryers allow homeowners to clean their linens without the added guilt of energy wastefulness. An entire industry of household disinfecting products destroys germs before your entire family can contract norovirus. It's a new dawn, a new day, a new life… and I'm feeling sad! 
But fear not! The chute industry — both for rubbish and linens — is alive and well. I spoke with product engineer Nick Muro at American Chute Systems, who shared that due to the tremendous convenience they provide, chutes are here to stay. In addition to the prevalence of chutes used for condo and apartment buildings as well as hotels, Muro attests they're worth installing in a residential home. Even his daughter's home features a laundry chute in their bathroom. 
"It's in the bathroom where you have a tall [linen cabinet]," Muro says. "The very bottom shelf is up maybe 30 inches off the floor, and right below the inside opening of that cabinet is a hole that goes down to the basement where the washer and dryer is." Especially for single-story homes with just a basement, adding a chute is a potential weekend project for a handy household. Homes with more than one story will need a contractor to help run the chute through multiple levels.
For those interested, a quick Google search for laundry chutes produces plenty of recent videos with instructions for installing your own. Apparently I'm not the only one who falls asleep to the peaceful image of my stain-covered jeans plummeting down the sleek vertical shaft nestled between the sweet old bones of a restored Craftsman. Note: I know this is not normal and I am seeking help. May we all live to see the day when the marvel of the laundry chute inherits the reboot (or, should I say, re-chute?) it so richly deserves!